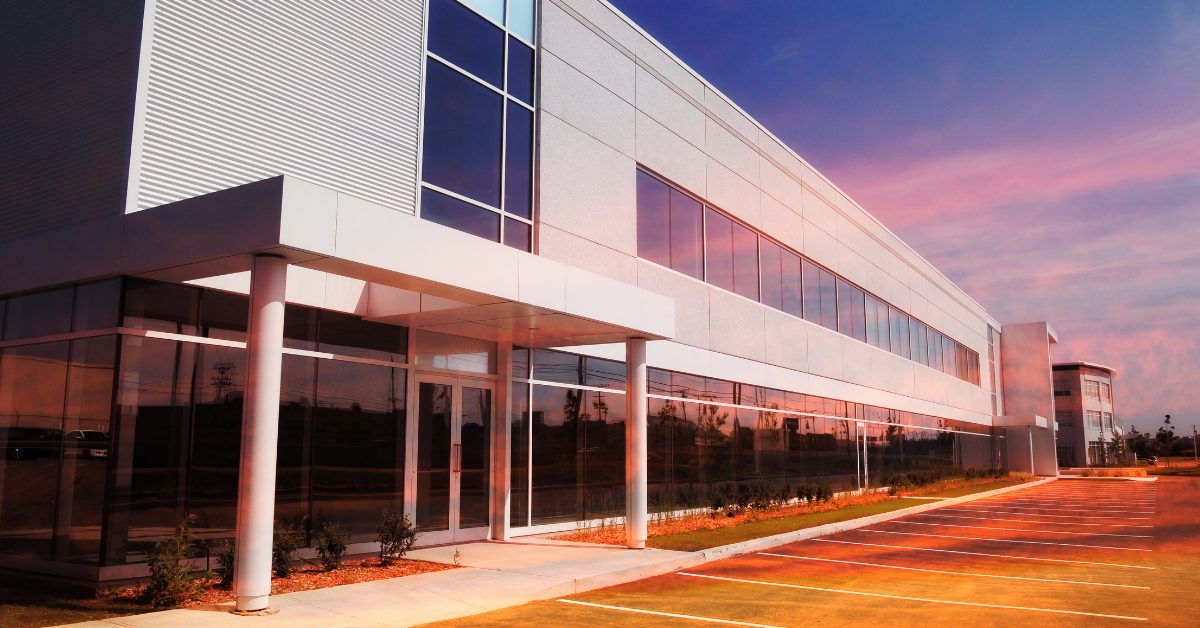 Back in 2018, one of our Voit brokers wrote an article stating that there was "no end in sight for the growth of the industrial market." Boy, was he right…
Four years later, the industrial sector of commercial real estate continues to grow—and has even been thriving since the onset of the COVID-19 pandemic. But what does this trend of significant growth in this sector mean for business owners and CRE investors?
Let's discuss.
What is Industrial Real Estate?
Industrial space refers to any commercial property used specifically for industrial purposes. For example:
Warehousing

Manufacturing

Storage

Logistics

Showrooms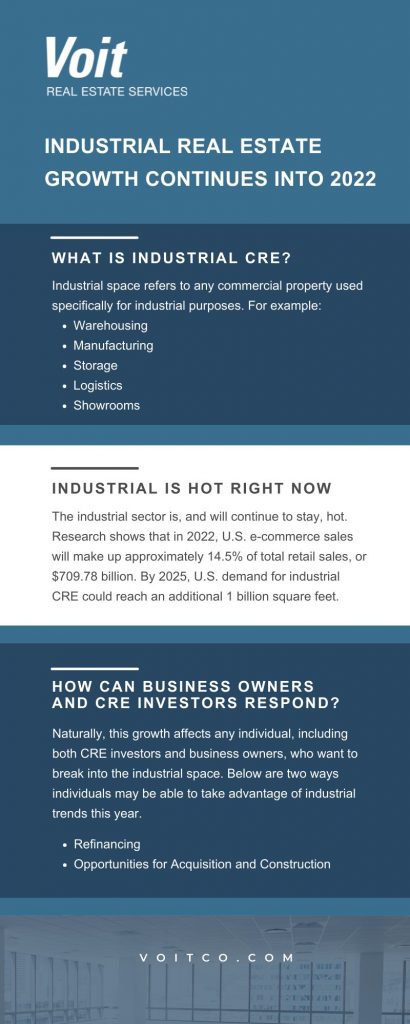 Industrial Real Estate is Hot
The industrial sector is and will continue to stay hot in 2022. In fact, in January, we wrote about how America's warehouses are even running out of space.
Consider the space an e-commerce giant like Amazon might need. They require warehousing facilities to house their inventory in addition to space for shipping processes and outbound logistics. The ongoing growth of Amazon naturally propels big-box retailers such as Target and Walmart to up their game and stay competitive, which, of course, requires more industrial CRE for them as well. For those who are interested, read on to learn how Amazon growth is affecting commercial real estate in San Diego specifically.
In any case, industrial space has continued to boom throughout the pandemic, causing businesses to compete for quality industrial space. In fact, industrial vacancy rates hit a historic low of 3.6% in the third quarter of 2021 nationwide, according to Financial Times.
Research shows that in 2022, U.S. e-commerce sales will make up approximately 14.5% of total retail sales, or $709.78 billion. This percentage is expected to grow to 18.1% of all retail sales by the end of 2024, with online sales exceeding $1 trillion for the first time.
By 2025, U.S. demand for industrial CRE could reach an additional 1 billion square feet.
How Can Business Owners and CRE Investors Respond?
Naturally, this growth affects any individual, including both CRE investors and business owners, who want to break into the industrial space. Below are two ways these individuals may be able to take advantage of industry trends this year.
Refinancing
Interest rates are at historically low rates, which makes it a great time to refinance an industrial property.
This especially rings true for individuals who were granted loans through the Small Business Administration (SBA), as they've recently set an interim rule to incentivize refinancing its 7(a) loans to 504 loans.
Industry Today writes that these low-interest rates "extend to commercial real estate… There's an opportunity to pull cash out of up to 20% of the property's value, plus lower monthly payments."
Moreover, they've estimated that there are $200 billion in outstanding 7(a) loans in this asset class that could qualify for the SBA refinance.
Opportunities for Acquisition and Construction
Business owners and CRE investors, of course, want to see appreciation in their investments. As we know, however, office space, retail, and hospitality (i.e. hotel) CRE have taken a beating throughout the pandemic. Warehouse and multifamily property, on the other hand, have overperformed.
Depending on location, and considering the current demand, the cost of industrial properties can be steep. In fact, research shows that the average cost per square foot for an industrial asset can be over $300 in a prime market, such as San Francisco.
Luckily, the SBA continues to cut fees and ease qualification standards to make their loans more inviting. This is a great financing tool to take advantage of if you're looking to add industrial properties to your CRE portfolio.
SBA loans are making acquisitions and construction projects more feasible to pull off, considering the rising costs of goods and services (i.e. building materials). Other subsidies, like the SBA 504 Green Loan program, can also increase portfolio value, according to the previously mentioned Industry Today article.
A Final Word
It's unlikely that industrial real estate will cool down anytime in the near future. This considered, interested borrowers need to learn how to differentiate to make themselves more attractive to lenders. One way to do this is by being able to conform to credit parameters.
Interested in learning more about the benefits of the industrial sector? Read on for eight reasons to invest in industrial real estate.