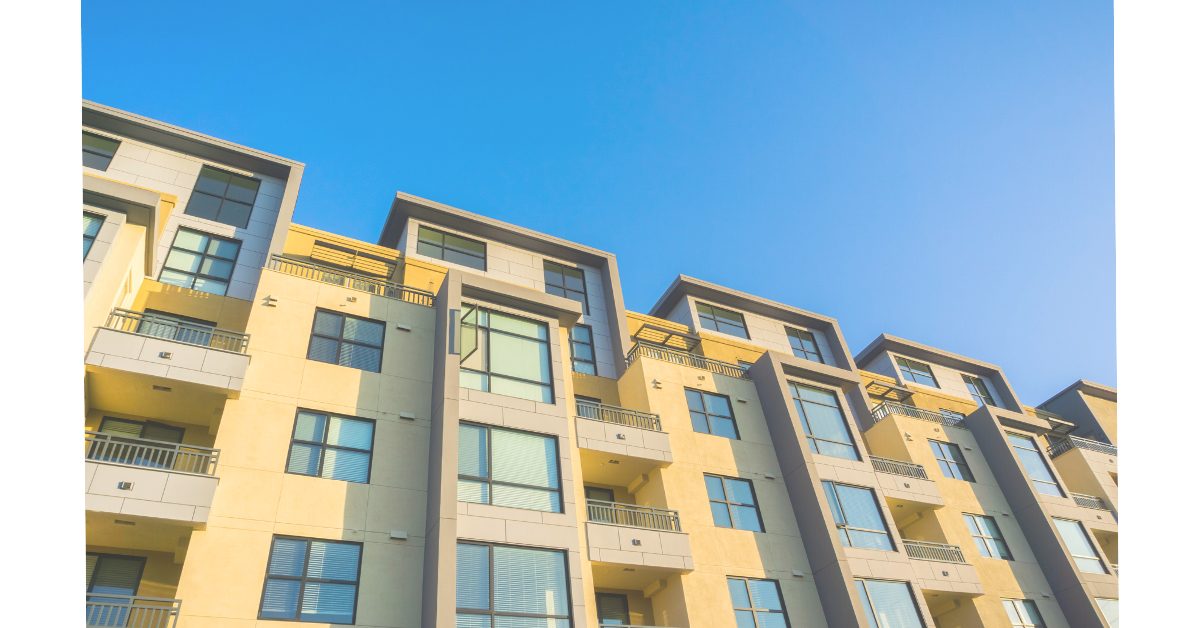 In 2020, the multifamily real estate market was forced to navigate more than a few bumps in the road. Rental applications dropped a staggering 10% due to the global COVID-19 pandemic, according to Multifamily Executive. Although we've gotten through what was hopefully the worst of the pandemic, it's now time to re-analyze the industry and look at the evolution of multifamily properties post-COVID. Here is a guide to navigating this time, including steps that multifamily property owners can take to prepare for a more marketable 2021, trends to anticipate, and new need-to-know ordinances in the multifamily real estate industry.
Your Tenants' Needs are Evolving
Multifamily properties today are more than just bedrooms and bathrooms. Tenants pay for and expect to have access to a plethora of amenities, including fitness centers, pools and spas, restaurants, usable office space, and the list goes on. 
This list of amenities, however, has of course (to some extent) shifted due to COVID-19. A majority of the population has given their best shot at remote work, and we can anticipate that a percentage will not return to the office—as work-from-home functions productively for a variety of industries and businesses. This considered, multifamily property owners need to tailor their buildings to best fit these tenants' needs as well.
What might this look like? Offering reservation-based conference rooms, creating relaxing outdoor wellness spaces, and providing access to reliable, high-speed internet are great examples of what you might expect. It's additionally important to note that for those who work remotely and lack a commute, it is no longer as important to be close to public transportation or urban centers, which might push tenants to less expensive, suburban properties.
Regardless of where and how your tenants work, however, it is key to remain flexible and to listen attentively to your tenants' needs. Don't underestimate the importance of top-notch service as a property owner!
Pro tip: If you haven't already, consider collecting resident feedback to further improve your service and dedication. In the long run, listening to your tenants' evolving needs will result in increased retention and higher levels of satisfaction. It's a win-win.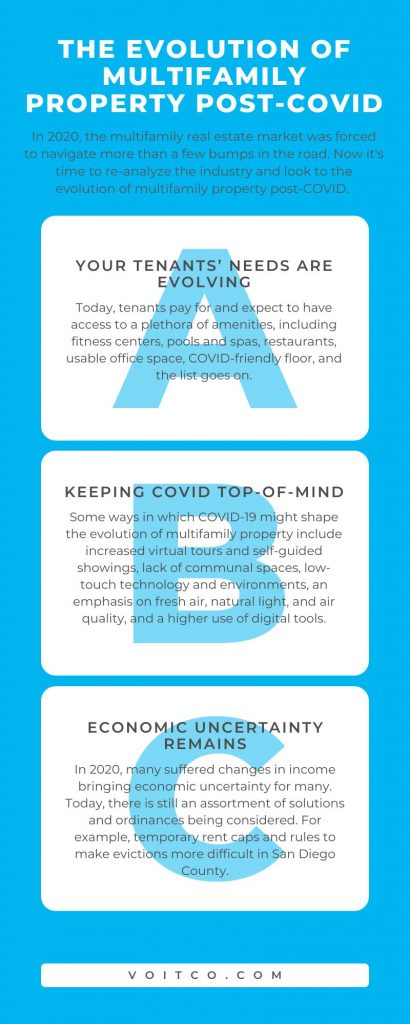 Keeping COVID Top-of-Mind
Although the world seems to be turning a little more with each day, the remnants of the COVID-19 pandemic are expected to be ingrained in the way our society functions for a long time to come.
Here are some ways in which the influence of COVID-19 might shape the evolution of multifamily property:
Increased virtual tours and self-guided showings

Lack of communal spaces (i.e. large seating areas or foyers)

Increase in low-touch technology and environments

Regular cleaning of common areas

Emphasis on fresh air, natural light, and air quality (including proper HVAC units)

Use of digital tools (i.e. apps, emails, texts, web portals) to quickly and efficiently communicate with tenants
Additional Design Elements Post-COVID
According to Multifamily Executive, we can anticipate that building design will continue to shift as a result of the global pandemic. Many individuals will look for floor plans that can support productive, work-from-home environments as well as common areas and corridors that support social distancing.
Multifamily Executive also shares that "integrated outdoor social and recreational areas were already influencing the design of multifamily residential projects and have been consistent trends in the report for the past five years." In other words, this COVID-compliant design isn't going anywhere. So, multifamily property owners, take note.
Lastly, trends are constantly evolving and changing. As a result, developers must ensure that the buildings they design and construct not only support today's market but also that of the future. Multifamily Executive recommends developers "balance current and future needs and create spaces that can be reconfigured or repurposed without being rebuilt" for the highest likelihood of success.
Economic Uncertainty Remains
In 2020, the unemployment rate jumped from just above 3% to 13% in a matter of months. As a result, many suffered changes in income and thus, bringing economic uncertainty for many.
Although the end of the pandemic now seems like a visible light at the end of the tunnel, there is still an assortment of solutions and ordinances being considered. For example, San Diego County has recently implemented a countywide temporary rent cap along with rules to make evictions more difficult for landlords as the pandemic continues.
The new ordinance, which takes effect in early June of 2021 lasts until August 2021, states that "landlords under the new law can no longer evict tenants for 'just cause' reasons, such as lease violations, and can only be removed if they are an 'imminent health or safety threat.' This makes it one of the strictest anti-eviction laws in the state."
Additionally, a rent cap has been in the talks. Although the cap may still "need some refining before it is implemented… rent will [soon] be capped at a roughly 4 percent increase," according to The San Diego Union-Tribune.
Although there's no telling just what will unfold, as multifamily property owners look to the evolution of multifamily property post-COVID, it's important to understand what may be around the corner in terms of economics as best they can.
Additional Trends to Look Out For
An increase in multifamily construction projects

Dramatic rental increases in certain submarkets due to COVID-19 pent up demand (i.e. Salt Lake City currently experiencing double-digit rent increases), contrasted against rent caps in other submarkets (local politics really matter, especially in states like CA), and rent pauses

Diversity and inclusion in the multifamily housing market

Housing shortages
Happy to Help
At Voit Real Estate Services, we are in the business of helping people, whatever that may look like. We provide creative solutions that create value for our clients and their commercial real estate goals. Whether you're a broker, an employee, a landlord, an investor, or a business looking for the right space, contact us today so we can find the right solution for your unique situation.