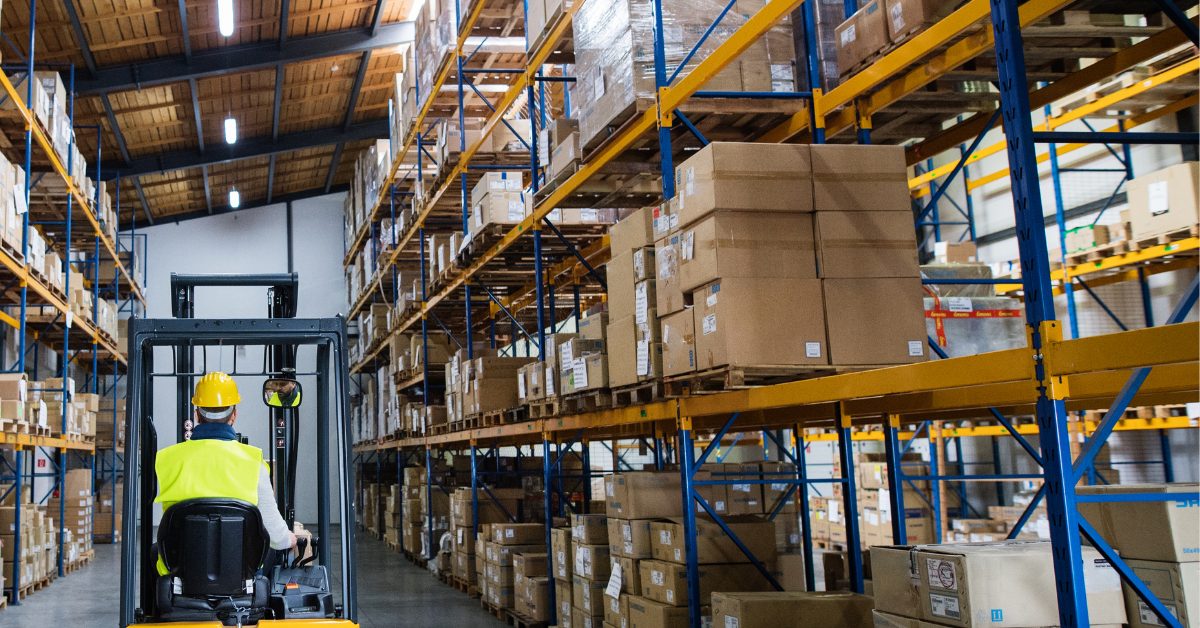 At the tail end of October 2021, we wrote an article about the shipping crisis. Three months later, at the start of 2022, we are continuing to see the effects of a high demand that outweighs the market's capacity.
So, in the midst of all this, let's talk about what this means for warehouses. Plain and simple: America's warehouses are running out of space. But how did this happen? And why are warehouses over capacity? What does it mean for the CRE industry?
Let's dive in.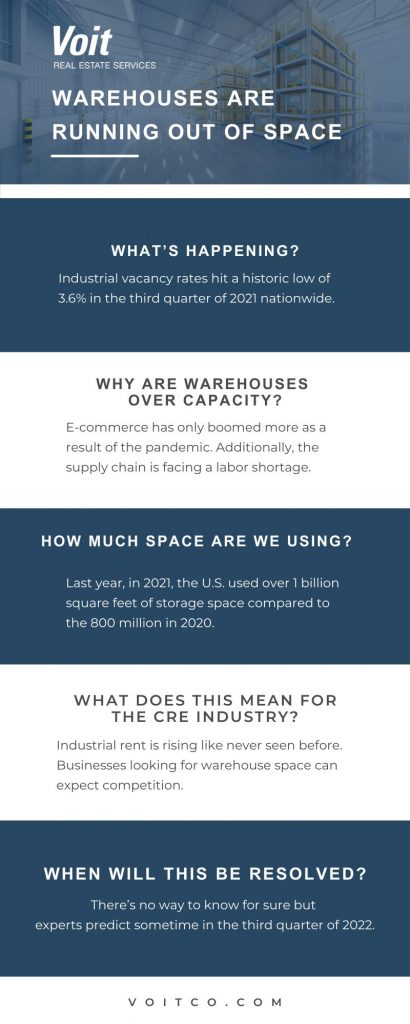 What's Happening in the Warehouse Industry?
Industrial space continued to boom throughout the pandemic, causing businesses to vie for quality industrial space. In fact, industrial vacancy rates hit a historic low of 3.6% in the third quarter of 2021 nationwide, according to Financial Times.
This number is drastic. According to Craig Fuller, CEO, and founder of FreightWaves, in an efficient supply chain, "you want about 15% availability of warehouse capacity… At 3.6%, these warehouses are operating beyond their available capacity to even function properly."
But warehouses were already full pre-pandemic. According to NPR, over 90% of space was claimed at the time. Items in warehouses began to pile up further when factories, ports, and stores were instructed to close down shop as a result of the COVID-19 pandemic.
When the world began to turn again, goods that had previously been pent-up, flooded warehouses. (Not to mention the ongoing increased e-commerce spending that played a role as well).
Why Are Warehouses Over Capacity?
E-commerce has only boomed all the more as a result of the COVID-19 pandemic. In fact, according to NPR, "shoppers have been spending at record levels … in an average year, online spending might grow 10% or 15%. In 2020, it jumped over 40% and has only kept growing through 2021.
Warehouses play an essential role in the United States' supply chain. Think … every item that you purchase online touches a warehouse at some point.
In addition to increased demand, the supply chain is also facing a labor shortage to get things where they are going as quickly as possible.
What's Being Done to Resolve The Warehouse Crisis?
To combat this never-before-seen demand, warehouses are being built as quickly as possible. But it's not easy, and times have changed.
Long gone are the days where warehouses are situated in the middle of nowhere or alongside a highway. "Retailers want to get packages to doors in the least amount of time," writes NPR. "Which means jockeying for storage in expensive and crowded urban and suburban areas."
Additionally, construction materials to build said warehouses are getting caught up in the delayed supply chain.
What Does This Mean for the Commercial Real Estate Industry?
As a result of America's warehouses having run out of space, industrial rent is rising like never before, says Chris Caton, Managing Director of Global Strategy and Analytics at Prologis. In fact, the Financial Times reports that industry rents were up 10.4% in the third quarter of 2021 compared with 2020.
This considered, businesses looking for quality warehouse space can expect quite the competition when it comes to securing CRE.
When Will This Be Resolved?
So, when will this warehouse fiasco end? There's no way to know for sure but experts predict sometime in the third quarter of 2022.
In 2021, the U.S. used over 1 billion square feet of storage space compared to the 800 million in 2020, according to ABC News. There is already an additional 500 million square feet of storage in development.
For those who are interested in learning more about the ongoing shipping crisis, read on here.