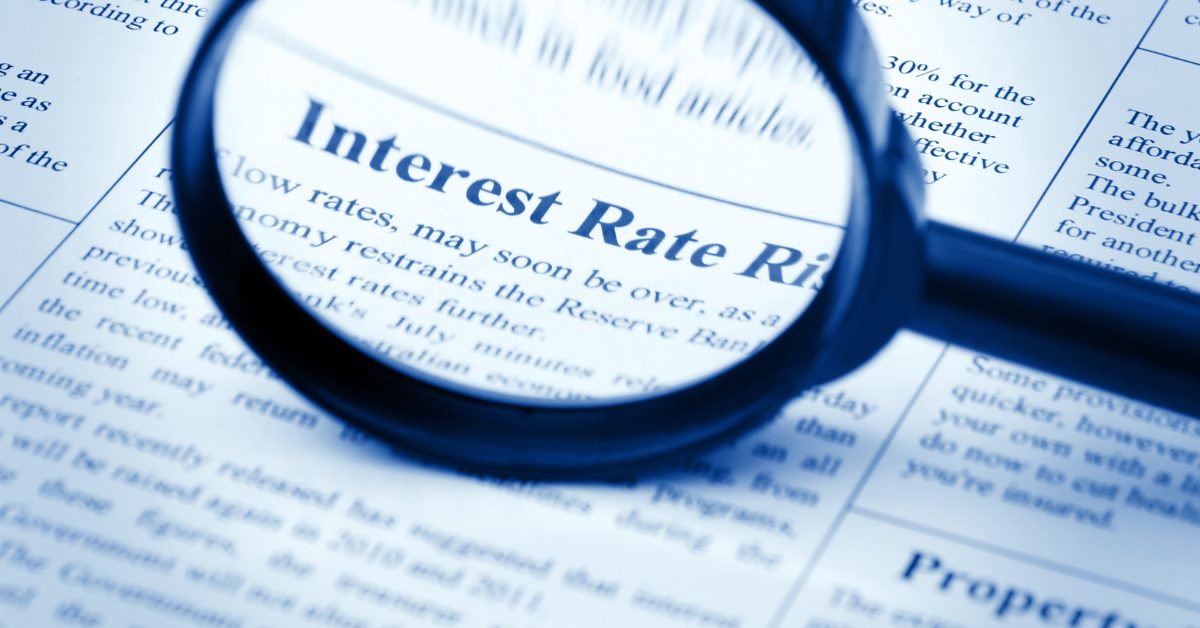 Reviewing "Commercial Property Sales Slow as Rising Interest Rates Sink Deals" by The Wall Street Journal
The past two years in commercial real estate have been a rollercoaster, to say the least.
2020 began with a sharp drop in CRE sales across the board—mainly as it relates to retail, hotel, multifamily, and office. However, at the end of 2020 came a rebound as investors took advantage of low interest rates.
This fuel continued to push into 2021 and 2022—as we know, industrial continued to grow, warehouses ran out of space, and the multifamily demand evolved.
Now, in the second half of 2022, we're noticing yet another shift: The commercial real estate industry is slowing as interest rates rise. Specifically, we're observing a decline in hotels, office buildings, senior housing, and industrial.
But why?
According to a recent article from The Wall Street Journal, "Commercial Property Sales Slow as Rising Interest Rates Sink Deals," surging interest rates "have left many investors with a choice between losing their deposit or paying much more than expected for their mortgage."
In fact, this article details an example in which a Manhattan investor lost their $35 million deposit after needing to walk away from an already contracted commercial deal.
The bottom line? Rising interest rates are no joke.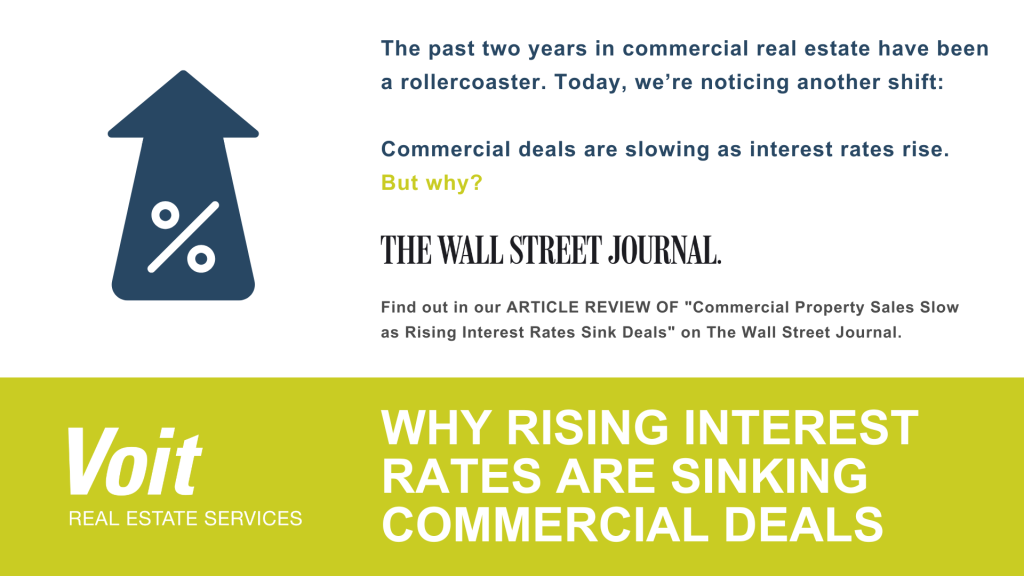 Interested in learning more? Read on for the full Wall Street Journal article.
Commercial Property Sales Slow as Rising Interest Rates Sink Deals
Sector shows first signs of cooling in over a year as higher borrowing costs narrow pool of buyers
Commercial real estate is showing the first signs of cooling in more than a year, disrupted by rising interest rates that are already causing some deals to collapse.
Property sales were $39.4 billion in April, which was down 16% compared with the same month a year ago, according to MSCI Real Assets. The decline followed 13 consecutive months of increases.
Property sales tanked sharply during the early months of the pandemic, when thousands of hotels temporarily closed and furloughed staff, nonessential retail stores closed, and offices emptied out in favor of remote work.
A rebound began in late 2020, as investors took advantage of low interest rates and started to buy in anticipation of an eventual rebound. Demand for multifamily and industrial properties in particular helped fuel commercial sales through 2021 and into this year. The success of those sectors outweighed the drag on property markets caused by underperforming office buildings, which continue to be hurt by remote work.
Now, some analysts are starting to ask whether the rally is running out of steam. Hotels, office buildings, senior housing and industrial properties recorded big drops in sales last month. Sales of retail properties were up in April, the fourth consecutive month that U.S. households boosted spending, while apartment building sales continued to rise due to strong tenant demand and landlords' ability to raise rents. But analysts and brokers said activity in even these sectors may be slowing as rising interest rates keep some investors from making competitive offers.
April's 16% decline in sales marked an abrupt turn from March, when total commercial property sales rose 57% from the same month a year before.
"The speed of that transition is shocking," said Jim Costello, chief economist at MSCI Real Assets. A drop in sales can be an early indicator of stress in real-estate markets because prices are usually slower to change, he added.
Moreover, the prospect of a slowdown in the U.S. economy later this year or next is weighing on sales because it could lead to lower office, retail and apartment rents, analysts said.
But with interest rates considerably higher—the yield on 10-year Treasury notes, a common benchmark for commercial mortgages, has nearly doubled this year—property investors that relied on large amounts of cheap debt to purchase buildings have been some of the first ones to fall out of the market, brokers and investors said.
"Suddenly, you're just not competitive," said John Carrafiell, co-chief executive of property investment firm BentallGreenOak, describing buyers who use debt to finance 60% or more of a property's sale price.
In some cases, investors are finding that with the increased cost to borrow, their near-term rate of return runs below the interest rate on their mortgage. Lenders, in turn, are now tightening their standards for more-speculative deals, brokers said.
In certain sectors, such as smaller industrial and retail real estate, prospective buyers that wrote letters of intent to purchase properties weeks ago are now dropping their bids because the cost to borrow has risen so quickly, said Joshua Campbell, a senior vice president at Stan Johnson Co., a commercial real-estate brokerage.
"That was not happening two to three years ago," Mr. Campbell said.
Other investors are walking away from large deals already in contract. Innovo Property Group recently backed out of an agreement to buy a Midtown Manhattan office tower for $855 million after surging interest rates made it harder to find a mortgage, according to a person familiar with the matter. The about-face meant the investor lost its $35 million deposit, according to another person involved in the deal.
Surging interest rates in recent weeks have left many investors with a choice between losing their deposit or paying much more than expected for their mortgage, said Jay Neveloff, a partner at law firm Kramer Levin Naftalis & Frankel LLP.
Most have been moving ahead with planned purchases, he said, but other investors are more cautious now about signing new contracts. That will inevitably drive down prices. "The pricing can't be blind to changes in capital markets," Mr. Neveloff said.
But lower prices also offer an opportunity for bargain hunters, especially for real-estate investment funds that are sitting on big cash reserves. "I have heard people say, 'this is when I'm making deals, this is when I'm finding properties,' " Mr. Neveloff said.
The investment firm Apollo Global Management Inc. and hospitality investor Newbond Holdings recently agreed to buy the Hilton Times Square for about $85 million, according to people familiar with the matter, a significant discount to the hotel's 2006 sale price of $242.5 million.
As the buyer pool narrows and interest rates rise, sellers are becoming more likely to make concessions to close deals, said Henry Stimler, an executive in the multifamily capital-markets division at the Newmark real-estate firm.
His firm recently brokered the sale and financing of a $457.5 million multifamily portfolio concentrated in the Carolinas, where rent growth has been strong over the past year.
"It's now turning into a buyer's market," Mr. Stimler said.