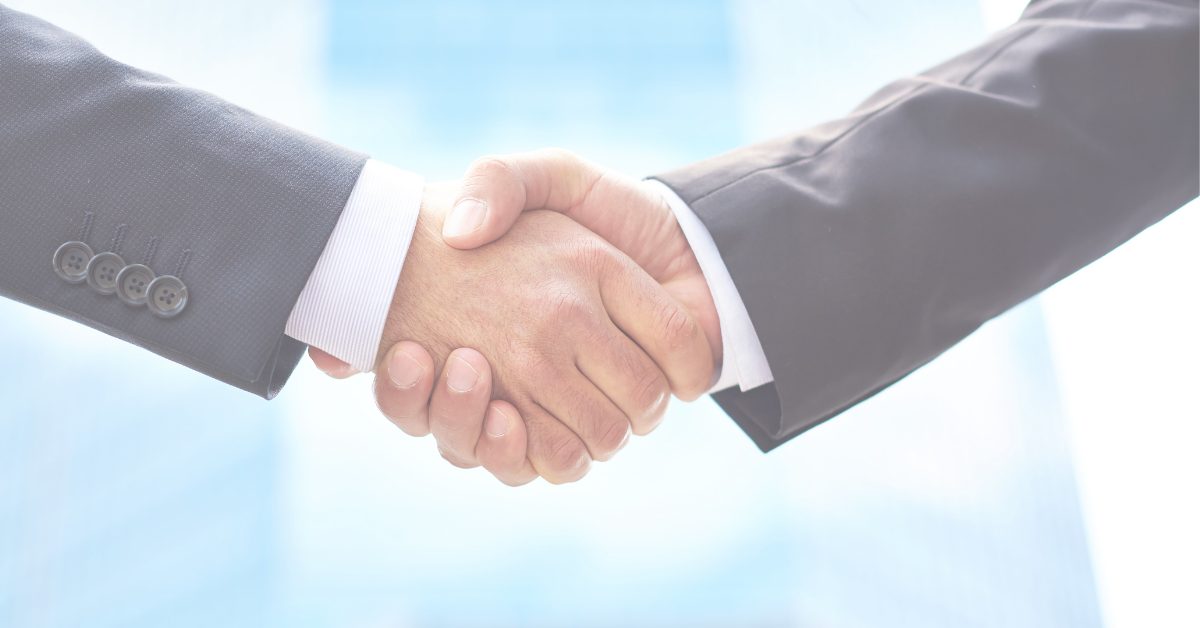 The truth is experience matters. For over 50 years, Voit has developed a reputation for excellence in Southern California commercial real estate.
And although we're in the CRE brokerage business, the title 'broker' doesn't quite cover what our professionals do for our clients. As a result, we like to refer to our brokers as "client advisors".
For those who aren't familiar with the term "client advisor", we're here to help—and to explain how they make Voit different.
What is a Broker?
By definition, a broker is "a person or firm who arranges transactions between a buyer and a seller for a commission." Although this definition is not inaccurate, at Voit we believe there's so much more to being a broker—or client advisor, as we call them.
Brokers are transactional in nature, focused on their own business rather than the client. Brokers tend to approach partnerships with the question "what's in it for me?" in mind.
Moreover, brokers are hyper-focused on the commission, completing a lease or sale without the intention to necessarily repeat business with a client.
What is a Voit Client Advisor?
Here's how client advisors are different from brokers…
Voit client advisors are relationship-focused as opposed to transactionally focused. Client advisors work with a long-term perspective in mind and are creative to reach the clients' objectives whereas brokers tend to go with the easiest, quickest path just to get a deal done and move on to the next.
At Voit, our client advisors are fiduciaries to their clients. Client advisors, in fact, will usually have some kind of engagement agreement with the client to ensure we're representing their best interest.
Eric Northbrook, Executive Managing Director and Partner at Voit San Diego, puts it this way: "When you work with Voit, it's really a personal relationship."
"We are not transactional," he continues. "We are relationship-oriented. I know that phrase gets overused but it's really the truth. We take the time to really understand your business first before we do anything."
Understanding one's business and its unique needs are fundamental to Voit and how we serve. "If we don't understand the business," says Northbrook, "We're just taking you out in the car and now we're a glorified tour guide!" he laughs. "That's not who we are."
Our client advisors at Voit have a deep knowledge of the markets in which they operate. This considered, they have the ability and skill to adjust course very quickly as the market demands.
As for location, client advisors don't have geographic boundaries in which they must stay, as some brokers do at other firms. As a result, our client advisors can support clients in any market that they are interested in exploring.
Lastly, Voit is a broker-owned firm, which means that every decision is made with the clients in mind—not for shareholder profit, like in the case of many publicly traded firms.
For all of these reasons, we brand our brokerage professionals as client advisors.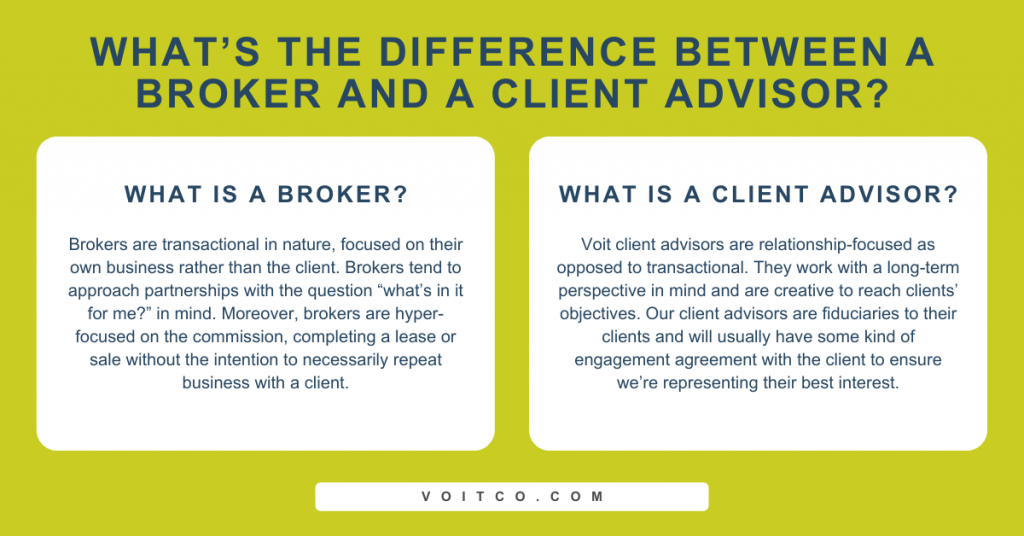 Voit Culture
So, we've got our client advisors, but what's the additional difference between us and the larger firms you might see championed around Southern California? "We have a lot more fun here!" says Northbrook.
Our brokers are some of the happiest, most well-supported CRE brokers in this industry. But how do we know this? We listen. We trust our client advisors to keep us on the cutting edge of efficient practices and technologies.
Voit is the place our professionals choose to stay. Read on to learn why we don't require long-term broker employment contracts at Voit. 
At Voit, we offer a variety of services, including:
Landlord and owner services

Tenant and buyer services

Investment advisory services

Debt and equity services
Voit is here as a resource to help and provide solutions.
We do this by keeping our three fundamental core values close to us: 
Relationships

Value

Transparency
Our service-first approach is all about building relationships, and our extensive network of working relationships is at your disposal from start to finish. Our resources are your resources, no matter how simple or complex the transaction might be.
Additionally, the culture instilled in our client advisors is centered on being good listeners who are open to feedback because, at Voit, we value transparency and integrity.
Read on to learn more about the importance of company culture at Voit, plus how it affects productivity.