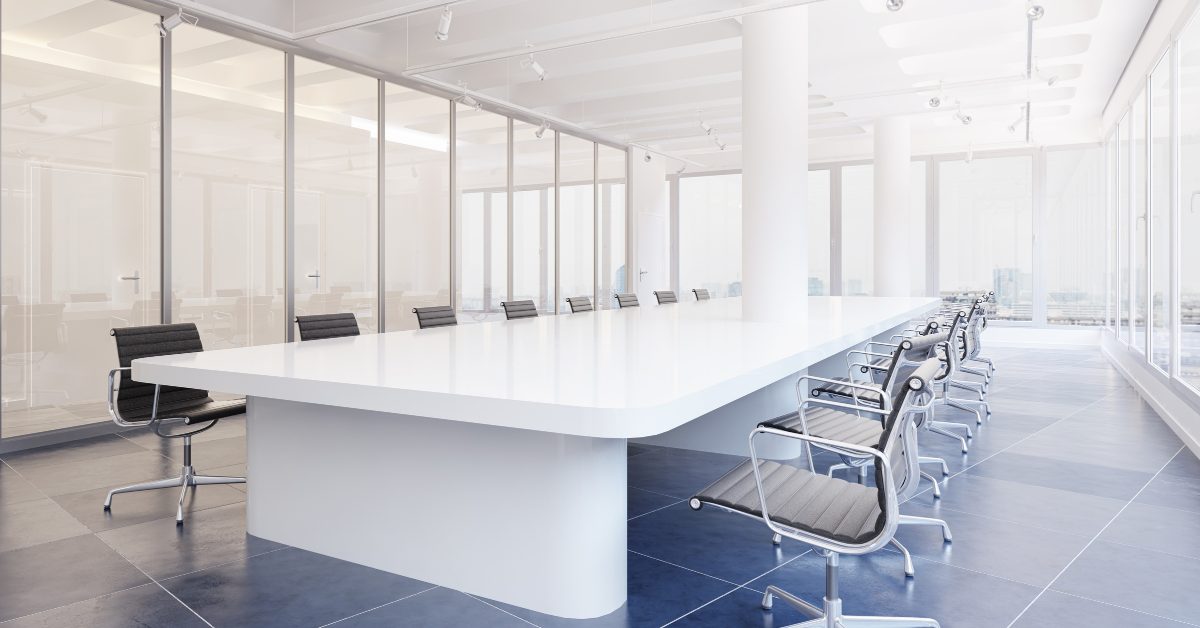 More than two years ago, the COVID-19 pandemic sent nearly all employees from commercial office space to home offices. By mid-March of 2020, 67% of employers shifted their operations to allow their employees to work from home.
Although many individuals—including employers, employees, property managers, and owners of commercial real estate—initially viewed remote work as a temporary fix, a huge population continues to work from home today.
Even as we've passed the two-year mark since the start of the global pandemic, many businesses and employees have found themselves continuing remote work—and even preferring it in many cases. In fact, globally, 16% of companies are fully remote according to a study done by Owl Labs.
So, that brings us to our question: What does the future hold for commercial office space? What's our take at Voit Real Estate Services? Well, the office isn't dead—it's simply being reincarnated.
Here's why.
Disclaimer: With the rapidly changing nature of COVID-19, information in this article is subject to change and may not always be 100% accurate.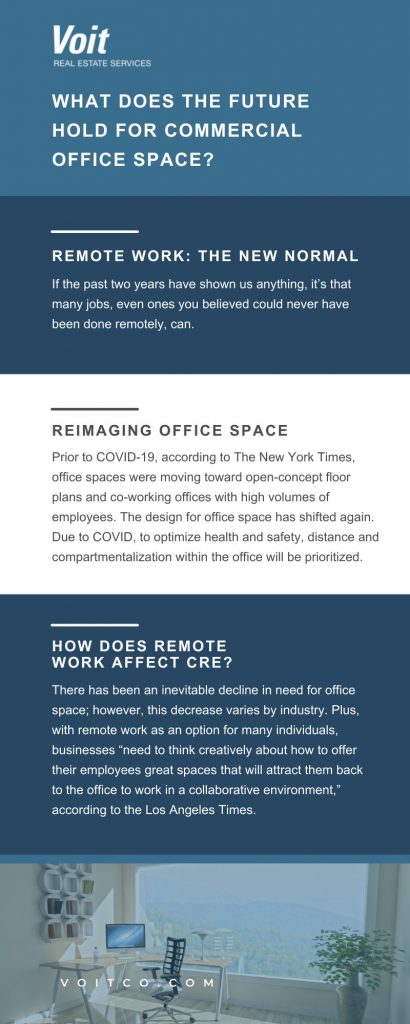 Working from Home: The Good, The Bad, and The Ugly
Today, many employees and employers are back in the office, students and teachers back in school. Even with life returning to some sense of pre-pandemic normalcy, many companies, however, continue to embrace remote work.
Why? If the past two years have shown us anything, it's that many jobs—even ones you never imagined—can be done remotely.
The Benefits of Remote Work
For many businesses, eliminating commercial office space is the answer to their financial prayers—it's a quick answer to spending cuts that need to be made.
For some, remote work offers:
Freedom and a more laidback schedule

Time with their family members

Increased productivity

And more
(Plus, no one seems to be complaining about missing their commutes!)
According to Stanford research, in June 2020, 42% of Americans were working from home full-time. That's nearly half of the U.S. population. Fast forward to today, the awkwardness of Zoom calls has faded and many plan to continue working from home in the near future.
So, not only is it a financial save but working remotely is also viewed as a health save for many.
The Challenges of Remote Work
Research shows that although many Americans enjoy working from home and the flexibility it brings, they do not want to be fully remote in the future (they'd instead prefer a hybrid environment).
Others are dying to get back into the office, it seems. Typically, those who work in highly collaborative work environments have suffered the most.
Additionally, Generation Z, those just entering the workforce, have been hit hard with remote work. Working in person, even on a hybrid schedule, is particularly important for this generation.
Consider: At one point, there were Gen Z employees who had worked with companies for well over a year, without ever meeting any of their team members in person. A challenge of remote work is that you lose the face-to-face interaction and connectedness that you can expect from a traditional work environment.
In fact, according to research, 55% of people say working remotely puts a strain on collaborative efforts, making it more challenging.
Company leadership recognizes the benefits of side-by-side collaboration, and how it adds to their company culture and gives new employees a sense of belonging. So, what can we do?
The bottom line: People want to return to the office, but with the proper health and safety precautions in place.
Reimagining Office Space
Prior to COVID-19, according to The New York Times, office spaces were moving toward open-concept floor plans and co-working offices with high volumes of employees.
Now, however, the design for office space has shifted yet again. Due to COVID-19, to optimize health and safety, distance and compartmentalization within the office have been prioritized.
Property managers will have to adjust accordingly to maximize the protection of their tenants. This might look like frequent sanitation, enforced hygiene procedures, and air purification systems.
Before the pandemic, businesses championed their high-end office amenities: game and meeting rooms, access to luxury fitness centers, the list goes on. After two years of living in a global pandemic due to COVID-19, however, the list of must-have office amenities has changed dramatically.
The office isn't dead, per se; the future of office space is just evolving to accommodate work post-COVID.
The focus, through the past year, has shifted more importantly to safety and flexibility. People and businesses altogether care less about fancy amenities in commercial buildings and instead prioritize minimized touch technology, indoor air quality and ventilation, and social distancing in the workplace.
Flexible Work Environments
Employees appreciate flexible work environments, which can look like many things, including hybrid work environments or rentable coworking spaces. For those who are interested, read on to learn how CRE is evolving to support hybrid workspaces.
Tanya Wood, director of Soho Works, gave her opinion on what the office might look like in ten years. "By then we expect the workplace to have become even more comfortable," says Wood. "A place where you choose to spend more time without the pressures and formality of the traditional office."
Wood explains that for many, the office is more about a sense of belonging. "People love to belong and feel part of something," Wood says.
And with remote work as an option for many individuals, businesses "need to think creatively about how to offer their employees great spaces that will attract them back to the office to work in a collaborative environment," according to the Los Angeles Times.
How Does Remote Work Affect Commercial Real Estate?
Although the need for office space has decreased throughout the global pandemic, there are main aspects of commercial real estate that stayed relatively stable.
According to an article by Forbes, this includes: "warehouses for e-commerce, self-storage facilities, and certain retail spaces for grocery stores and pharmacies." In fact, America's warehouses are running out of space.
The commercial real estate industry has, of course, stepped up to the plate of challenges brought by the global pandemic.
According to WSP, there has been an inevitable decline in the need for office space; however, this decrease varies by industry. For example, the worst affected have been commercial buildings for tourism and leisure, whereas we've seen that "technology and e-commerce are already more likely to embrace virtual working."
It is interesting to note, however, that although less office space may be needed altogether, companies might need more space per employee, as to follow recommended health and safety guidelines.
As for commercial developments that are yet to have been built, some might wonder if we even need the additional space. This all varies and depends on supply and demand in a specific market.
According to some experts, the economic impacts of the COVID-19 pandemic will last long into the future for commercial office space. Company leadership, especially in a pandemic, might be looking to make budget cuts, and eliminating office space might be the easiest way to do so.
Looking to The Future
Regardless of COVID cases, which change every day, for many, remote work will continue to be the new normal.
At Voit, we understand it all. If offices are, in fact, not dead, people need to at least feel safe when returning to them. Check out our blog for tips on how to use office space to promote activity and mental wellbeing.