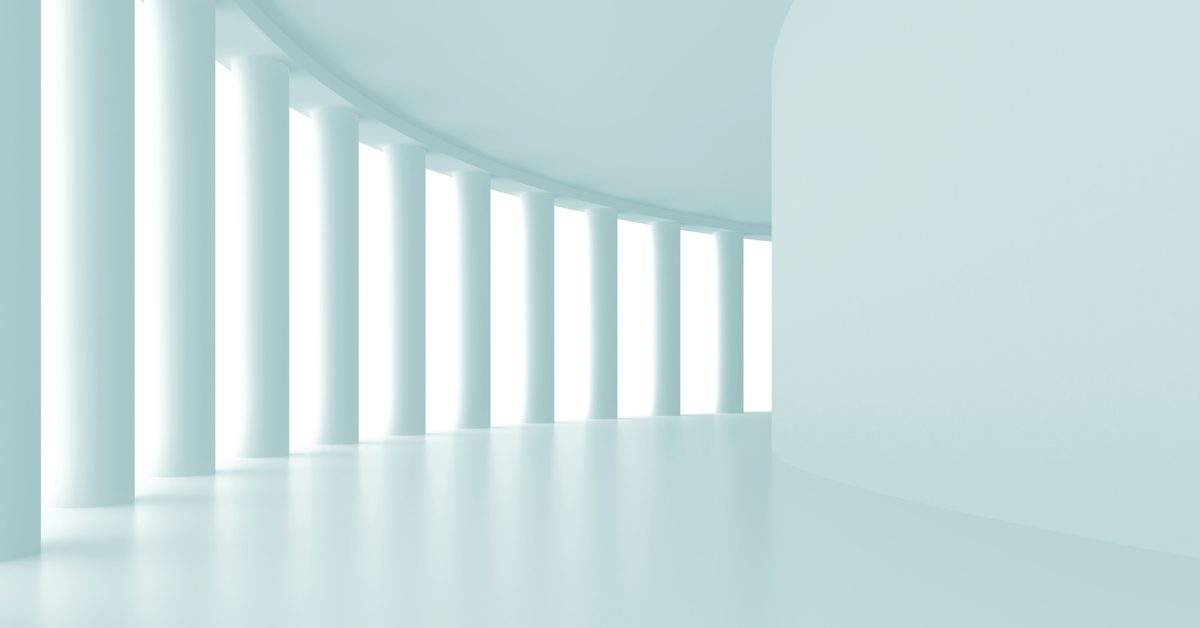 At Voit, many characteristics differentiate us from the rest.
As the largest privately held, broker-owned firm focused solely on the Southern California commercial real estate market, our company culture and unique platform allow us to evolve to meet the evolving needs of today's clientele.
We'd like to give you a bit more insight into who we are at Voit—which is why, today, we're sharing Voit's four pillars with you. Let's dive in.
Voit's Four Pillars
First, brand pillars… What are they? Brand pillars are the points that set a company apart from its competitors. These pillars help distinguish a company's culture and reinforce the things that matter most to a company and its clients.
Below are Voit's four pillars, along with some quick insight into each pillar.
Culture
At Voit, our company culture is one of our biggest assets. We're connected, collaborative, fun, and of course, all about the people.
Don't believe us? Check out this footage from our Voit summer event.

Eric Northbrook, Executive Managing Director and Partner at Voit San Diego, chimes in on Voit's culture of collaboration. "At Voit, our senior brokers are all in to help the younger guys, bringing them on a listing to help them be successful and learn."
"They're willing to help without the financial kicker," says Northbrook. If you were a broker going to help someone out at another brokerage, it'd usually mean you were in it for the money—but not at Voit. Here, we help people grow into their potential.
We're a forward-thinking brokerage that believes hard work pays off and we believe in what's possible.
Team
At Voit, our second pillar is 'team.'
Bob Voit, founder of Voit, was a guiding force for the firm from the beginning. Summer events, Christmas parties, annual incentive trips… The list of ways we strengthen and get to know our team goes on! In fact, for 20 years, Bob Voit would take the whole team to Catalina for a weekend each year.
It is this 'team' pillar that allows a culture of true friendship on our team.
"The get-togethers are a really big part of how we interact," says Northbrook. They aren't networking events or intimidating. "This is not 'keep up with the Joneses'… we know you personally first, and business second."
Community
At Voit, we embrace the social and economic responsibilities that encourage community growth by supporting a wide range of local philanthropic organizations, including giving back to schools and various clubs via time, money, and supplies.
Mr. Voit played a role in founding The West Valley Boys & Girls Club and is highly involved, both with his time and financially, with several chapters of The Boys and Girls Clubs of America.
We support all communities that we have offices based in, including Anaheim, Carlsbad, Inland Empire, Irvine, Los Angeles, and San Diego.
We even award a team member a philanthropic award on an annual basis. This award goes to someone who has given significant time and energy to the cause they deeply care about. On top of that, Voit then adds $1,500 for them to allocate to the charity of their choice.
At Voit, community is a huge part of who we are.
Clients
Of course, what would we be without our clients? We believe in providing our clients and professionals with timely and relevant market data to help best inform their CRE decisions.
Moreover, our service-first approach is all about building relationships, and our extensive network of working relationships that support us is at your disposal from start to finish.
Our core brokerage services extend to institutional and private clients for sales and leasing in the following property types:
Office
Industrial
R&D
Flex
Retail
Medical
Multi-Family
Land
REO Distressed Assets
Note Sales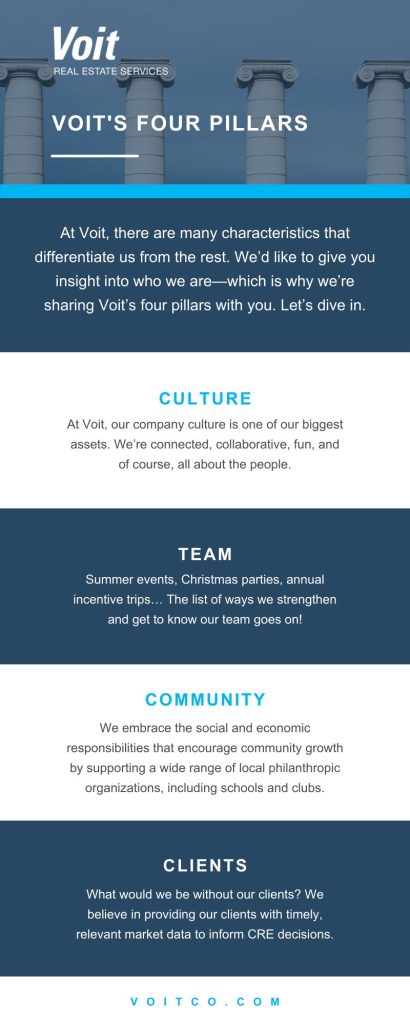 Get to Know Our Team
So, there you have it – Voit's four pillars. Interested in learning more about our team? Read on to learn how Voit motivates its team members or how broker culture affects productivity.