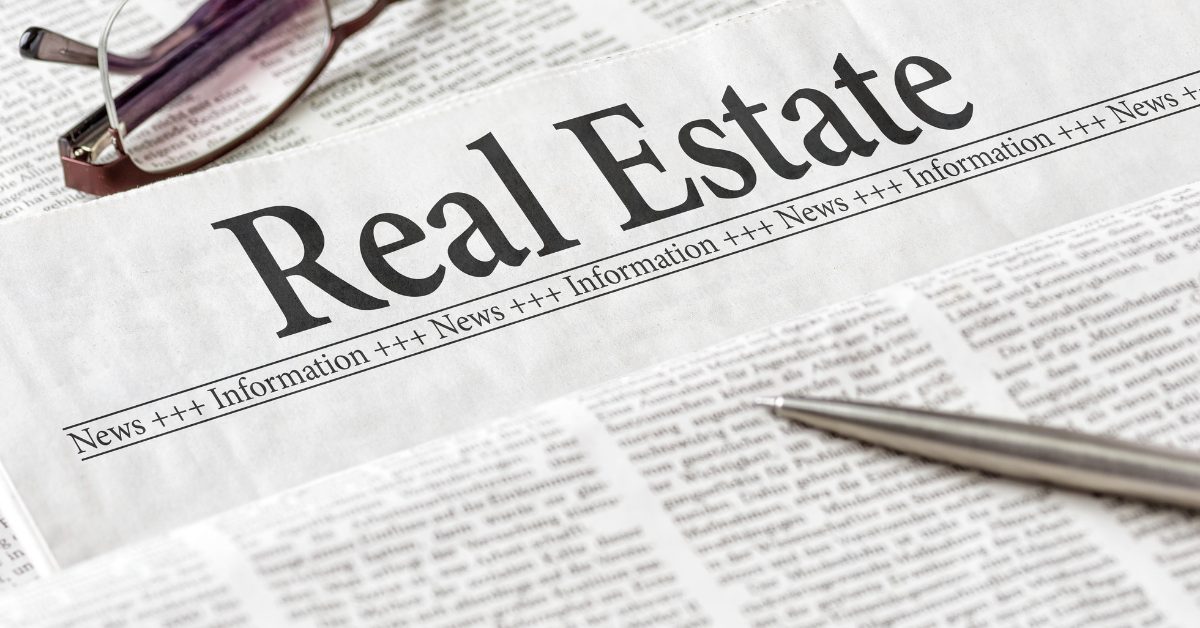 Voit's brokerage division was founded in 1987 and throughout the years, has achieved extraordinary results for our clients.
Our brokerage professionals are a tightly integrated group of market leaders who work closely with each other and our clients to provide:
Local market knowledge

Real-time data

And exceptional service
This ensures our clients make carefully informed real estate decisions to maximize value.
Moreover, there are a variety of types of commercial real estate, five of which we will detail below. Let's get started.
Five Types of Commercial Real Estate
Below are five types of commercial real estate, along with a brief description of each.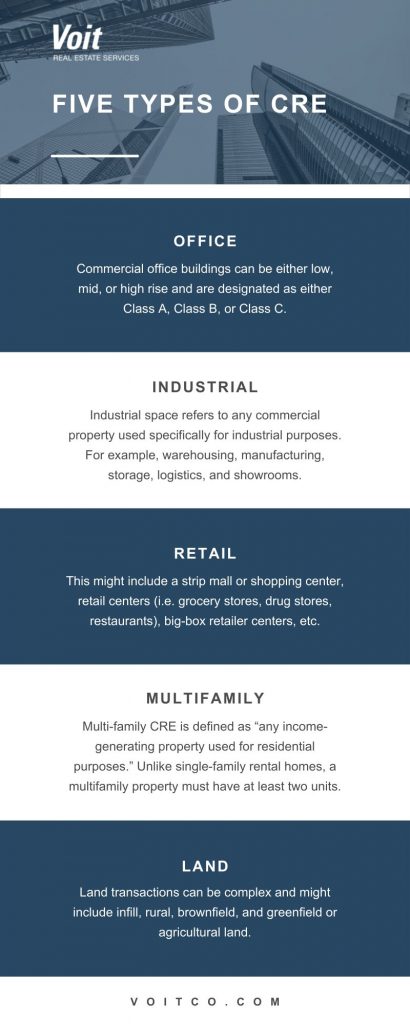 Office
Commercial office buildings include low, mid, and high rise.
A low-rise building is only a few stories tall and typically does not need an elevator; a mid-rise building is typically five to six stories high with an elevator; a high-rise building is taller than six stories.
Office buildings are also designated as either Class A, Class B, or Class C.
Class A:

Typically best location and construction.

Class B:

Less desirable location but a similar quality of construction to Class A.

Class C:

Likely run down and in a less desirable location.
Read on for more on office space, specifically converting warehouses to office space: the trend of the future.
Industrial
Industrial space refers to any commercial property used specifically for industrial purposes. This includes:
Warehousing

Manufacturing

Storage

Logistics

Showrooms
Industrial CRE can include a variety of buildings whose categories include:
Bulk warehouse:

Large properties (~50,000-1,000,000 square feet) used for product distribution

Flex warehouse:

Easily convertible space; sometimes called mixed-use 

Heavy manufacturing:

Special use facilities; used by most large manufacturers

Light assembly:

Easy to reconfigure; buildings are often used for storage, product assembly, office space, etc.
Retail
Commercial real estate retail properties include strip malls or shopping centers, retail centers (i.e. grocery stores, drug stores, restaurants), big-box retailer centers, etc.
Multifamily
Multi-family CRE is defined as "any income-generating property used for residential purposes." Unlike single-family rental homes, a multifamily property must have at least two units to be defined as such.
Multifamily properties can include:
Duplexes

Triplexes

Quadruplexes

Garden apartments

Mid and high-rise apartments
Read on to learn about the evolution of multifamily property.
Land
Although it sounds simple enough, land transactions can be complex when considering zoning, utilities, growth plans, development districts, etc. These types of transactions might include infill, rural, brownfield, and greenfield or agricultural land.
What Realms Do We Work In at Voit?
There are, of course, additional types of CRE. At Voit, however, our core brokerage services extend to institutional and private clients for sales and leasing in the following property types:
Office

Industrial

R&D

Flex

Retail

Medical

Multi-Family

Land

REO Distressed Assets

Note Sales
Interested in learning more? Read on to find out how much you need to save for your commercial property's down payment.