What Traits to Look for in Your CRE Broker

At Voit Real Estate Services, we have over 50 years of experience in the commercial real estate industry. This considered, we can rattle off what traits to look for in your CRE broker like it's no one's business.
We'll do you one better. Here, we have John Viscounty, Vice President at Voit, on camera to chat about the most common personality traits of Voit client advisors.
Let's see what he has to say.
What Personality Traits Do Most Voit Brokers Share?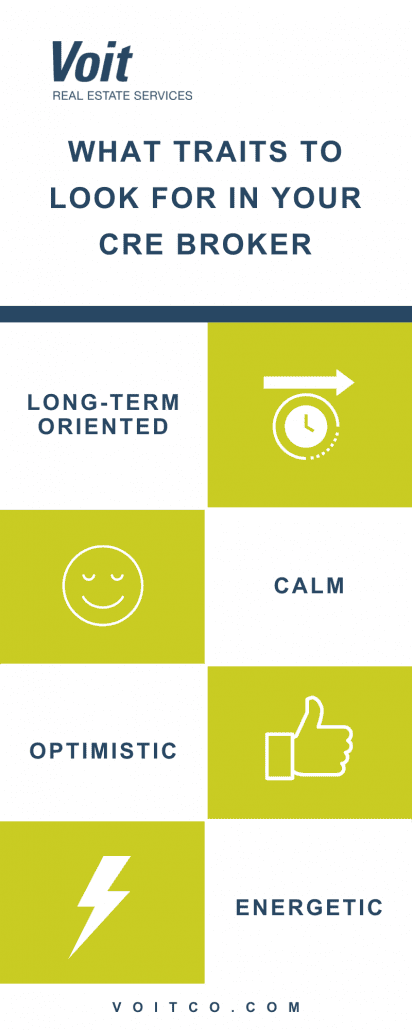 When thinking about Voit brokers, there are four distinct personality traits that come to Viscounty's mind.
Long-Term Oriented
Calm
Optimistic
Energetic
Let's discuss each in a little more detail below.
Long-Term Oriented
One of the reasons why our team members must be long-term oriented is because of the time frame in which we work.
"A deal cycle can be very long," says Viscounty. "Sometimes they don't happen; oftentimes they don't happen." In fact, some deals can range from months to years depending on the size of the transaction.
Understandably, it can be frustrating when so much time is spent and a deal doesn't close. This is why, however, Voit brokers need a long-term outlook and positivity—that isn't deterred, regardless of the outcome.
Instead, Voit brokers think more about what they're doing and how their process will pay off in the long run.
Calm
Additionally, our brokerage professionals must be calm. In the world of commercial real estate, there's so much back and forth that occurs even on a day-to-day basis. Both great and bad things can come out of seemingly nowhere.
This considered, having a sense of calm is key for our Voit team members to succeed.
Viscounty explains: "The people I like to surround myself with at Voit are very calm and professional. Again, they're long-term oriented so that they're not getting tripped up by short-term issues."
At Voit, we do our job the best that we can every day, thinking of the end game outcome. This allows us to be the best brokers possible; controlling what we can control and letting the rest fall where it falls.
Optimistic and Energetic
These two character traits are more self-explanatory than the prior two.
At Voit, we pride ourselves on our company culture and would like to think that everyone on our team champions an energetic spirit of optimism.
Want to see our company culture in action? Check out this video from last year's summer event.
How Can You Pick the Right Broker?
Although the easiest option is to get in touch with one of our trusted professionals at Voit, we'll list a few pointers below on how you can pick the right broker (or client advisor, as we like to call them).
Ask Them Questions: What is their personality like? You should get along with them well as you'll be working closely with them.
Check Out Their Website/Blog: Do they know what they're talking about? How informed are they about the particular industry you're in and what's going on in the market?
Stalk Their Social: OK, maybe not stalk! But take a look at their company culture. Is this a firm you want to work with?
Read on for more about our team, including why Voit made top workplaces lists in 2021.
https://voitco.com/sandiego/wp-content/uploads/2022/06/What-Traits-to-Look-for-in-Your-CRE-Broker-.jpeg
628
1200
atran
https://voitco.com/sandiego/wp-content/uploads/2021/03/voit-logo_blue.png
atran
2022-06-05 07:00:00
2022-05-03 16:32:48
What Traits to Look for in Your CRE Broker