San Diego Tourism is Trending Again

Arizona, Nevada, even Oregon… When you drive about San Diego today, it seems as if every other car dons an out-of-state license plate.
Following the 15-month long melting pot of mandates, colored tiers, and public health guidelines due to the COVID-19 pandemic, the state of California finally "reopened" on June 15, 2021. This date, according to Governor Gavin Newsom, was when California was allowed to, for the most part, "open up… business as usual."
As a result, the San Diego economy has begun to boom once again. Commercial properties, including restaurants, hotels, and retail buildings, are filled to capacity. It's official: San Diego Tourism is Trending Again.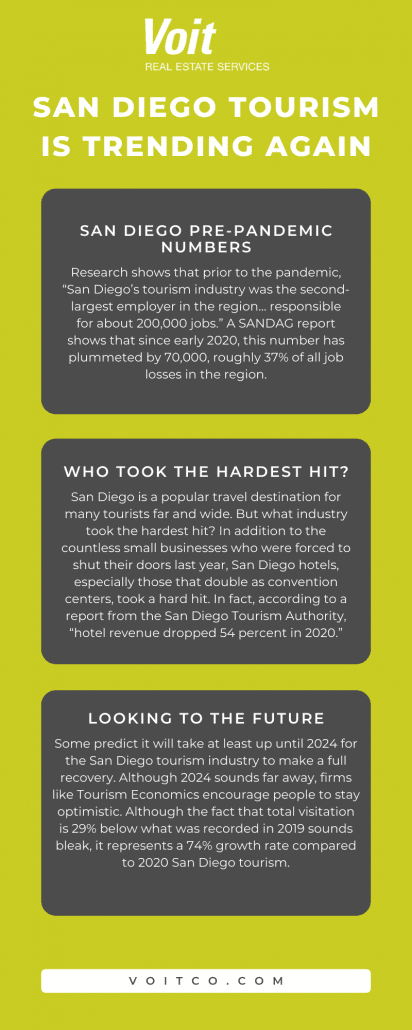 San Diego Pre-Pandemic Numbers
Research shows that prior to the pandemic, "San Diego's tourism industry was the second-largest employer in the region… responsible for about 200,000 jobs." A SANDAG report shows that since early 2020, this number has plummeted by 70,000, roughly 37% of all job losses in the region.
San Diego, known for its warm weather year-round, is a popular travel destination for many tourists far and wide. San Diego, after all, is home to Balboa Park, the renowned San Diego Zoo, numerous art galleries, studios, museums, and gardens, the USS Midway, and a large active naval fleet, and more.
But what industry took the hardest hit?
Who Took the Hardest Hit?
In addition to the countless small businesses who were forced to shut their doors last year, San Diego hotels, especially those that double as convention centers, took a hard hit last year.
In fact, according to a report from the San Diego Tourism Authority, "hotel revenue dropped 54 percent in 2020."
Kerri Kapich, Chief Operating Officer of the Tourism Authority, reminds us that often, conventions are planned years in advance. This planning, of course, could not occur throughout the pandemic when plans were ridden with such uncertainty of where the future lay.
Things, however, do seem to be on the upturn in San Diego, with nearly 30 conferences and events scheduled between now and December. According to The San Diego Union-Tribune, this includes a smaller scale but in-person Comic-Con, one of San Diego's most popular annual attractions.
The Tribune reported that the Manchester Grand Hyatt, San Diego's largest convention hotel, only utilized one of their two towers for much of the year due to canceled meetings, events, and conventions.
General Manager Daniel Kuperschmid says, however, that "more recently, both are being used on the weekends when there's more leisure business."
The Hyatt, in fact, began again hosting larger events mid-summer 2021 with groups above 500 in attendance. "We began to turn a profit at the back end of the year, which is really good news, and our owners have been incredibly supportive through this whole process," says Kuperschmid.
Looking to the Future
Victorio Gonzalez, who manages the Pendry Hotel in the Gaslamp Quarter, says while he is happy to watch San Diego hotel occupancy increase, he predicts it will take at least one or two years for the San Diego tourism industry to make a full recovery.
Some, however, anticipate an even longer recovery period. Tourism Economics, for example, believes that while San Diego is on the road to recovery, it might take until at least 2024 to reach or exceed pre-pandemic levels of tourism in the county, with 24.9 million people visiting San Diego in 2021, which is roughly 10 million below 2019.
Although 2024 sounds far away, firms like Tourism Economics encourage people to stay optimistic. Although the fact that total visitation is 29% below what was recorded in 2019 sounds bleak, it represents a 74% growth rate compared to 2020 San Diego tourism.
As a result of these nearly 25 million people visiting San Diego in 2021, however, it's forecasted that San Diego tourists will "spend $7.6 billion on hotels, restaurants, shopping, and attractions this year," according to The San Diego Union-Tribune. "That's a huge change from 2020 when visitor spending was a mere $5.2 billion, a nadir that hadn't been seen since 2001."
Julie Coker, CEO of the San Diego Tourism Authority, continues, noting that while San Diego tourism is not quite at the high-standing level that was observed pre-pandemic in 2019, our county is leading the way in tourism on the west coast in comparison to San Francisco, Anaheim, and Los Angeles.
"Meetings and conventions are happening in hotels as we speak." In fact, the Convention Center hosted its first city-wide convention post-pandemic in the first week of August, according to Coker.
The missing piece of the tourism puzzle? International travel. According to the latest Automobile Club of Southern California (AAA) outlook, international travel has not returned as quickly as county-wide tourism, like for San Diego.
Filomena Andre, AAA's Vice President for Travel Services spoke more on international travel. "Many of our members are taking domestic road trips and North American air trips instead of options that have not yet fully reopened such as cruises and international tours."
A mentioned factor to consider that will greatly increase San Diego tourism, according to The San Diego Union-Tribune is "when cruise ships are allowed to sail out of the city… San Diego's normal cruise season, which last year was canceled by the pandemic, is expected to resume this fall."
For the time being, however, San Diegans and neighboring states alike will have to continue to admire the beautiful San Diego coastline, outdoor attractions, and the many now-open activities it has to offer.
https://voitco.com/sandiego/wp-content/uploads/2021/09/San-Diego-Tourism-is-Trending-Again.png
628
1200
atran
https://voitco.com/sandiego/wp-content/uploads/2021/03/voit-logo_blue.png
atran
2021-09-19 08:38:00
2021-09-20 16:05:51
San Diego Tourism is Trending Again