Situational Awareness: Your Key to Successful Negotiations

Office property values in San Diego are driven by a variety of factors that are in a constant state of change. Fluctuations in lease rates don't always run along the same track in each submarket.
While macro-economic conditions like gross domestic product (GDP) growth and regional job creation have their impact on macro-market conditions, lease rates are largely driven by conditions in the immediate area of the property being evaluated.
Thus, a strategic facilities plan for your business requires an understanding of market drivers at all levels. Let's discuss.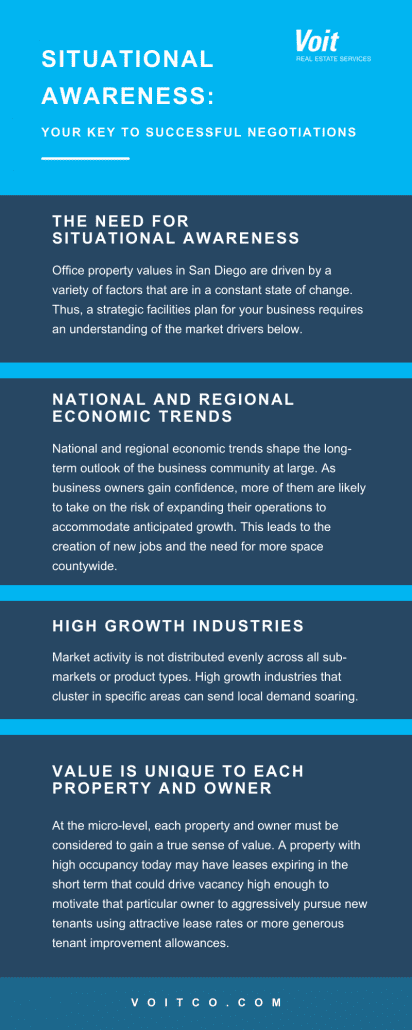 National and Regional Economic Trends
National and regional economic trends are important because they shape the long-term outlook of the business community at large. As business owners gain confidence in the long-term health of the economy, more of them are likely to take on the risk of expanding their operations to accommodate anticipated growth.
This leads to the creation of new jobs and the need for more space countywide. As demand picks up, vacancy falls and the cost of the remaining supply rises.
If no new inventory is added to the market, critical shortages can occur and prices can rise dramatically—as is currently the case for San Diego's industrial sector.
High Growth Industries
Market activity, however, is not distributed evenly across all sub-markets or product types.
High growth industries that cluster in specific areas can send local demand soaring, as has been the case within the life sciences sector in the area surrounding UCSD.
Likewise, the type and quality of the existing inventory in a given submarket can also affect:
Leasing activity
Terms
And pricing
Areas with an inventory of older buildings lacking in amenities may suffer, while those with newer, higher-quality spaces, like that found in Del Mar Heights or UTC, may fare better due to their appeal to a broader spectrum of business types.
Value is Unique to Each Property and Owner
At the micro-level, each property and owner must be considered to gain a true sense of value. For example, the current and projected vacancy for every property is different.
A property with high occupancy today may have leases expiring in the short term that could drive vacancy high enough to motivate that particular owner to aggressively pursue new tenants using:
Attractive lease rates
Or, more generous tenant improvement allowances
Conversely, an owner whose building is nearly full with low expected turnover might be inclined to raise rates and reduce concessions on his available space.
A Final Word
Voit client advisors are local market experts who can provide you with that level of detail necessary to negotiate the best possible terms on your new space, or for the renewal of your existing lease.
Finding the right space in the right building for your needs requires keen attention to detail and a thorough understanding of all your options before you make such an important decision. While it is always helpful to be aware of general market trends, it is vitally important that you understand the unique circumstances of each property you consider as a potential home for your business.
Get in touch with a Voit client advisor today to learn more. Or, read on for factors you should consider before renewing a commercial lease.
https://voitco.com/sandiego/wp-content/uploads/2022/06/Situational-Awareness-Your-Key-to-Successful-Negotiations-SD-Focused-Article-.png
628
1200
atran
https://voitco.com/sandiego/wp-content/uploads/2021/03/voit-logo_blue.png
atran
2022-06-02 15:54:00
2022-06-03 08:00:59
Situational Awareness: Your Key to Successful Negotiations