Commission-based compensation for services rendered has been around as long as people have been doing business with one another. Commission is based primarily around the most critical component of virtually any business: sourcing customers.
Without someone to identify and connect with those who can benefit from a product or service, businesses would not exist. Someone has to find customers, build relationships, and communicate the value of the product or service. Then, make sure that it is delivered to the customer as promised. As an owner of a business yourself, you know that is no small task.
Compensating those in the sourcing role with an incentive-based system is widely accepted as the best way to increase revenue and grow a business. The commercial real estate industry is no exception to this rule.
In this post, we will explain how and why commercial real estate professionals are compensated as they are.
Let's begin with how.
How Do CRE Brokers Get Paid?
In almost all transactions in which a broker is involved, he or she receives a fee based on a percentage of the total consideration of the transaction, whether it is a sale or a lease.
Fee structures are based on a published schedule provided by the broker, but by law, are negotiable. Sale transaction fees range from 1% to 6% depending on the size and scope of work required.
For example, in the sale of a $50 million portfolio of properties to an institutional investor, the fee would be on the lower end of that scale, in part because institutional investors do most of their own underwriting and due diligence in-house.
On the other hand, a $2 million sale of an industrial building to a local business owner would command a fee on the higher end of the scale because the brokers involved are more likely to handle all aspects of the transaction, which can be complex and time-consuming. The commission fee is due if—and only if—the transaction closes.
The commission schedules for lease transactions are more standardized and less dependent on transaction size. Fees for lease transactions generally run between 5% and 6% of the total consideration of the lease payments, including fixed rental increases.
Listing brokers typically split their fees with other brokers who represent the tenant in a transaction. Fees are paid when the lease is executed or in two installments; half upon lease execution of the lease and half upon the occupancy of the tenant. The split payment schedule is often used when the landlord must complete tenant improvements before the tenant takes occupancy.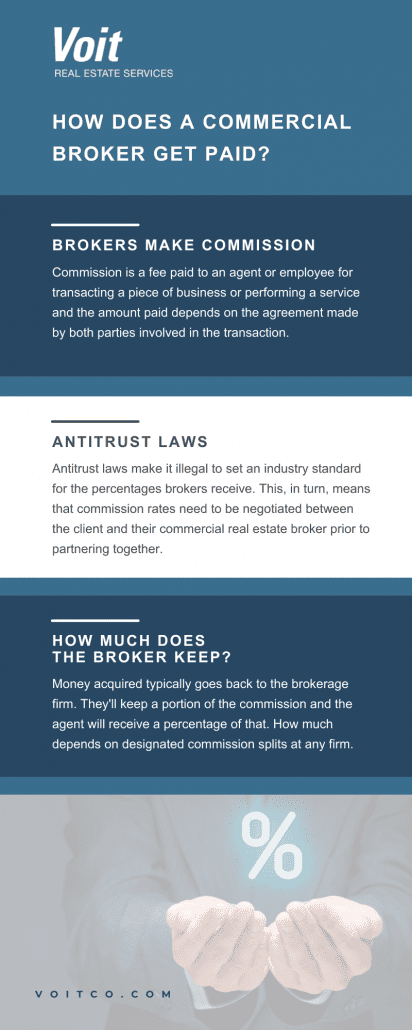 Who Pays CRE Brokers?
Almost all commercial real estate transactions involve the payment of a brokerage fee, precisely because commercial brokers are the ones who create the potential sale or lease in the first place. Some brokers source tenants and buyers, while others pursue landlords and sellers. Some do both.
Traditionally, fees are paid by landlords and sellers and they consider the payment of those fees as a legitimate cost of doing business which is factored into their income and expense projections.
If a tenant represents himself, the same fee will likely be paid, but all to the listing broker. If that same tenant works through his own broker, the full fee is paid but split between the brokers. So, having his own representative who has provided a comprehensive analysis of all market opportunities before moving forward, offers additional value.
Now let's take a look at why brokers are compensated as they are.
Why Are CRE Brokers Paid The Way They Are?
The true professionals in the brokerage business are highly-skilled, experienced, and extremely knowledgeable in their area of specialty. They have spent years learning their markets, building relationships, and paying close attention to the myriad details of every transaction they work on.
Most of their time spent at work is dedicated to actions not directly related to a specific transaction for which they would receive compensation. They work hard every day with no guarantee of any compensation at all but are instead motivated by the desire to source customers and provide a level of service that will result in closed transactions that end in commission income.
It is a high-risk business that attracts only those with the desire to earn at a high level; those who are willing to solely depend on themselves to reach their goals. As a business owner, you know how much value those kinds of people add to your own efforts.
It is true that brokers are handsomely compensated for transactions they source and complete, and many business and property owners question whether they are getting good value by working with a broker.
So the question is: Is it worth the price of hiring a broker or is it better to go it alone and try to save the cost of a commission?
Is It Worth Hiring a Broker?
At Voit, we work hard to make the answer to that question an easy one. Whether you are a business owner looking to buy or lease space, or an investor looking to acquire or dispose of commercial property, your Voit professional is committed to adding value that far exceeds the fees he or she earns for completing a transaction.
There are hundreds of moving parts to every transaction. It's not just a matter of looking up properties on a multiple listing services (MLS) and conducting property tours.
Every business and investor is unique, and so is every property. Creating the right opportunity involves in-depth knowledge of market conditions and trends backed by empirical knowledge, hands-on experience, and the depth of relationships that come from years of hard work.
Choosing the right broker to represent you as tenant, buyer, landlord, or seller, is the key to a successful transaction. At Voit-San Diego, we have experienced professionals in all specialties throughout the county who are ready and willing to help you make the most informed real estate decision possible. We are confident that we will earn every penny we make, and save you time and money in the process.
https://voitco.com/sandiego/wp-content/uploads/2022/02/How-Does-a-Commercial-Broker-Get-Paid-1-e1644596824781.png
507
1200
atran
https://voitco.com/sandiego/wp-content/uploads/2021/03/voit-logo_blue.png
atran
2022-02-27 07:00:00
2022-03-11 08:52:14
How and Why Are CRE Brokers Paid the Way They Are?