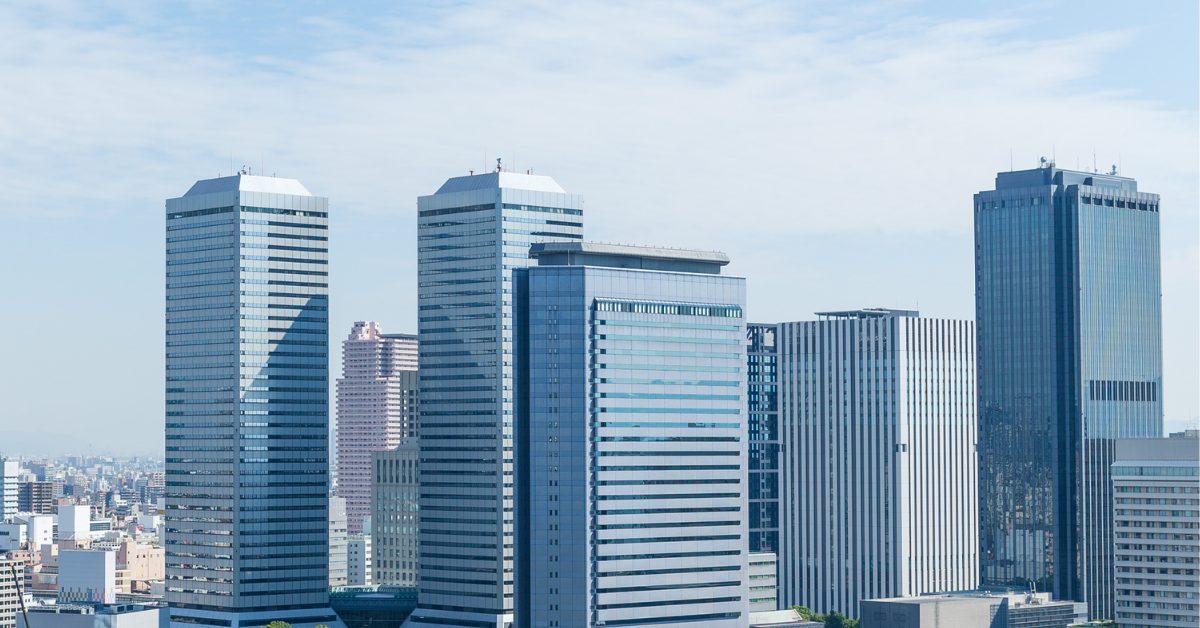 Last month, we answered the question: Is it a good time to buy a building? We discussed the benefits of investing in real estate and elements to consider prior to investing in CRE property.
But we believe there's more to say—which is why we got Greg Marx, Vice President at Voit Real Estate Services, on camera to detail nine reasons why it's a good time to buy a building right now.
When it comes to real estate, some of the benefits are obvious. Others are not so apparent until a conversation comes about. When we first asked the question, Marx laughed. "It's always a good time to buy a building!" Here's why.
"Today, we're gonna be answering the question, whether it's a good time to buy a building or not. Specifically, we're going to be discussing Owner User Purchases with 504 and 7(a) loans."
Low Interest Rates
"It's a perfect time to buy a building, specifically an owner-user building, because there are historically low interest rates. Over the last year, we've seen the interest rates drop to the lowest levels that they've ever been in this country.
"Currently they're at 3.25% to 3.4%, and that interest rate keeps your payment low, and one reason that it's a great time to buy a building."
Hedge Against Market Volatility
"Reason number two: it's a hedge against market volatility and rents by locking in your cost for 22 1/2 years, the term of an SBA loan. If you're leasing, you don't really have any control over what your monthly cost is going to be. Rents can be high, rents can be low.
"When I got into the business, for industrial, they were $1 per square foot per month. Now, they're close to $2 per square foot per month. If you get your own interest rate, that's a fixed number. You're not going to be increasing your number over the course of time, and it's a hedge against market volatility."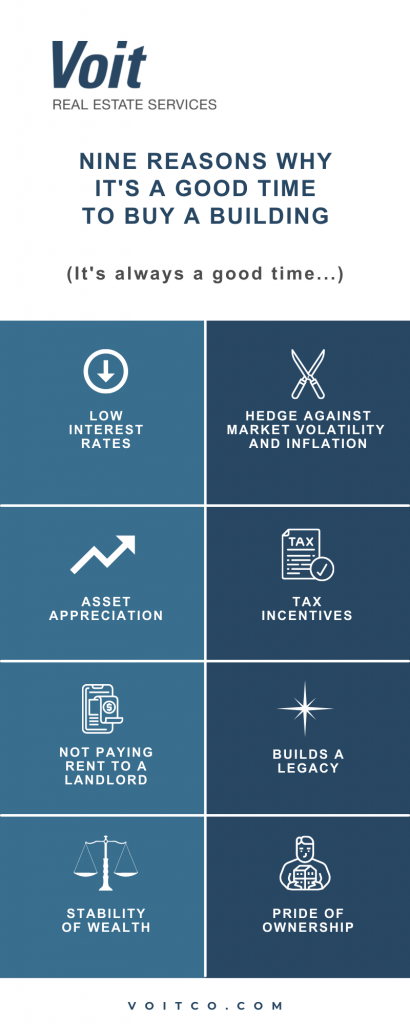 Asset Appreciation
"You're building wealth through asset appreciation and paying down your principal with every payment. Each monthly payment, when you're leasing, it goes to your landlord…
"However, when you own your building, a portion of that payment goes to your mortgage, and goes to your principal. It goes to the dirt beneath your feet. As they say, there's no better bank than the dirt beneath your feet. Every single payment makes your mortgage go down a little bit more."
Tax Incentives
"Tax incentives: you purchase the building in your name or under your trust, and lease it back to your company Corp. or LLC so there's a lower cost of overall occupancy."
Not Paying Rent To A Landlord
"This leads us into reason number five, which is you get to pay rent to yourself versus to a landlord."
Builds A Legacy
"It adds a legacy of built-in wealth for your family or something you can pass down to your kids."
Stability of Wealth
"Owning real estate adds stability to wealth. For example, real estate versus the stock market, or other more liquid investments where your money can disappear in a second."
Hedge Against Inflation
"Number eight, [it's a] hedge against inflation to a certain extent. As the inflation increases, your property is still there, so it's a safe asset that you know is not going to disappear."
Pride of Ownership
"Lastly is pride of ownership. Purchasing your building is something to be proud of. In some ways, it's kind of like purchasing your own dream car. You get to put a lot of your hard work and sweat into the purchase of it."
"It's something that lasts you for a long time. Something again, that you can pass on to your family or sell again one day for a great number."
Working with Voit
At the end of the day, no one can make the decision to invest but you. Purchasing commercial property is very personal, and often depends on your unique business, its needs, and your long-term goals.
Regardless of your choice, our CRE brokers at Voit (also referred to as Client Advisors) have the experience to negotiate the best deals with your best interest at the center of every transaction.
And what's a client advisor, you might ask? For more on the difference between a broker and a client advisor, read on here.