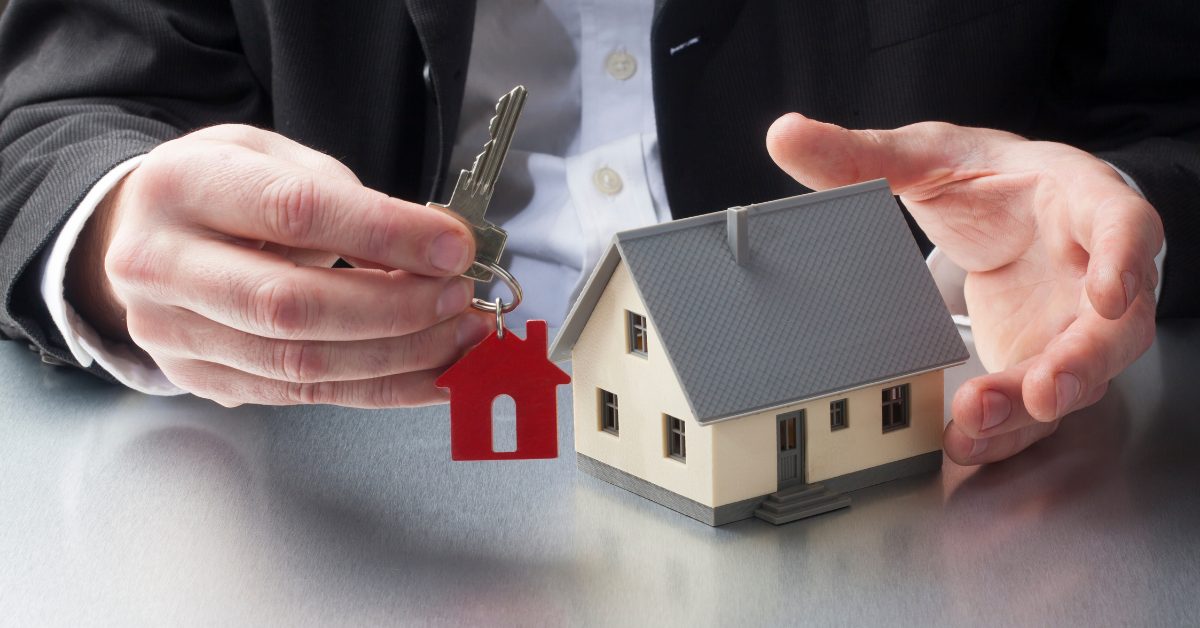 We all know the platform Zillow. Best known for its home price listing service, the company recently branched out and tried to get into the transaction process itself. However, things didn't go as planned.
As a result, Zillow is currently offloading a superstorm of intended fix and flip homes onto the market; approximately 7,000 U.S. homes at $2.8 billion, to be specific.
In combination with Senate Bills 9 and 10, there is much to consider from the perspective of a CRE investor. Let's dive into what this Zillow fiasco means for the commercial real estate industry in light of Senate Bills 9 and 10, which were just signed into law by California Governor, Gavin Newsom.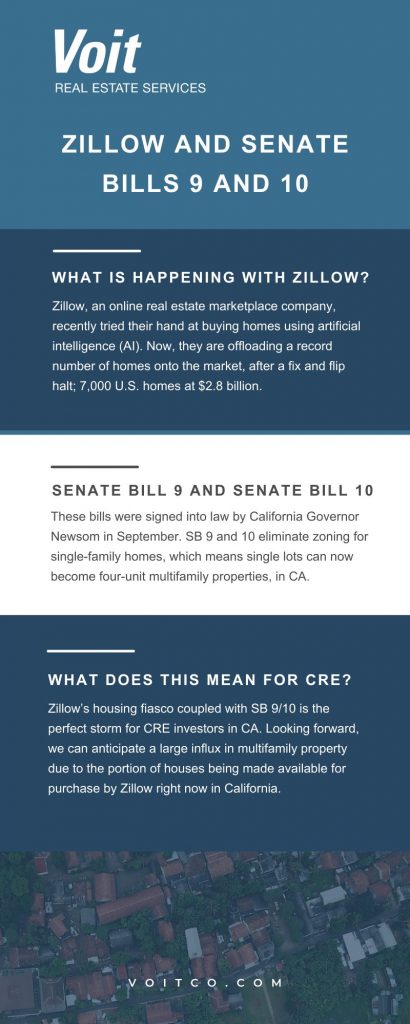 What Is Happening With Zillow?
Zillow is an online real estate marketplace company that was founded in 2006. Although they are most well known for their Zestimate® home values, ability to connect with local professionals, and search for-sale and rental listings, the company recently tried its hand at buying homes using artificial intelligence (AI).
The process Zillow used is referred to as 'iBuying' or 'instant buying'—where AI "uses technology to make an offer on your home instantly."
In these automated processes, AI helps determine the price it pays for homes. According to Bloomberg Wealth, "Zillow invites owners to request an offer on their house and uses algorithms to generate a price."
Instant buying and iBuying quickens the buying and selling process while eliminating the need for brokers and realtors.
In fact, according to The Seattle Times, Zillow "bought more than 3,800 houses in the second quarter, making progress toward its stated goal of acquiring 5,000 homes a month by 2024."
With this rapid acquisition of houses, Zillow struggled to keep up with finding workers to fix and flip these properties, says The Seattle Times. This, in turn, caused a backlog of inventory and landed the company in its current position, putting a record number of homes on the market.
Additionally, according to Business Insider, Zillow was overbidding for homes using this technology. Zillow had hoped to scoop these homes off the market, make light renovations, and then put the homes back on the market to pull a profit.
Now, however, as Alex Nicoll of Business Insider explains, Zillow is selling these thousands of homes at a loss. In fact, reports state that 128 out of 168 Zillow homes in Dallas, Texas are being sold for less than Zillow originally purchased them.
In fact, according to an analysis done by KeyBanc Capital Markets, out of 650 homes owned by Zillow, "two-thirds were priced for less than the company bought them for," as of October 31, 2021.
When asked about the situation, Ed Yruma, an analyst at KeyBanc, says he believes it was a matter of poor timing. Zillow "leaned into home-price appreciation at exactly the wrong moment."
The company announced on October 17th that Zillow will not be buying any more homes for the remainder of 2021.
A Refresh on Senate Bill 9 and Senate Bill 10
So, what does Zillow offloading homes mean for commercial real estate? Recently, two housing bills, Senate Bill 9 and 10, were approved by the Senate on August 31, 2021 and signed into law by Governor Newsom on September 16, 2021.
According to the Los Angeles Conservancy, SB 9 and 10 "are intended to help alleviate the affordable housing crisis" in California. These bills eliminate zoning for single-family homes.
This legislation, in turn, allows property owners "to split a single-family lot into two lots, add a second home to their lot or split their lot into two and place duplexes on each," according to The Mercury News.
What Does This Mean for the CRE Industry?
As a result of these two bills being passed, single lots can be converted into four-unit properties. The owner of an originally single-family home can now be a landlord with a commercial property of their own.
Multifamily and subdivided lots could exist in what has always been single-family home areas, which has brought a lot of controversy to the affected areas.
For more on these legislative changes, visit the article we wrote last month, where we reviewed the San Diego Union-Tribune's question of whether or not Governor Newson made the right economic call by approving Senate Bill 9.
Opportunities for CRE Investors in CA
Zillow's housing fiasco coupled with Senate Bill 9 and 10 is the perfect storm for CRE investors.
"Investors have been buying single-family rental homes during the pandemic," according to Bloomberg Wealth. "[Investors have been] chasing the inventory-starved housing market for properties they can buy and rent."
Considering the high number of homes being offloaded onto the market by Zillow, there is a tremendous investment opportunity for investors who are interested in not only single-family homes but also multifamily properties.
As a result of SB 9 and 10 having been signed into law, we can anticipate a large influx in multifamily property in the coming years, especially with the 7,000 houses being made available for purchase across the country by Zillow right now.
All of the California homes being put on the market by Zillow' in theory, could become multifamily property units due to SB 9/10, boosting CRE activity.
In an interview with Rick Palacios, director of research at John Burns Real Estate Consulting, Palacios emphasized the likelihood that single-family landlords will jump on this opportunity. "I bet Zillow can sell to single-family landlords at a profit given how hungry those groups are for inventory," says Palacios.
All things said and done, the situation Zillow is experiencing is an interesting phenomenon and can even serve as a cautionary tale regarding AI.
For those who are interested in learning more about why now is a great time to invest in commercial real estate, watch this video where Greg Marx, Vice President at Voit, details nine reasons why it's a good time to buy a building.