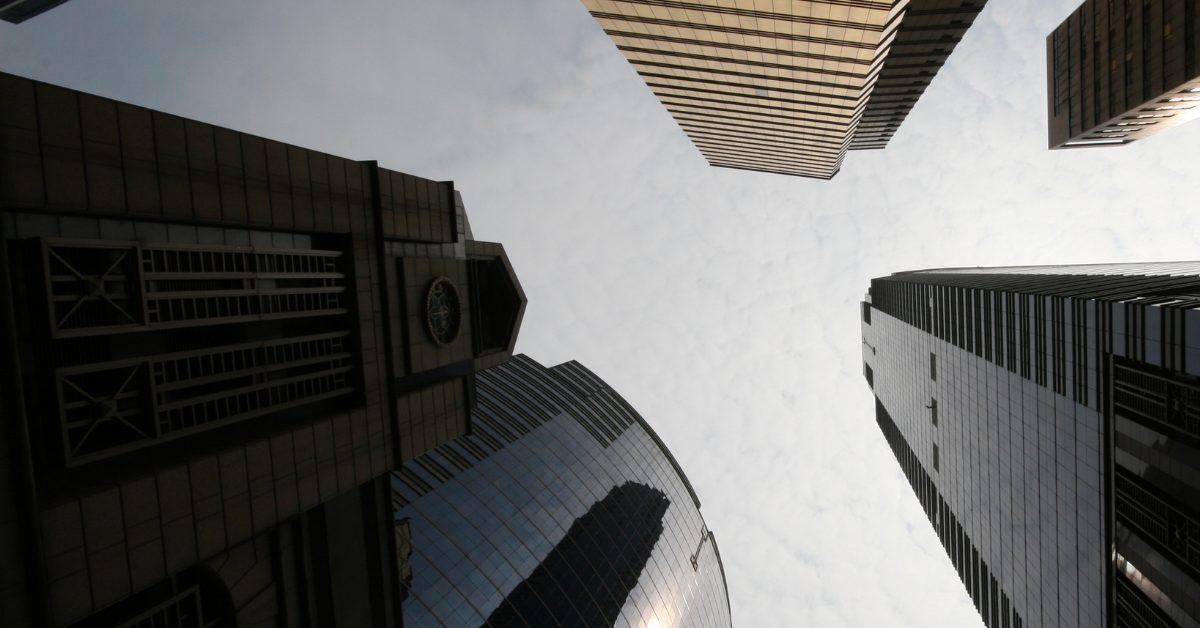 You can't have missed it—headlines regarding inflation worries. Economists and policymakers are vigilantly tracking shortages and are scouring data for indications of inflation, according to The New York Times. In addition, the Federal Reserve System has recently noted that many businesses, according to their latest Beige Book survey, have listed COVID-related disruptions "as reasons for shortages and price spikes of commodities." With so much information, it's helpful to look at the facts. Here's your guide to understanding commodity inflation in the CRE industry.
A New Record
We've heard it a million times. This past year has brought a lot of change globally. Economic change is not to go unmentioned. One new record that's been set, however? The cost of construction commodities.
Over the past year, the cost of building commodities—including steel, wood, lumber, flooring, paneling, and even joint compound—has risen nearly 13%. According to Bisnow Media, this is the largest annual spike we've observed since 2008.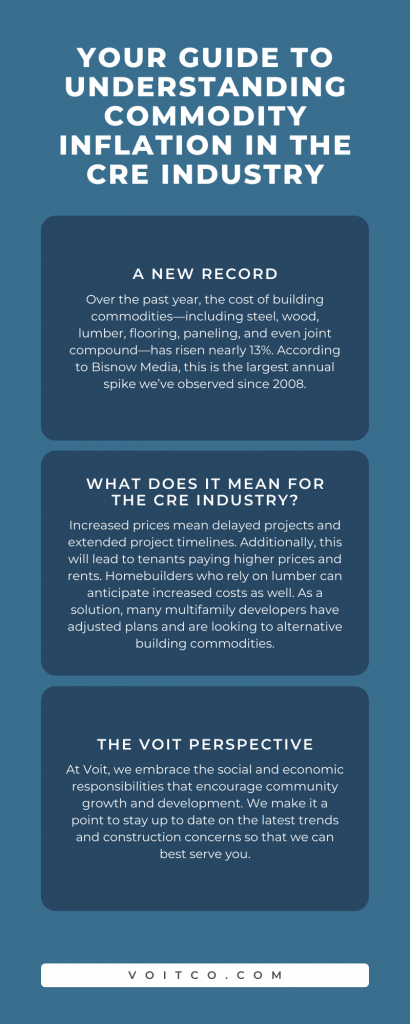 A specific commodity that has drawn much attention to itself in terms of price increase is lumber. According to Market Insider, the price of lumber reached a record price of $1,400 per thousand board feet in April. This marked a 57% increase since the beginning of the year in January 2021 and a staggering 325% since 2020.
But why? Post-COVID, the desire for homes and remodeling has skyrocketed. The lumber industry, as a result, now struggles to keep up with production levels as many production facilities were shut down as a result of the global pandemic last year.
Additional commodities whose prices have skyrocketed include diesel fuel, plywood, iron, steel and copper scrap, prefabricated metal buildings, plastic, and copper and brass mill products according to the Bureau of Labor Statistics producer's price index.
In fact, Associated General Contractors of America (AGC) Chief Economist Ken Simonson says, "It's a competition in which [product] is going to go up the most in any given week."
In addition to 'sticker shock,' many U.S. ports experienced blockage as a result of the COVID-19 pandemic. Natural disasters in Texas also halted petroleum production in February 2021, which further affected the supply of plastics and joint compounds used in construction.
All in all, there's a lot that has gone into the commodity price increase.
What Does It Mean for the CRE Industry?
Commodity price increases have recently spiked fear of inflation.
In March, AGC issued a Construction Inflation Alert: "a document to inform project owners, government officials, and the public about the extreme cost increases and supply-chain disruptions affecting construction."
Since then, AGC has watched price increases continue to intensify and spread to additional commodities while "lead times for both production and deliveries have lengthened."
According to The New York Times, "shortages— and the price increases they are eliciting—are being watched closely by the Biden administration, which is under increasing pressure from industry groups and businesses to take steps to ease them."
ACG additionally called on Congress, according to Bisnow Media, "to eliminate tariffs and quotas to help kick up supply in the market that mills and factories are struggling to refill."
Being as commodity costs are typically negotiated in advance, projects might suffer as a result of the increase. This suffering might be seen through lacking profits and financial hardship for contractors. To combat increased prices, some developers have increased commodity budgets by as much as 20%.
Increased commodity prices mean delayed projects, extended project timelines, and even shifts in the use of commodities for the commercial real estate industry. Batson-Cook Construction projects that the number of preparation weeks for hiring subcontractors will increase from 14 to 20 weeks.
Increased commodity prices will also lead to tenants paying higher prices and rents for real estate. After all, according to the S&P Dow Jones Indices, housing prices bumped up 12% in February 2021 alone—the largest single-month increase in over 15 years.
Homebuilders especially rely on lumber and can anticipate increased costs. As a solution, many multifamily developers have changed their behavior and adjusted plans due to costs and are looking to alternative building commodities, according to The Wall Street Journal.
The Voit Perspective
We recognize that the price of commodities ebbs and flows. In this time period, however, we're being forewarned by experts that this specific influx may be different. From a media standpoint, commodity prices are up and everyone is on high alert. Given there is no set schedule for when prices will average again, this economic event is changing how construction is conducted and planned.
While these commodity increases might slow the decision-making process, we can anticipate that it won't halt construction. If commodity prices do continue to increase without any sign of stopping, however, many might reconsider their projects.
At Voit, we embrace the social and economic responsibilities that encourage community growth and development. We are dedicated to staying up to date on the latest trends and construction concerns so that we can best serve you.