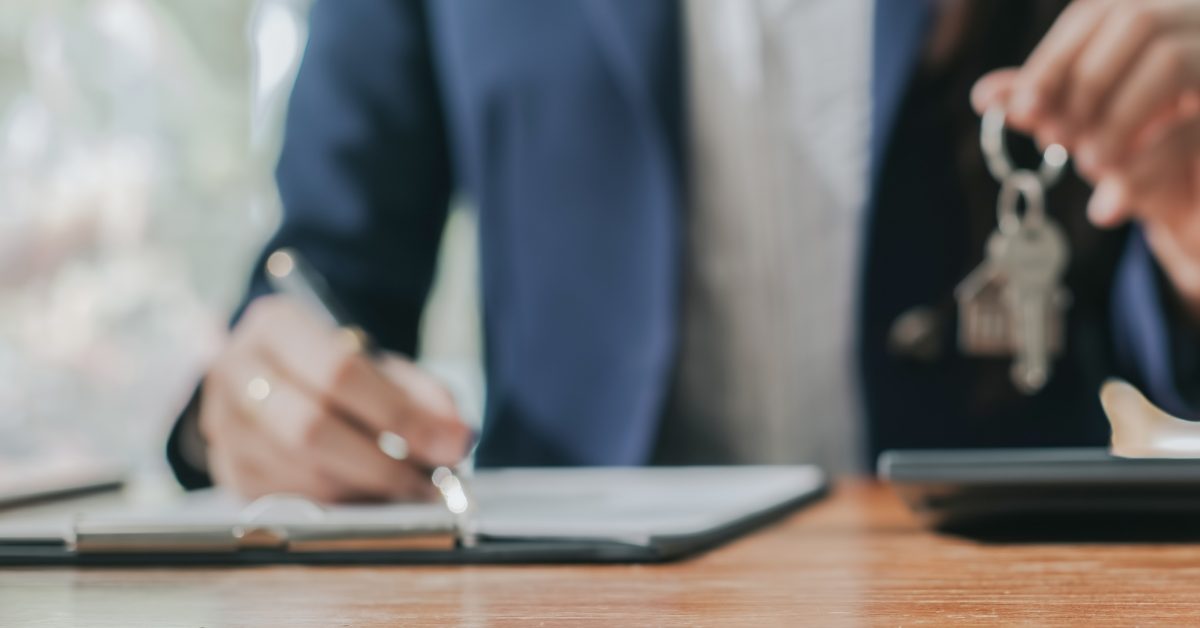 Top Ten Qualities of a Superstar CRE Broker
Unfortunately, not every broker is a good broker. But don't worry. At Voit Real Estate Services, we have over 50 years of experience in the commercial real estate industry under our belts. This considered, we know a superstar commercial real estate broker when we see one.
So, what sets them apart? Let us share the qualities you should look for—the top ten qualities of a superstar CRE broker.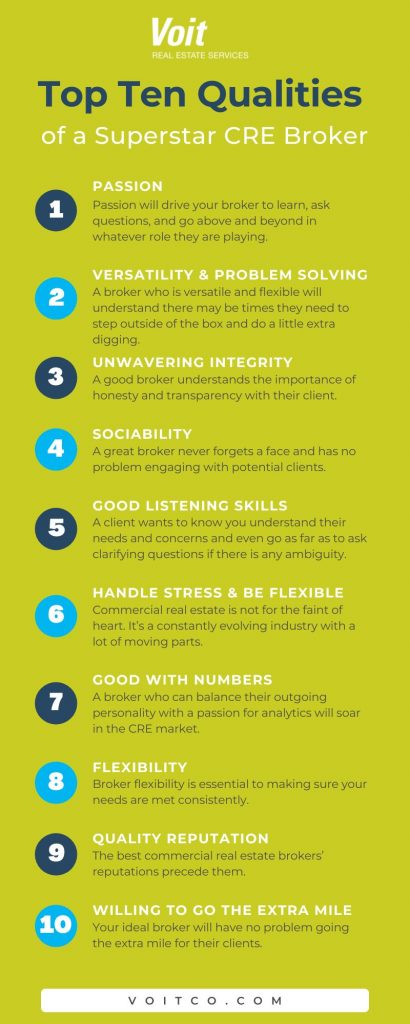 Look for Passion
A good broker has to be passionate about what they do. The commercial real estate market is constantly in flux and passion is what will drive your broker to continuously learn, ask questions, and go above and beyond in whatever role they are playing in the brokerage process.
Passion will give your brokers the energy and drive to surpass their competitors. Passion additionally encourages brokers to come up with innovative and creative new ways of showcasing commercial properties and improving the client experience.
Versatility and Problem Solving
A lot can happen during the process of acquiring, listing, marketing, and leasing or selling a property. This includes many questions that might come to the surface, some of which your broker may or may not initially have the answers to. Hiring a broker who is a great problem solver will help to make the process exponentially easier.
A broker who is versatile and flexible will understand there may be times they need to step outside of the box and do a little extra digging to showcase a property in its best light or to make sure a client walks away from their interaction with confidence.
Unwavering Integrity
A good broker understands the importance of honesty and transparency with their client. Your broker is the face of your company when they are interacting with a client. This considered, you want to feel confident your broker will do what it takes to get the best deal and steer clear of anything that feels fishy.
A good rule to live by, in any capacity, is the golden rule: treat others the way you want to be treated. Robert E. Griffin, former principal of Fallon Hines & O'Connor, put it this way: "I try to treat people as if they are going to give the eulogy at my funeral or explain to my wife and my children what I stand for."
Remember, each client wants to feel that you and your company are trustworthy.
Sociability
If your prospective new hire is a wallflower, chances are good they won't be the best broker you could hire. A great broker never forgets a face and has no problem engaging with potential clients. They understand commercial real estate brokers are everywhere and the thing that will help your company stand apart from its competitors is relatability.
Without connections, your brokerage business will fail. Both initiating and nurturing relationships with connections are absolutely imperative to a broker's success.
Good Listening Skills
Whether you're buying, selling, or leasing a property, clients want to feel heard. A client wants to know you understand their needs and concerns and even go as far as to ask clarifying questions if there is any ambiguity. A broker who truly listens will avoid making mistakes and will have a better connection with their clients.
Ability to Handle Stress 
Commercial real estate is not for the faint of heart. As previously mentioned, it's a constantly evolving industry with a lot of moving parts. Each transaction will come across its own set of snags and unexpected twists and turns and your broker will have to be ready and able to go with the flow. It's not exactly the type of job that will have your broker sitting at a desk with clearly defined timelines for each of their responsibilities.
There will be moments when they are knee-deep in paperwork and the phone rings and they have to get up and meet a client or show a property. A great broker will be able to think on their feet and roll with the punches.
Good with Numbers
You will also want to make sure your broker has a knack for numbers. Commercial real estate relies heavily on understanding and organizing data, including market demographic studies, financial analysis reports, local research, and more. A broker who can balance their outgoing personality with a passion for analytics will soar in the commercial real estate market.
Flexibility
Flexibility, in all areas, is also key in the commercial real estate business. Broker flexibility is essential to making sure the clients' needs are consistently met. As the world continues to change, it's important that your broker is learning from those around them and from experiences to guide them.
Flexibility, when it comes to technology, is another aspect in and of itself.
ClientLook writes that the days of running a print advertisement and waiting for the phone to ring are gone. In other words, brokers today cannot be rigid in their old ways. "Commercial real estate professionals who have adapted to the current technologies available to them are using social media, websites, and blogs to reach their audience and showcase their expertise," says ClientLook.
"They are using a CRM that allows them to have all their contacts, deals, properties, and marketing data in the palm of their hands anytime, anywhere."
Forbes recommends that brokers "learn and fully utilize any data sources or systems that their team or company is presently using," stating that those who "adapt their skill sets will continue to find success in real estate." The opportunities for brokers who utilize technology are endless.
Generation Z, who is currently entering the workforce, are great prospects given that they tend to be highly tech-savvy. Read more about hiring Generation Z here.
Quality Reputation
This one is short and sweet. Having excellent recommendations and referrals says a lot about a broker. The best commercial real estate brokers' reputations precede them.
Willing to Go the Extra Mile
Lastly, your ideal broker will have no problem going the extra mile for their clients. They want to make the buying, selling, or leasing experience easy and enjoyable for the client and are willing to do what it takes to make that a reality. They understand a lot of the transaction process happens outside of normal business hours and their job doesn't end just because they've left the office.