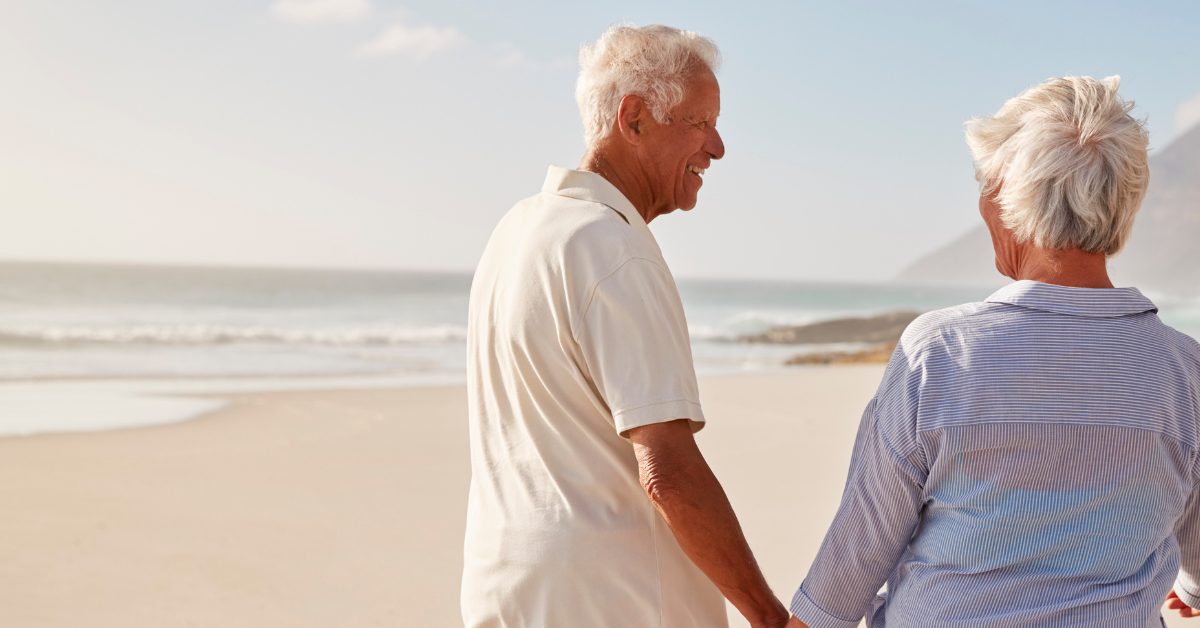 Today, 15% of Americans are age 65 or older, some 40-million people. However, over the next three decades, this cohort will jump to 80 million people. So, what does this mean for the workplace, housing, and for the commercial real estate industry writ large? What effect will the Silver Tsunami have on Commercial Real Estate ("CRE")?
The Silver Tsunami: Defined
Before we dive into the Silver Tsunami and what it means for commercial real estate, let's define the term? Simply put, the Silver Tsunami is "a metaphor used to describe the expected increase in the senior population" over the coming decades.
An additional 40 million seniors will be "relying on Medicare, using the healthcare system, and seeking senior living," according to Leisure Care. The baby boom, which ended in 1964, brought a wave of changes to schools, to the workforce, and to America as a whole. Now, as those baby boomers become seniors, we can expect advertising and the structures of society to focus on meeting the needs (and addressing the desires) of this aging population.
Reactions to the term "Silver Tsunami" may be mixed, but the catchphrase emphasizes the profound impact an enormous wave of the senior population will have not only on the commercial real estate industry but on the nation at large. Consider that one out of every five Americans will be 65 years old or older by the year 2030, according to the government agency of San Diego County.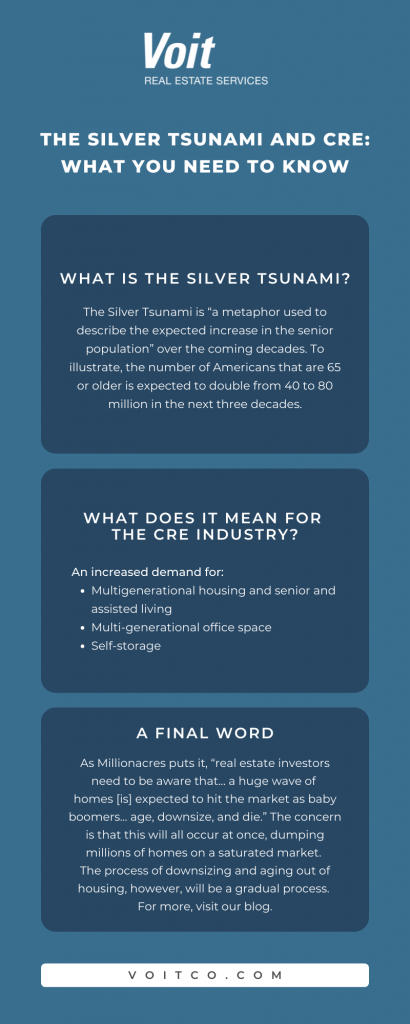 More on This Generation
You may wonder, "why are there so many seniors advancing in age anyway?" Well, this is a result of the baby boom. Baby boomers, according to Pew Research Center, include individuals who were born between 1947 and 1964.
Today, baby boomers make up approximately one-third of the United States' population. In fact, 10,000 baby boomers turn 65 years old every day. (This factors out to nearly seven people per minute!)
The "Silver Tsunami… What Does it Mean for Commercial Real Estate?
So, now that we've covered what the Silver Tsunami is, let's dive into what this phenomenon means for the commercial real estate industry.
Multifamily Property
In the coming years, as a wave of individuals retires and downsizes, the commercial real estate industry will observe increased demand for multigenerational housing, senior housing, and assisted living facilities.
Although many people associate apartment living with younger generations like Millennials and Gen Z, Baby Boomers account for an already significant segment of multifamily housing. In fact, research by IMS shares that "Boomers actually account for more than half of US rental growth in the past decade." By 2030, the number of renters who are 65 or older is expected to double.
Which types of properties is this generation looking to settle into? And where? A recent Freddie Mac survey finds that "eight out of ten boomers actually prefer to be in an urban area throughout their retirement." Long gone are the days of building out large, suburban retirement communities.
Urban environments allow flexibility for travel, benefits including "city-life, such as a walkable community, cultural activities, dining, and shopping, parks, and libraries." Moreover, "this generation also prefers amenity-rich communities… in other words, resort-style living."
Additionally, this cohort desires housing close to their children and grandchildren amidst finding a stable community to be a part of, as put by Lee Brennan, principal at Cuningham Group Architecture. Urban environments typically help achieve these desires.
Office Space
In the office today, we are observing a wide cross-section of the population who have disparate ideas of how they should interact with the workplace.
When it comes to the office, baby boomers aren't budging, even despite their advancing age. This generation is known for having a strong work ethic, having been raised among war and recession. Additionally, baby boomers are the first generation who will live lengthier lives than previous generations which means they will likely work longer. The population segment is staying at work longer than other generational cohorts.
Even post-retirement, many boomers take up a second career for fulfillment. The baby-boomer generation is not departing the office imminently and this presents a challenge for management teams as far as office space planning is concerned.
Certain open office floorplans are gaining popularity. As a result, companies are faced with the challenge of designing multi-generational office space; space that meets the varying needs and expectations of each demographic.
The disparity of preferences conspires to create space-planning challenges, as baby boomers are more accustomed to having personal space whereas younger generations are used to working in more open, collaborative environments.
As a result of the Silver Tsunami, the demand for multi-generational office space will continue to swell over the coming years and is something to be considered as business owners assess their company's space needs today and into the future.
Self-Storage
As the time to retire approaches, individuals often downsize and move to apartments or condominiums that are nearly half the size of their previous residency. However, this doesn't mean that boomers will thin out their belongings as a result.
In the coming years, we anticipate many boomers will generate expanding demand for self-storage units. This sector provides a solution allowing boomers to house generations of heirlooms, belongings they intend to pass down, furniture, and so on—not to mention luxuries that might include collectibles, art, cars, RVs, etc. as a result of inheritances, long-term investments, and more.
Looking forward, we anticipate outsized demand growth for self-storage units and associated properties to increase.
As the Silver Tsunami Passes
Millionacres advises paying attention to the market dynamics that undoubtedly follow a senior-heavy population cross-section. "Real estate investors need to be aware that… a huge wave of homes [is] expected to hit the market as baby boomers—people born between 1946 and 1964—age, downsize, and die."
"I can see why some analysts are concerned by the so-called 'Silver Tsunami,'" says Andrew Latham, certified personal finance counselor and managing editor of SuperMoney. The Millionacres  research notes, "the total inventory of homes owned by boomers and pre-boomers is worth around $13.5 trillion, or 75% of the U.S. annual economic output."  This creates concern about a mass property disposition occurring at once and dumping millions of homes into a saturated market. However, more realistically, the process of downsizing and aging out of housing will be a gradual process according to Millionacres.
A Final Word
According to projections by The U.S. Census Bureau projects, history will be made by 2035, as that is when the number of seniors outnumbers youth for the first time ever.
The nature of CRE development and the types of products delivered to the market will materially change.  Add to that, many properties will be coming to the market as their senior owners opt to sell.
The specifics of how things take shape will depend on local market dynamics. This includes existing supply and demand balance, mortgage rates, and where the aging demographic migrates for late retirement.
We do know that subsequent generations' relationship with homeownership will reshape investment and development.