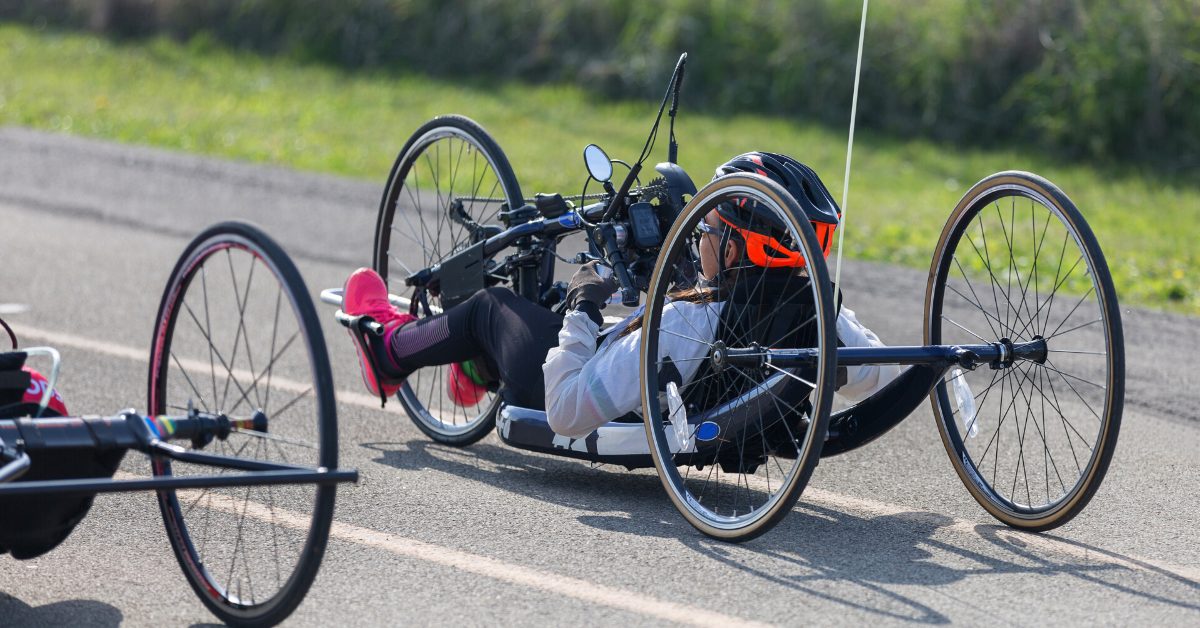 There are many well-established commercial real estate firms throughout Southern California, but the desire to give back to the community at Voit Real Estate Services sets us apart from the competition.
Eric Northbrook, Executive Managing Director of the San Diego Office and Voit Partner, exemplifies just one of the many ways that Voit gives back to their community.
In 2006, Eric Northbrook was involved in an accident that changed his life forever. When a trip offroading in Baja went sideways, Northbrook became paralyzed from just below the chest down. After the accident, it took nine hours to arrive at the hospital for treatment. During recovery, he spent 30 days at Scripps hospital after breaking his right scapula, 10 ribs, and fracturing his skull.
Northbrook was then flown by a medical jet to Craig Hospital, in Eaglewood, Colorado, where he spent nearly five months in an intensive spinal cord and traumatic brain rehabilitation center.
Two years later, Northbrook's life was changed forever—again—when he was introduced to The Challenged Athletes Foundation (CAF) and the sport of handcycling.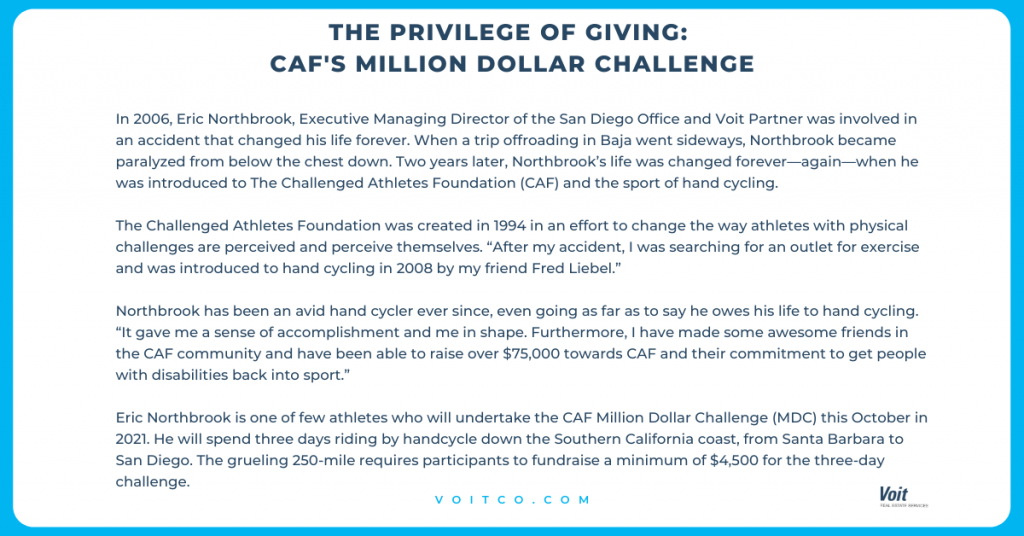 "I personally have a heart for the Challenged Athletes Foundation," says Northbrook. The Challenged Athletes Foundation was created in 1994 in an effort to change the way athletes with physical challenges are perceived and perceive themselves. "After my accident, I was searching for an outlet for exercise and was introduced to handcycling in 2008 by my friend Fred Liebel."
Northbrook has been an avid handcycler ever since—even spending this past weekend cycling 52 miles and climbing over 2000 feet. On this particular trip, Northbrook was on his bike for no less than six hours.
Northbrook says he owes his life to handcycling. "Handcycling saved my life," says Northbrook. "It gave me a sense of accomplishment and got my ass in shape. Furthermore, I have made some awesome friends in the CAF community and have been able to raise over $75,000 for CAF and their commitment to get people with disabilities back into sport."
Eric Northbrook is one of few athletes who will undertake the CAF Million Dollar Challenge (MDC) this October. He will spend three days riding by handcycle down the Southern California coast, from Santa Barbara to San Diego. The grueling 250-miles requires participants to fundraise a minimum of $4,500 for the three-day challenge.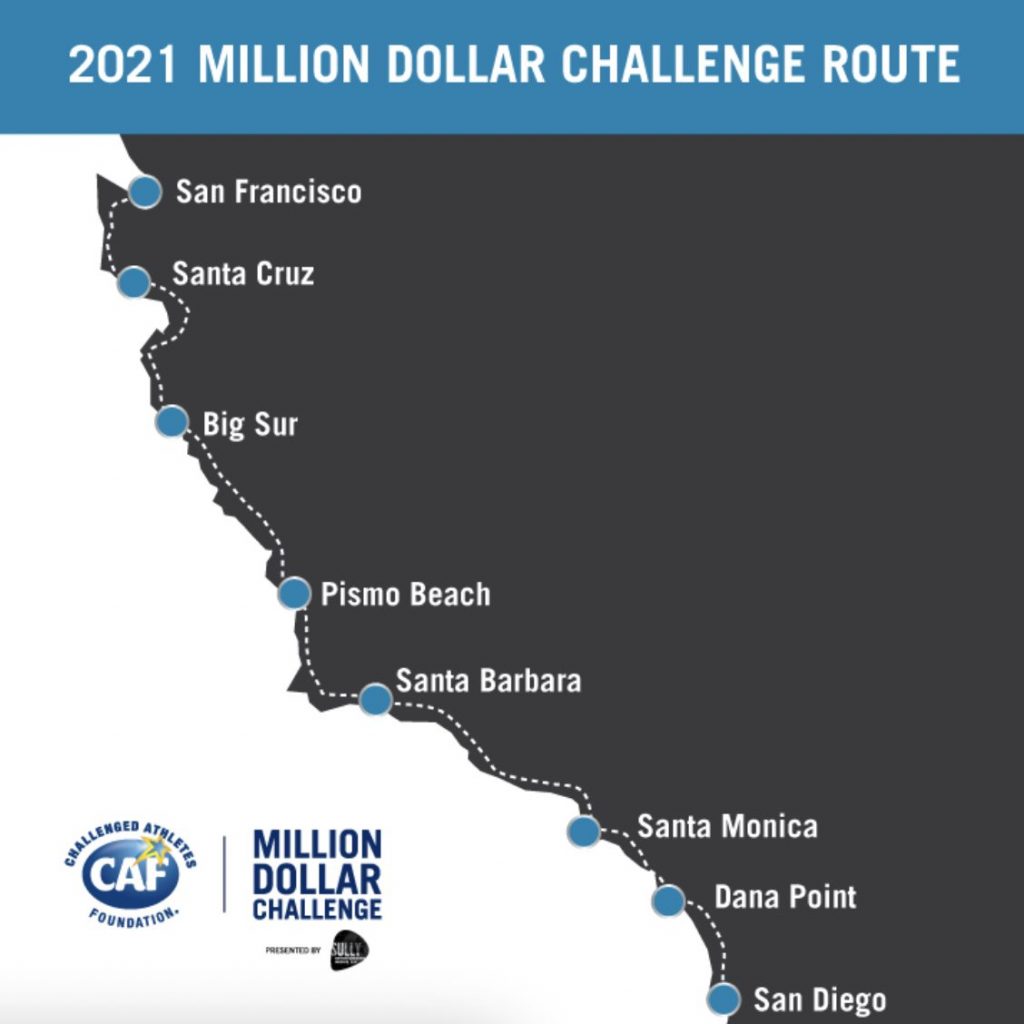 But giving back is not only in Northbrook's nature but also in the nature of Voit Real Estate Services as a whole. "Giving back is a pillar of who we are as a company," says Northbrook. "It is ingrained in our culture, and it all started with the founder of our company, Bob Voit. In 1992, Bob helped form the Boys & Girls Club of the West Valley in Canoga Park."
At Voit Real Estate Services, our brokers give back annually to many other organizations such as Boys to Men, Father Joes Village, HeadNorth Fund at Sharp HealthCare Foundation, and the San Diego Food Bank, according to Northbrook. 
Northbrook created the HeadNorth Fund in [year] to provide help and hope to anyone who has had a spinal cord injury in San Diego County. "I rolled it up into the Sharp HealthCare Foundation in 2017," says Northbrook. "We have now helped over 550 families in San Diego through the foundation."
"At Voit, we embrace the social and economic responsibilities that encourage community growth by supporting a wide range of local philanthropic organizations. Our team members are passionate about their service and Voit supports them in many different ways."
Ricky James, Senior Associate at Voit Real Estate Services, is another athlete who proves his dedication to not only himself but to the greater community through CAF and other similar organizations.
James, who is also in a wheelchair, participated in the full MDC ride in 2013 from San Francisco to San Diego. "It was such an awesome opportunity and experience to see the coast of California on a handcycle." James, however, reveals that it was the most physically demanding week of his life.
James, who has successfully completed ten full ironmans, admits that the back-to-back days of 100+ mile bike rides were brutal. But today, since these physically demanding rides, James has turned a page. 
"I've moved on from endurance events since 2014 to focus on building my career in commercial real estate and build a family," says James. "Eric Northbrook has been a great friend, boss, and mentor to me. Voit, as well as Eric and myself, try to give back to CAF as it has created so many stories like Eric's or mine."
Northbrook's participation in the 15th annual CAF Million Dollar Challenge is just the tip of the iceberg. Over the years, Northbrook has raised a total of $75,000 for The Challenged Athletes Foundation.
And lastly, we asked Northbrook what his favorite quote is… "Look good, feel good, do good!" We would argue that Northbrook has all three of these things perfected—especially the last one. To support the Challenged Athletes Foundation, please click here.