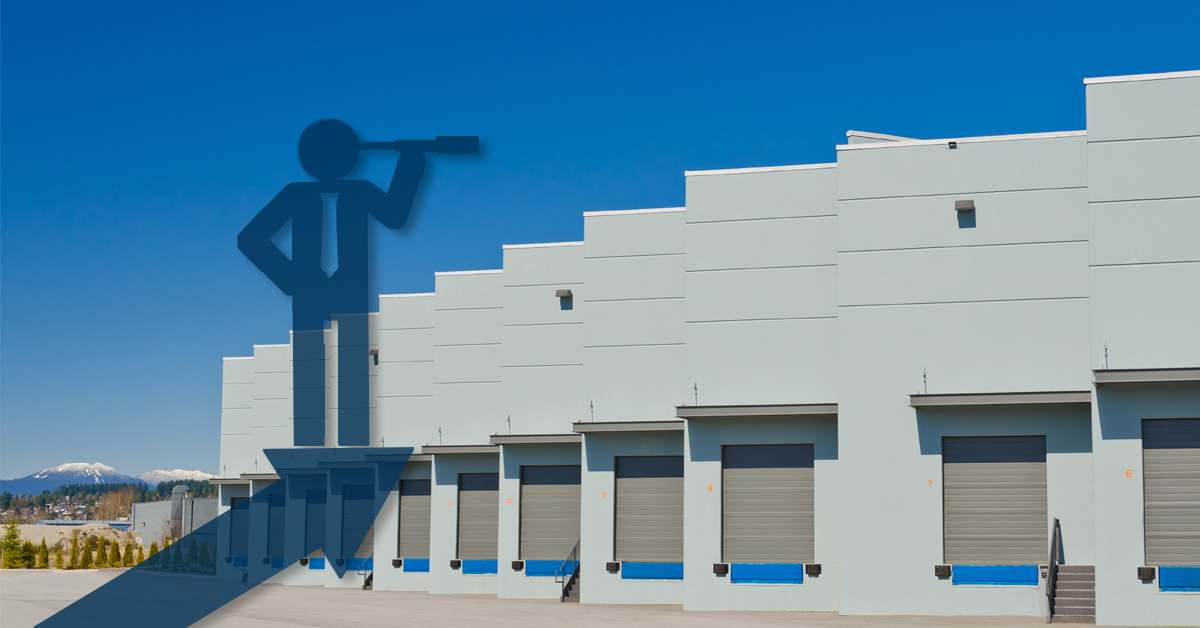 2020 was a year filled with confusion and concern for everybody. This extended to the commercial real estate industry, particularly to the industrial sector. During the first half of the year, this market took extensive hits, battling cost increases, policy decisions and severe interruptions in production from the Covid-19 pandemic, leaving many to wonder what the eventual outcome might be. What we saw, however, over the course of the year was this sector showcasing its ability to creatively and effectively stay in the game through the emergence and implementation of new industry trends, leaving it one of the most resilient commercial real estate niches out there.
2020 Trend #1: Reimagined Strategies
Industrial businesses across the board had to set to work reimagining their strategies and business models, particularly pertaining to global supply chains. More and more companies began leaning into technology and investing in Industry 4.0 initiatives (cloud computing, artificial intelligence, robotics, advanced analytics, et cetera). These advanced technologies have helped them to streamline the supply chain and gave each business access to a wide variety of information to help them accurately measure demand and implement a more flexible and stable process.
Impact on 2021
While, according to Deloitte, order levels and production are still well below 2019 levels, the gap is getting smaller every day. The demand for these new technologies that will help to expedite the production and distribution process (particularly if we are to experience anything like this again in the future) will remain high. That being said, it will also most certainly increase demand for industrial properties with the capabilities to support technology-laden businesses.
2020 Trend #2: Increase in Regional Hubs
According to a report published in February of 2020 by Bank of Amercia Global Research, "Companies in two-thirds of global sectors in North America have either implemented or announced plans to pull at least a portion of their supply chains out of China". The emergence of this trend meant more businesses working together to create regional hubs, adding more resources to a single location, thus decreasing overall vulnerability.
Impact on 2021
This is certainly a trend we should expect to see more of. While there will be some products that will initially be harder to source locally (lumber, plastics, fabrics, and other items typically sourced from China), these regional hubs will slowly expand over time to create a more sustainable local economy in the face of any future events comparable to the Covid-19 pandemic. Areas that will be attractive to these types of industrial hubs will offer easy access to both consumers and skilled laborers and offer enough space to comfortably accommodate many industrial businesses in close proximity. These new industrial centers will likely begin to pop up in areas all across the country as more consumers demand American products and move away from supporting imported goods.
2020 Trend #3: The Use of More Renewable Energy Sources
Social responsibility became increasingly important across corporate America over the past year, particularly for manufacturers. More and more companies began to take ownership of their role as change makers and stepped up to do what was necessary to improve the state of the environment through the use of renewable energy sources. In fact, a Deloitte survey done in October of 2019 reported that 64% of manufacturers surveyed intended on sourcing large percentages of their electricity from renewable resources, such as solar, wind, hydro and geothermal, for the foreseeable future, and it appears as though many of those who responded followed through.
Impact on 2021
This trend not only appears to be sticking around, but, fortunately, it also seems to be growing quickly. Changes in services and products will continue to reflect this in more ways than one. Continued growth in this trend will allow the industrial sector to further lessen their dependence on energy and reduce costs and will also help to generate new streams of revenue as they appeal to different, environmentally conscious markets.
2020 Trend #4: Retail-to-Industrial Conversions
The year 2020 has shown unprecedented growth in online shopping, as consumers were forced into their homes for indefinite periods of time. Some studies have found that e-commerce sales jumped from just over 15% of all retail sales in 2019 to almost 25% in 2020. This unexpected boom caused many smaller brick-and-mortar retailers to close their doors, leaving behind a lot of vacant space. The growing need for industrial spaces combined with the declining need for retail offerings has created a prime opportunity for these retail-to-industrial conversions.
Impact on 2021
There are forecasts that this trend will continue into the new year, with the most noticeable increase in demand for warehouse space in urban areas. Lack of suitable land and exceedingly high material costs have put a damper on new development thus far, but converting retail space into usable industrial space has offered a viable solution for the foreseeable future.
New Trend #5: Smaller Workforces
With the increase in technology forced upon industrial businesses by the onset of the pandemic, many companies were beginning to wonder how many manufacturing jobs would be reimplemented once life settled back to normal. The unemployment levels for the manufacturing industry in 2020 hit the biggest low it's seen in a decade. As we leave 2020 behind, we are still seeing a huge gap in employment levels. 621,000 fewer jobs were reported in October compared to February of the same year, according to Deloitte.
Impact on 2021
It is likely that we will see a slower rehiring process than we may have in times past as companies navigate new ways to handle the uncertainty the future brings. Many technological solutions have been introduced regarding site safety and labor issues, eliminating the need for several positions that were previously held. With the money being saved, businesses may look to reinvest these additional funds into their companies in new ways, such as expanding to new markets and thus broadening their reach across the country. Whether or not this will lead to the creation of new jobs is yet to be seen, but the Deloitte's post-election survey shows that 63% of executives polled believe that more positive trends in these numbers will emerge soon.
Overall Industrial Outlook for 2021
Although there is no way to predict exactly what the future of the industrial market holds, the changes occurring seem to be shaping an upward and positive trend. Reports show that interest in industrial investment opportunities is on the rise, despite the overall decline in investment sales over the course of the year. They also note that almost 80% of the industrial markets in the U.S. "will see positive rent growth over the next 12 months and most will exceed their historical average over the next several years".
It will still take time to fully understand the significant impact that both the political state of the country and the Covid-19 pandemic will have on the commercial real estate market as a whole; however, with manufacturers embracing new technologies, leaning into renewable energy sources, and working together to create more localized supply chains, a "new normal" is emerging that appears to be promising.