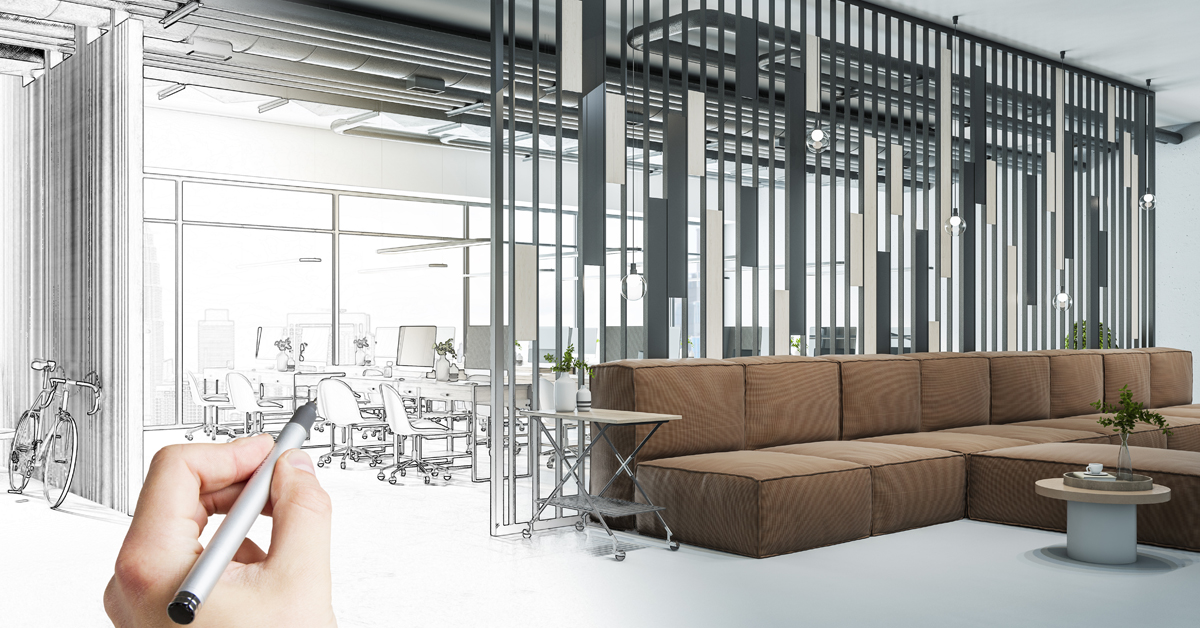 As if the slower-than-hoped-for return to the office, the emergence of hybrid work models, and the looming commercial mortgage crisis weren't enough to contend with, landlords that have been fortunate enough to ink tenants to new deals or renew existing ones have another headwind to battle – persistently high tenant improvement costs.
The 2023 Fit-Out Cost Guide released by Cushman & Wakefield last spring indicated that the cost of office fit-outs in the U.S. averaged $146 per square foot (psf), up 12% from the 2022 average cost of $130 psf. While San Jose leads all markets in the Americas (including Central America) at $226 psf, Southern California markets are also among the highest in the Americas for tenant improvements, with Orange County (7th) and Los Angeles (9th) at approximately $160 psf and San Diego (16th) just under $150.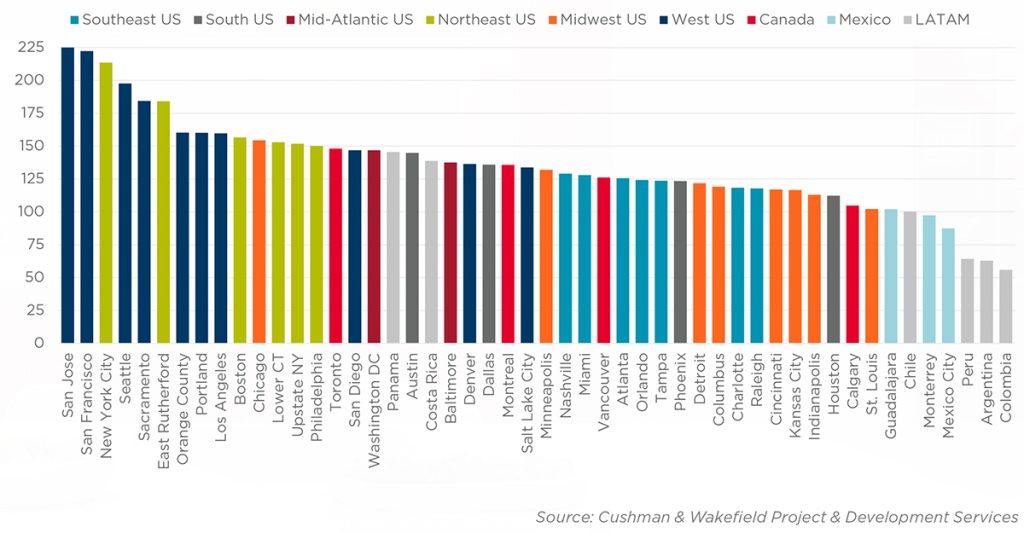 Skilled Labor Shortage Escalates TI Costs
Although supply chain issues that plagued the construction industry during the height of the pandemic have eased, inflation and rising labor costs have kept the cost of tenant improvements high in 2023.
The October 11th press release issued by the Associated Builders and Contractors (ABC) stated that while construction input prices for nonresidential construction are slightly (0.6%) higher than a year ago through September — primarily due to the increase in energy costs — labor costs are driving much of the cost increase.
"When inflation began to emerge in 2021, supply chains ill-prepared to handle surging demand for goods and services during the early stages of post-pandemic recovery were among the primary culprits," said ABC Chief Economist Anirban Basu in the release. "Today, inflation is driven less by supply chain issues and more by structural labor market dynamics and geopolitics. Many contractors continue to indicate that their primary challenge is securing sufficient levels of workers."
A release by the Associated General Contractors of America (AGC) echoes that point. AGC reported in September that, according to their annual workforce survey conducted with Autodesk, 85 percent of respondents (general contractors) reported having job openings for hourly craft workers or salaried workers. Of firms with openings, 88 percent reported difficulty filling craft positions, and 86 percent reported the same for salaried openings. Sixty-one percent of firms that experienced project delays attribute them to a shortage of workers.
While Northern California markets like Oakland-Hayward-Berkeley (10%, 7,400 workers) and San Jose (6%, 3,500 workers) have seen significant growth in construction employment year-over-year, the Southern California markets have lagged, according to the Bureau of Labor Statistics. The Riverside-San Bernardino-Ontario MLS added 3,800 jobs (a 3% increase), but Los Angeles-Long Beach-Glendale added a mere 300 jobs (.2%).
Some Bright Spots as SoCal Office Market Struggles Overall
Like most major metros, the overall Southern California office market is not faring well, as evidenced by the most recent Voit Real Estate Services Market Reports data. In Orange County, the shift in workplace dynamics has hit the office sector hard, and employers are still having trouble implementing orders for their workers to return to the office part-time to full-time. That has resulted in downsizing, more short-term renewals, and indecision in C-suites and boardrooms regarding planning new facilities. The overall vacancy rate increased to 17.47% in Q3, up from 17.04% in Q2 and 15.60% in Q1.
But not all of the news is dire. Russ Smith, Vice President at the Voit Irvine office, reports that while the larger buildings and lack of leasing activity by the larger tenants garner the lion's share of headlines, demand for high-quality, amenity-rich space under 20,000 SF remains strong.
In San Diego, the vacancy rate has increased for the first three quarters of 2023 to 12.06%, a 52-basis point increase from a year ago but far lower than most major metros. But the overall vacancy rate does not tell the whole story. As Kimberly Clark, Esq., a Senior Vice President/Partner in the Voit San Diego office, notes, a considerable discrepancy exists between the Downtown urban office sector and the suburban office submarkets. The Downtown direct vacancy rate is nearly 27%, with an availability rate of almost 38%. In contrast, many of the suburban submarkets sport single-digit vacancy rates, including Chula Vista (4.21%), Sorrento Mesa (6.47%), and Torrey Pines (a microscopic 1.83%).
Flight to Quality Spurs Tenant Improvements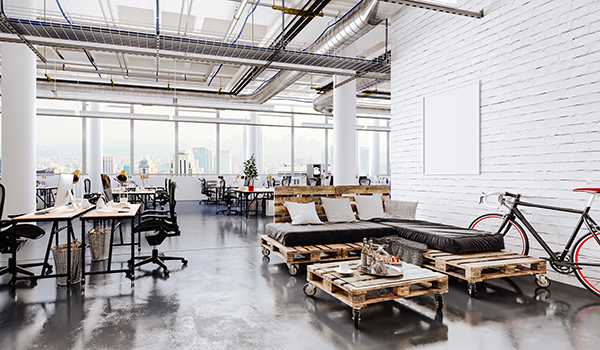 As companies compete to attract and retain knowledge workers and labor in general, a flight to quality is underway in the office market, particularly in the urban downtowns. Employers hoping to lure employees to the office, especially in a hybrid model, know they need to create a best-in-class work experience for their employees, which usually requires upgrading their workspaces. The Cushman & Wakefield report notes that "employees consider the role of the office as a place for social connections, collaboration, and innovation. At the same time, the workplace must support time for focused work, which for many employees can be a significant chunk of their working day."
According to multiple sources, including Forbes and Fitness Finance, these are some of the design concepts emerging in tenant improvements:
Flexible Workspaces and Open Floor Plans – This allows employees to move around freely and collaborate more easily instead of isolating themselves in cubicles or private offices. This type of workspace encourages creativity and innovation among employees, leading to increased productivity and morale while allowing businesses to maximize space efficiency.
High-End Interiors – Employers are competing with work-from-home, so there needs to be an enticement. These include attractive, welcoming lobbies, state-of-the-art fitness facilities, comfortable and aesthetically pleasing breakout rooms, and cafes serving a broad array of (healthy) food and beverage options.
Health and Wellbeing – Ergonomic furniture is becoming increasingly popular as businesses look for ways to reduce stress and strain on their workers' bodies during long days at the office. Additionally, adding plants or natural elements can help create a healthier atmosphere. Attention should also be paid to improving air quality and reducing noise levels in the workplace via HVAC upgrades.
Sustainability – Companies can achieve operational efficiencies and sustainability by streamlining, saving energy, reducing waste, and recycling materials. Well-managed fit-out projects can contribute to environmental and economic benefits through reductions in energy consumption, implementation of cost-neutral building maintenance methodologies, and lower workspace costs. Sustainability is not just a buzzword; it's a top concern among millennial and Gen Z workers, who will soon make up most of the workforce, making it contingent on employers adopting more sustainable initiatives.
How Trusted Advisors/Brokers Can Help
As landlords adjust to the changing office market, commercial real estate brokers can provide invaluable insights to help reduce the ongoing cost of tenant improvements. Attracting new and retaining existing tenants requires a new approach to designing a workplace, and brokers with deep local market knowledge can help landlords position their properties to adjust to the new normal. To contact a Voit broker in your market, go to our Team Member page.