Despite Increase in Industrial Vacancy, It's Still Not a Tenant's Market

Even with the massive year-over-year (YOY) increase in vacancy rates in the Southern California industrial markets — up from 100 to nearly 300 basis points, depending on the market — tenants still aren't seeing much rent relief. Average asking lease rates continue to set new all-time highs for the Inland Empire, Greater Los Angeles, Orange County, and San Diego County markets, according to recent CompStak and Voit Real Estate Services Q3 individual market reports.
YOY vacancy rates increased from 2.66% to 3.63% in San Diego, 1.05% to 2.58% in Orange County, 1.68% to 3.20% in Greater Los Angeles, and 1.02% to 3.93% in the Inland Empire. But despite the statistically significant increase in vacancy (and a 7-plus percent availability rate in the San Diego and Inland Empire markets), YOY asking rents rose by 6.36% in Greater LA ($1.73 to $1.84),14.39% in San Diego ($1.32 to $1.51) and 16.89% in Orange County ($1.48 to $1.73), and a whopping 58.43% ($0.89 to $1.41) in the Inland Empire. Those increases land San Diego (1), Orange County (3), and Los Angeles (4) in the Top 5 for industrial rental rates in North America, according to a national Q3 report.
Encouraging Signs?
Not all of the news for tenants seeking space or renewing is bad, however. The rate of asking rent increases appears to be slowing down from the furious pace of the last few years, which peaked in late 2022. Annual rent escalations over the term of leases also appear to be slowing, according to CompStak. Landlords had been tying rent escalations to inflation – which has moderated considerably since the beginning of 2023 — so there has been a slight decrease in escalations.
Concessions, which were minimal during industrial's growth spurt, are beginning to increase. This includes free rent periods, which are up slightly across renewals and new transactions. CompStak reports that average free months for new deals increased over the past three quarters to 1.3 months and to 1 month for renewals, and speculates that as tenants continue searching for more favorable rental rates, landlords may become more generous with concessions in the upcoming months.
Sublease space may also offer enticing options for tenants. Companies that overestimated product inventory needs or are responding cautiously to economic uncertainty are offering up space in Greater Los Angeles, Orange County, and especially the Inland Empire. An article in the Business Journals earlier this year reported that 11.2% of the available warehouse space in the Inland Empire at the conclusion of Q1 was sublet inventory. While sublease space represents just a small percentage of the total market, it tends to serve as a barometer for what's coming next in a market, which may be good news for tenants seeking space or renewing.
Another factor that may eventually be a boon to tenants is the increase in inventory. Although construction has been slowing due to higher interest rates and a slowdown in demand, it will increase vacancy, given that much of it was built on spec. Locally, there is limited new construction commencing in San Diego County, with most happening around the edges. There is 7 million SF underway in the Los Angeles market in Q3, with 75% of the square footage in the queue happening in the San Gabriel Valley. New construction in Orange County has slowed to under 2 million SF, but the Inland Empire has nearly 28 million SF currently under construction, with over half in buildings larger than 500,000 SF, the range with the lowest vacancy rate of just 1.63%.
Rent Rolls May Cause Sticker Shock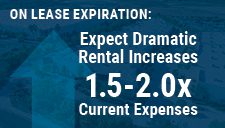 Despite some (potentially) good news for tenants, there is a stark reality that is going to hit the bottom line of some companies very hard. CompStak reports that a significant amount of industrial lease expirations are coming up nationally over the next four years (the remainder of 2023 through the end of 2026), with over 30% of presently leased space set to expire by the close of 2025. Nearly a quarter (22.2%) of those leases were executed in 2019, and 75.6% of the upcoming lease expirations were signed before the onset of the pandemic in 2020. In Southern California, the renewal increases will be dramatic. At the close of 2019, pre-COVID industrial asking rental rates hovered around $1.00 in San Diego ($1.04), Orange County ($0.97), and Greater LA ($0.99), with the Inland Empire at $0.77. Renewing at today's rates will inflate the rental expense for companies by 50% to 75% across most SoCal markets and nearly double those occupying space in the Inland Empire.
How Will Demand Be Affected If/When Port Regains Market Share?
One of the great pieces of news for the Southern California economy was the ratification of the Port of Los Angeles dockworkers' contract on August 31. A report by Reuters said that as a result, the port may be on its way to regaining its market share lost to ports on the East Coast and the Gulf of Mexico during the dispute. Although the port cargo volume at the Port of Los Angeles increased by just 3% YOY, it jumped by a remarkable 21% from July to August following the handshake agreement in June between the Port and the dockworkers union, an encouraging sign for the port. How this affects demand if the upward trend continues bears close watching for tenants and landlords?
Drilling Down
For a more in-depth look at the individual Southern California industrial markets (as well as retail and office), Voit Real Estate Services provides detailed market research and analysis in their custom reports for the Inland Empire, Greater Los Angeles, Orange County, and San Diego markets. Here are the reports and some of the report highlights from each:
Greater Los Angeles – David Fults, Senior VP/Partner out of the Irvine office, provides insight on the impact of the Port of Los Angeles post-labor resolution. The rebound in cargo volumes is a welcome sign for the Port of Los Angeles and the businesses that rely on it, but there are still some challenges ahead. Read more here.
The Inland Empire – Ryan Moore, Senior VP/Partner, and Harrison Wos, Associate, both of the Anaheim office, relay that declining transaction volume, growing vacancy, and paused construction – indicators of a slowing market — are balanced by lease rates and property valuations substantially higher than pre-pandemic levels, a testament to the dynamism that was the hallmark of 2022. Of particular note is that warehouses ranging from 50,000 to 250,000 square feet in the market are sporting an 8.39% vacancy rate and an 11.93% availability rate. Read more here.
Orange County – Erik Sikes, Senior Associate at the Irvine office, says that many industries are very active in that market and have immediate requirements despite the elevated rents. And of interest to those in acquisition mode, functionally obsolete buildings are sitting on the market for months, and the principals
offer price reductions and open houses. Read more here.
San Diego County – Josh West, SIOR, Senior VP/Partner at the San Diego office, reports that elevated interest rates, low vacancy, and historically high rental rates have all combined to create problems for tenants and owner-users searching for quality space in the market. Read more here.
https://voitco.com/sandiego/wp-content/uploads/2023/10/Ind-landlord-market.jpg
628
1200
Jennifer Dynda
https://voitco.com/sandiego/wp-content/uploads/2021/03/voit-logo_blue.png
Jennifer Dynda
2023-10-31 05:30:00
2023-10-30 22:02:21
Despite Increase in Industrial Vacancy, It's Still Not a Tenant's Market