As Natural Disasters Drive Commercial Property Insurance Higher, What Can Commercial Property Owners Do to Mitigate Risk?

Catastrophic events have always been a component of the risk equation for property owners and insurers, but since 2017, there has been a dramatic increase in natural disasters of all types, ranging from hurricanes and tornadoes to earthquakes to severe storms to floods and wildfires. According to the NOAA National Centers for Environmental Information (NCEI), over the past ten years, 152 disasters caused at least $1 billion of damage per occurrence. This puts the total cost of billion-dollar disasters to more than $1.1 trillion over the past ten years.
Estimated Insured Property Losses, U.S. Natural Catastrophes, 2013-2022 (in $ billions)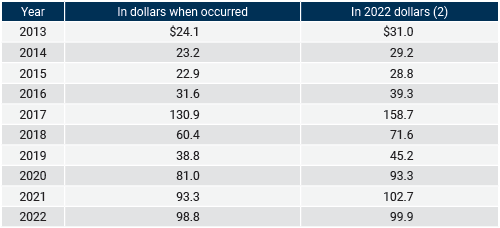 Included: Natural disasters that cause at least $25 million in insured losses or 10 deaths; or 50 people injured; or 2,000 filed claims or homes and structures damaged. Includes Puerto Rico and the U.S. Virgin Islands. Includes losses sustained by private insurers and government-sponsored programs such as the National Flood Insurance Program. Subject to change as loss estimates are further developed. As of January 2023. Adjusted for inflation by Aon using the U.S. Consumer Price Index.
The increase in catastrophic events stands in sharp contrast to historical norms, and the graph below shows natural disasters increasing by leaps and bounds around 1980 and again after the turn of the century in 2000, which most experts attribute to climate change: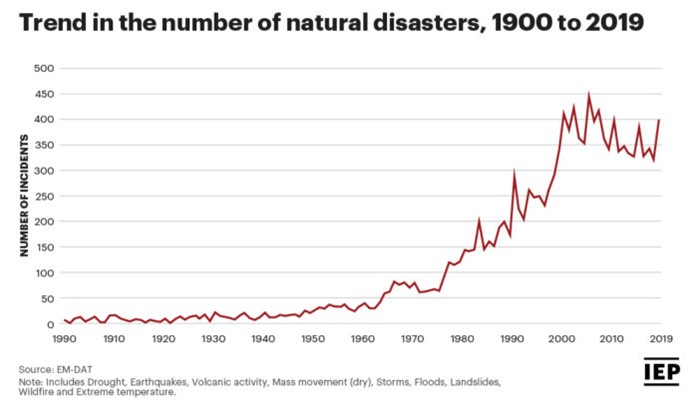 The devastation caused by natural disasters takes an enormous emotional and financial toll on the region's residents and businesses, often requiring months or years to rebuild. For businesses, the interruption of operations can result in significant financial losses that threaten the solvency of the companies.
The bulk of the cost of rebuilding homes and business properties falls on insurance carriers, which reflects the continual rise in premiums. The Council of Insurance Agents & Brokers' Commercial Property/Casualty Market Report for Q2 2023 said that Q2 2023 was the 23rd consecutive quarter of premium increases (at 8.9%), with commercial property being the largest increase out of all lines, at 18.3%. According to the report, natural catastrophe losses and rising property values were among the primary drivers of these increases. As a result, the industry is struggling to come to grips with how to insure their customers and still remain in business.
"Before 2017, it was not uncommon for the insurance marketplace to weather a single storm or a catastrophic event such as Hurricane Katrina or 9/11, which would affect the market temporarily, but at this time, the market is weathering multiple "storms," all occurring frequently over multiple years," says Scott Bedingfield, Principal/Owner at Cavignac, an independent commercial insurance broker headquartered in San Diego. "The convergence of natural catastrophes, losses, cost of reinsurance, inflation, resetting of valuations, claims costs, and the lack of capacity are all contributing to one of the hardest markets the insurance industry has ever faced."
California
California has been one of the hardest hit of all the states, as wildfires and the devastating mudslides of 2018 and the last two years have taken an enormous toll on life and property. And it's a trend that will likely continue for the foreseeable future. "It's not a matter of if anymore; it's a matter of when," says Bedingfield. "In California, we have fires and recently have had events causing substantial flooding. We've had $17 billion in fire losses in the last 3 1/2 years, and that's with one of the years (2022) having minimal losses."
Bedingfield says that several other factors are driving up rates in addition to the catastrophic events themselves. Active management of our Federal and State lands could have mitigated some of the fire risk. Another is the rising cost of re-insurance — often referred to as "insurance for insurance companies" — which the insurance companies purchase to offset some of its risk. Re-insurer's risk-adjusted property-catastrophe prices rose 33% on average at their June 1, 2023, renewal, after a 25% rise in 2022, according to an analysis by reinsurance broker Howden Tiger. The rising cost of reconstructing properties that need to be rebuilt following a disaster, as costs for building materials and labor are causing building costs to increase is another factor.
As costs for insurers continue to escalate, many feel that the California Department of Insurance has not been responsive to the insurer's requests to raise rates to remain profitable. Since March, at least four major insurers (Nationwide, Allstate, Liberty Mutual, and State Farm) have stopped writing business in several key lines of commercial business insurance. A state-run pool funded by taxpayers — the California Fair Access to Insurance Requirements Plan — serves as the insurer of last resort, providing basic fire insurance coverage for properties in high-risk areas, and enrollments are soaring, according to reports.
What Can Commercial Property Owners Do to Mitigate Risk?
"I'm just an insurance broker (advisor), so I can't control costs, but what I can do is help my clients control what they need to do to mitigate risk, which might lower their rates," says Bedingfield. Below is a list of suggestions he has provided for commercial property owners in this challenging insurance cycle:
Get an early start on your insurance renewals: Have strategy meetings with your insurance advisor and management teams. Historical loss runs should be part of the meeting, and summaries should be included for all open and closed claims and loss control measures implemented to mitigate future losses. Five years of loss history will generally be required.
Review management reports and provide detailed summaries of all capital expenditures for deferred maintenance at your projects: Underwriters want to know you are proactively managing your properties.
Data & Modeling: Understand loss projection models and provide up-to-date data for insurable replacement cost valuations.
Improvements: Look at the cost to improve fire & life safety infrastructure, add sensors for water detection, utilize flood mitigation technologies, implement brush management programs for fire-prone areas, etc
Loss Control: Have independent 3rd party loss control inspections performed at your locations. Implement the recommendations to reduce the risk of loss and use when negotiating your insurance renewals.
Natural disasters may be inevitable but talking with a trusted commercial real estate advisor at Voit Real Estate Services or Scott Bedingfield at Cavignac can help property owners make sure they are making the right decisions that will make the difference if disaster strikes.
https://voitco.com/sandiego/wp-content/uploads/2023/11/riskmitigation.jpg
628
1200
Jennifer Dynda
https://voitco.com/sandiego/wp-content/uploads/2021/03/voit-logo_blue.png
Jennifer Dynda
2023-11-07 05:30:00
2023-11-06 17:32:25
As Natural Disasters Drive Commercial Property Insurance Higher, What Can Commercial Property Owners Do to Mitigate Risk?