Real Estate Agent vs. Broker: What Is the Difference?

Whether you're a home buyer, business owner, or property investor, chances are you have or will come across a real estate agent or real estate broker. Although these terms—agent and broker—are used interchangeably, and while both are licensed professionals, there are key differences between the two.
Let's dive into these differences in our article "Real Estate Agent vs. Broker: What Is the Difference?"
What is a Real Estate Agent?
A real estate agent, also sometimes called a real estate associate or real estate salesperson is an individual who is licensed to help people buy, sell, and rent real estate.
What Does a Real Estate Agent Do?
Typically, a real estate agent works under a licensed brokerage to help a buyer or seller by:
"Providing guidance through the overall process
Organizing and submitting documentation, and
Facilitating contract negotiations"
Buyer's Agent vs. Listing Agent
As previously mentioned, a real estate agent can act as either a buyer's agent (an agent who represents a buyer) or a listing agent (an agent who represents a seller).
Below is a shorthand list of responsibilities each might have, according to Investopedia.
What Does a Buyer's Agent Do?
A buyer's agent helps someone find their desired property by:
Locating proper that match the buyer's requirements (including price range)
Helping arrange home appraisals and inspections
Negotiating terms and helping prepare, submit and file necessary documents
What Does a Listing Agent Do?
Listing agents help sell a property by:
Setting listing prices
Suggesting home updates that will increase the home's value and odds of selling
Helping with home staging
Marketing the home
Negotiating sales prices, closing costs, and other fees
Helping prepare, submit, and file documents
Typically, real estate agents are paid on a commission basis.
What is a Real Estate Broker?
A real estate broker is someone who has gone beyond the scope necessary to become a real estate agent to obtain their state real estate broker license. A broker is different from an agent as they can work independently, start their own brokerage, and/or hire other real estate agents.
They also can, however, work at a brokerage too.
What Does a Broker Do?
A broker can do everything a real estate agent can do and then some! While brokers hold many of the same responsibilities as real estate agents, a real estate broker might also:
Recruit, train, and/or manage agents
Write contracts
Supervise real estate transactions
Manage the brokerage office and staff, and
Communicate with government and professional associations
Moreover, brokers are typically split into three 'tiers' of brokers, including:
Associate Brokers: Have broker licenses but work under another broker. Typically don't supervise other agents.
Managing Brokers: Oversee transactions and daily operations, hire and train new agents, and manage administrative staff.
Principal/Designated Brokers: Supervises agents to ensure they're "in compliance with state and national real estate laws."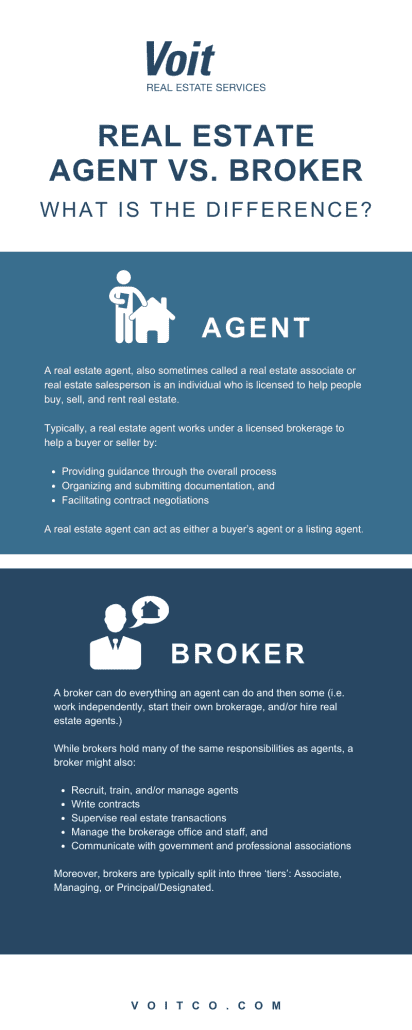 What We Do at Voit CRE
At Voit Real Estate Services, we've spent over 50 years building our best-in-class team of brokers, or as we like to call them "client advisors."
Moreover, as a broker-owned firm, our team members have the freedom and creativity to find the best solutions tailored to their clients' needs, without a lot of corporate rules or bureaucracy to navigate.
Interested in learning more about our client advisors and what makes us different? Read on in our article "What's the Difference Between a Broker and a Client Advisor?"
https://voitco.com/sandiego/wp-content/uploads/2022/07/Real-Estate-Agent-vs.-Broker-What-Is-the-Difference.png
628
1200
atran
https://voitco.com/sandiego/wp-content/uploads/2021/03/voit-logo_blue.png
atran
2022-07-31 07:00:00
2022-07-01 09:39:10
Real Estate Agent vs. Broker: What Is the Difference?