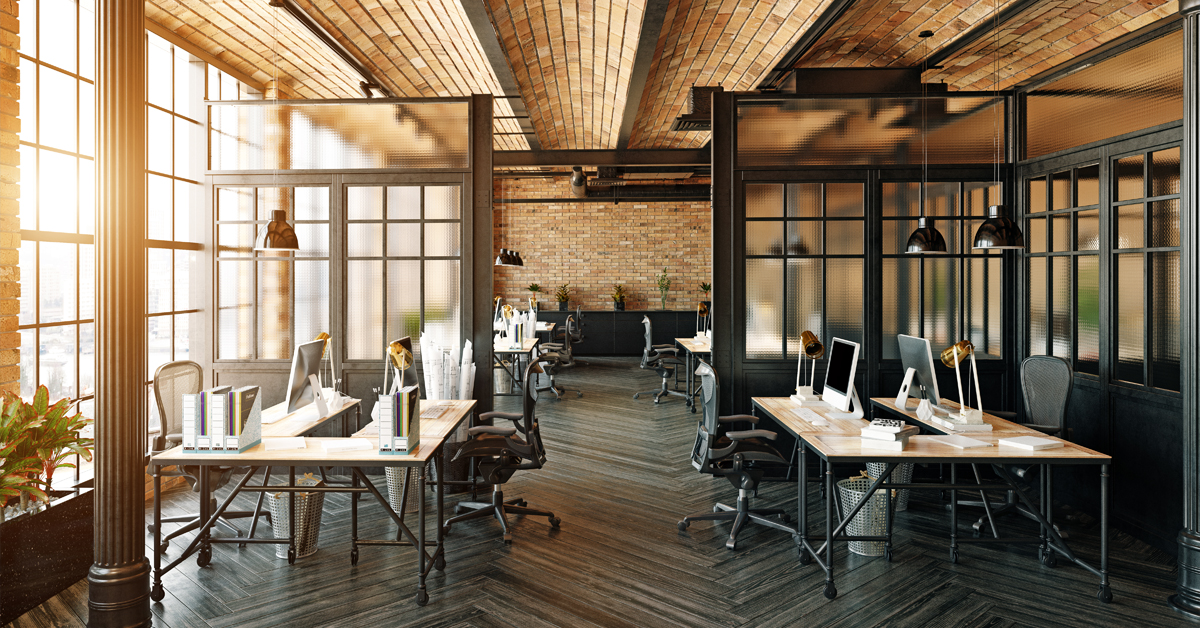 The commercial real estate industry is constantly changing and shifting. Trends emerge and disappear seemingly as quickly as they began. For this reason, it's important to diligently keep up on what's happening so you can be well-informed when it comes to finding the right space for your business or investment. If you're looking for commercial office space in 2019, there are definitely a few trends you will want to keep your eye on.
Smart Buildings
Technology continues to advance, and with it, the growing need for commercial office space that can accommodate the high-tech needs of its tenants. It's become so important, in fact, that companies like WiredScore and Radius Global (among plenty of others) are making their mark by rating the connectivity of office buildings. The information they gather is then used to help market these buildings to potential tenants. Landlords that can't offer tech-enabled space to prospective lessees have to work much harder to get their offices filled. Tenants searching for office space in the current market are looking for buildings with access to high speed internet, the latest technological trends, and quality cellular connections. It doesn't appear this will be changing anytime soon, making now the perfect time to get your commercial office space up to speed.
Green Improvements
Another important trend affecting the commercial office space sector of the real estate market is the attention placed on green improvements. More and more companies are bringing greater awareness to the ecological footprint they are making on the current state of our environment. 2019 is likely to continue showing increased efforts towards sustainable office space. This may mean the growing use of green materials, such as cork, glass, and slate, or the introduction of eco-friendly technology within the office. It can also be as simple as more and more offices capitalizing off of natural light, decorating with more live plants, and encouraging their employees to choose green commuting (such as walking, car-pooling or cycling) by offering incentives to do so.
More Mixed-Use Space
As more and more retailers have closed their doors over the course of the past few years, the entire commercial model has had to shift to accommodate this change. The traditional strip mall filled with primarily retail shops has been replaced with more mixed-use spaces. Commercial office space can be found just about anywhere, and there are actually quite a few benefits to this. Office space located in close proximity to restaurants, retailers, and medical offices has much greater exposure to foot traffic, meaning a potential burst of extra business.
Changing Floor Plans
Another trend you might spot in commercial office space during 2019 is the shift back from the open-concept offices that have overtaken the market over the past few years. The open floorplan model is not dead, but studies have emerged showing it may not offer quite the boost in productivity that was once believed. While meant to encourage collaboration and thus, greater output, this doesn't appear to always be the case. Instead, some companies find the lack of privacy and increase in noise levels have created an inability for some employees to focus. This doesn't mean office space will revert back to the archaic model of partitioned spaces, but you're likely to see a much more creative approach when it comes to finding a balance between the two. Office furniture companies seem ready to take on the task of coming up with solutions, and many are beginning to create some very unique ideas, such as couches with blinders, functional phone booths, and other types of furniture with creative dividers built in.
Governmental Regulations
One of the biggest constraints when budgeting for tenant improvements is governmental regulations including Title 24 and ADA (Americans with Disabilities Act). These two regulations are in place to benefit the general population, with Title 24 relating to building energy efficiency and ADA relating to building accessibility for the disabled. While these regulations are aimed at bettering society, the issues many parties face when it comes to negotiating improvements include the high costs related to Title 24 and ADA compliance and the drawn-out timing for receiving city approval on anticipated build-out.
When budgeting for tenant improvements, it is reasonable to factor in anywhere from $10-$30 per square foot for Title 24 compliance. This allocation significantly impacts the tenant improvement budget, especially if this is not considered when negotiating landlord contributions or tenant improvement allowances. Additionally, obtaining Title 24 compliance can delay a project anywhere from 4-8 weeks due to the additional buildout required and lengthy city inspections required for approval.
Now that you know what to expect from commercial office space in 2019, it's time to find the right place for your unique needs!