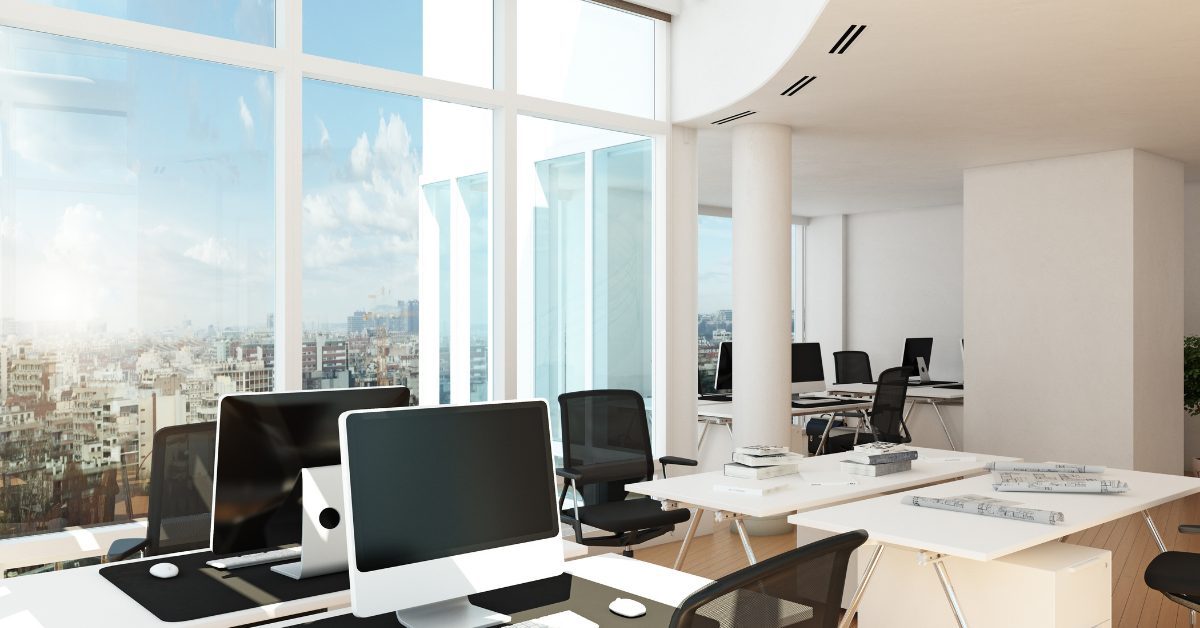 The COVID-19 pandemic brought the general economy an understandable set of challenges. According to the Pew Research Center, the outbreak increased the number of unemployed Americans by over 14 million. In fact, the unemployment rate jumped from the lowest it's been in the post-World War II era—from 3.8% to 13%.
But with the end of the global pandemic on the horizon, a pre-COVID problem has presented itself again: the demand for quality industrial space. So, here's what you need to know about how to secure quality commercial space post-COVID.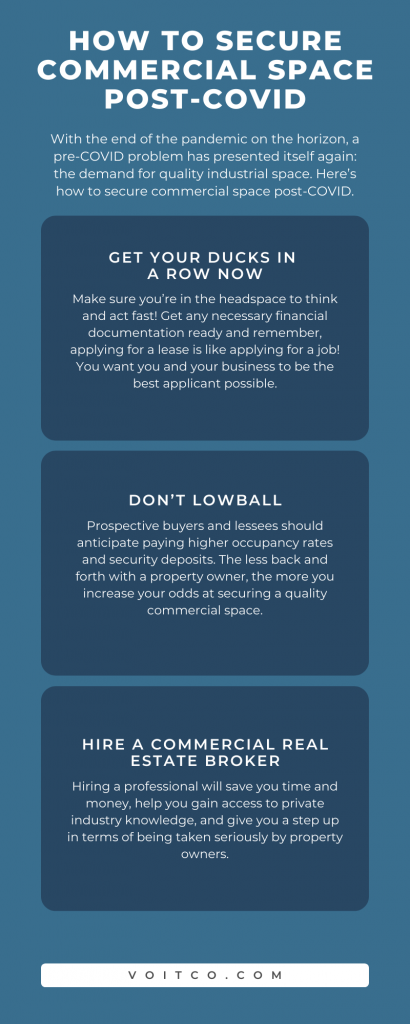 The Problem
Business is back and people are gearing up to return to work in person. But after a year of remote work and zoom meetings, where is "work" now? This considered, many companies are vying for quality industrial space.
The Solution
So, what are you to do if you're one of those businesses looking for an industrial property to lease or purchase? Here are some tips for securing your commercial space post-COVID.
Hire a Commercial Real Estate Broker
At Voit, we know embarking on a property search on your own can be intimidating. Many people avoid this step—thinking that by not hiring a commercial real estate broker, they are guaranteed to save time and money. The opposite, however, is true. 
There are a number of benefits to hiring a commercial broker, which we encourage you to read more about here. Some of these benefits include saving time and money, gaining access to private industry knowledge, and giving yourself a step up in terms of being taken seriously by property owners. If you're looking to secure commercial space post-COVID, connect with a commercial real estate professional at Voit today.
Get Your Ducks in a Row Now
The perfect commercial property isn't going to stay on the market forever. Make sure that you're in the headspace to think and act fast!
If you're looking to lease a commercial property, ensure that you have all of your ducks in a row, including any financial documentation.
Additionally, we recommend you confirm your current property is in tip-top shape as many property owners require to see the condition of your existing property prior to allowing you to become a tenant in theirs.
Remember, applying for a lease is like applying for a job! You want you and your business to be the best applicant possible to increase your odds of being selected for the lease. Do everything you can to stand out and make your company the best contender!
Don't Lowball… Think of the Long-Term Investment!
We know that anyone who is looking for a commercial property, or any property for that matter, wants the best deal possible. This does not, however, mean you should make a lowball offer.
The economy is thriving and inflation is prevalent, as seen in gasoline prices and residential real estate. With this in mind, prospective tenants should anticipate signing longer-term leases with fewer concessions and higher rental rates. Security is also important, and if the balance doesn't look so good, be prepared to sign a personal guarantee.
The less back and forth with a property owner, the more you increase your odds at securing a quality commercial space post-COVID. After all, a property owner wants tenants just as much as you want a property!
Tips for Prospective Buyers
Don't be wishy-washy

: If you find a quality property that you like, jump on the opportunity. Be flexible (i.e. open to a quick close, willing to extend the escrow)

Get pre-qualified before your search

Get offer ready

: Ensure you have the proper documentation, including financial statements, for your down payment and any loans.
Here to Help
After a long year, things seem to be returning to some sense of normalcy. Increased business, however, seems that it will continue to make finding quality, commercial space post-COVID more difficult.
At Voit Real Estate Services, our professionals are equipped to provide our clients with unparalleled, best-in-class service to help secure you a commercial space post-COVID. As a broker-owned firm, our team members have the freedom and creativity to find the best solutions tailored to their clients' needs, without a lot of corporate rules or bureaucracy to navigate. Whether you're a broker, an employee, a landlord, an investor, or a business looking for the right space, contact us today so we can find the right solution for your unique situation.