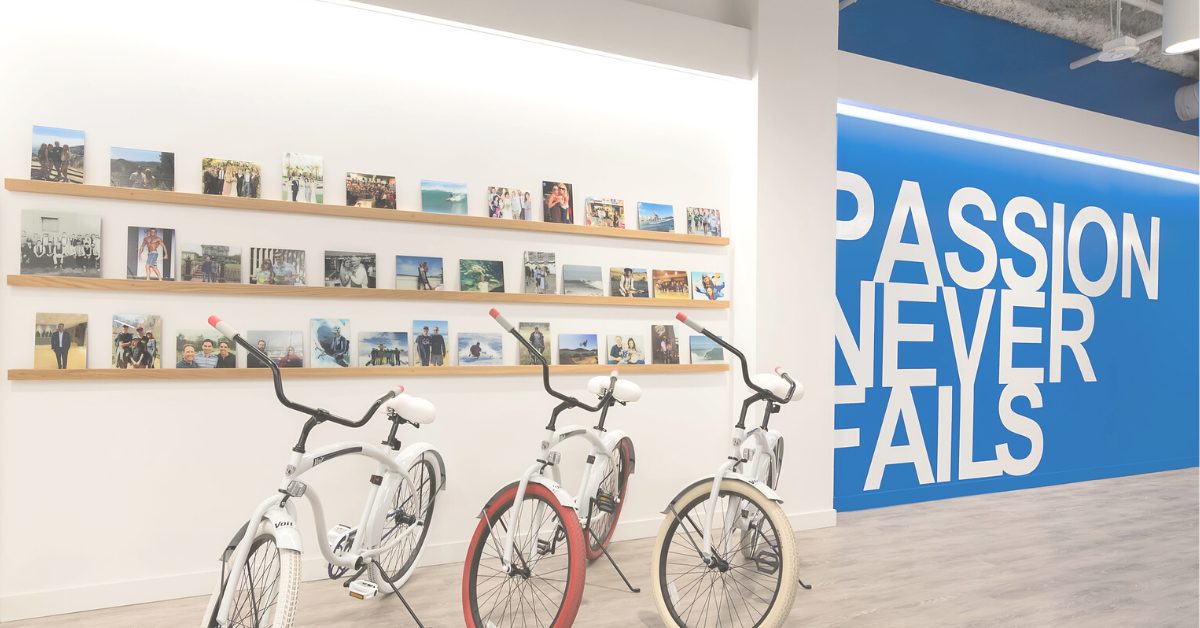 Don't underestimate the importance of where you work. Yes, where you physically work and your environment. The blueprint of the office has come a long way and continues to change every day. From cubicles to non-traditional community offices, we've watched workplace real estate shift more than a handful of times—especially considering the recent COVID-19 pandemic. So, now, the office model has shifted once again, and we're left wondering how real estate affects your company's organizational culture today. Let's dive in.
What is Organizational Culture?
Organizational culture affects your business in every aspect. From a LinkedIn discussion thread posted by Harvard Business Review, we've learned that although organizational culture is a hot topic, there is a wide set dialogue of what exactly organizational culture is and means for a company.
The previously mentioned discussion thread included many contributions on what they defined organizational culture as: "Organizational culture is the sum of values and rituals which serve as 'glue' to integrate the members of the organization." Another said, "Culture is the organization's immune system." And lastly, "Culture is how organizations 'do things.'" The thread goes on.
Harvard Business Review even described organizational and company culture with a quote from Aristotle: "We are, [our culture, is] what we repeatedly do."
At Voit Real Estate and Services, we believe that organizational culture is the driver behind our team's choices and actions. Organizational culture is the combination of practices, behaviors, values, expectations, and shared attitudes within our company. Organizational culture is what creates the one-of-a-kind social and psychological environment at Voit, and at every other company for that matter. Bottom line: organizational culture is important.
Although your mission statement and branding support and define your company's organizational culture, it goes far beyond that. In the book, Corporate Cultures: The Rites and Rituals of Corporate Life, organizational culture is defined as "the way things are done around here." Every company has a different groove to attract and retain employees.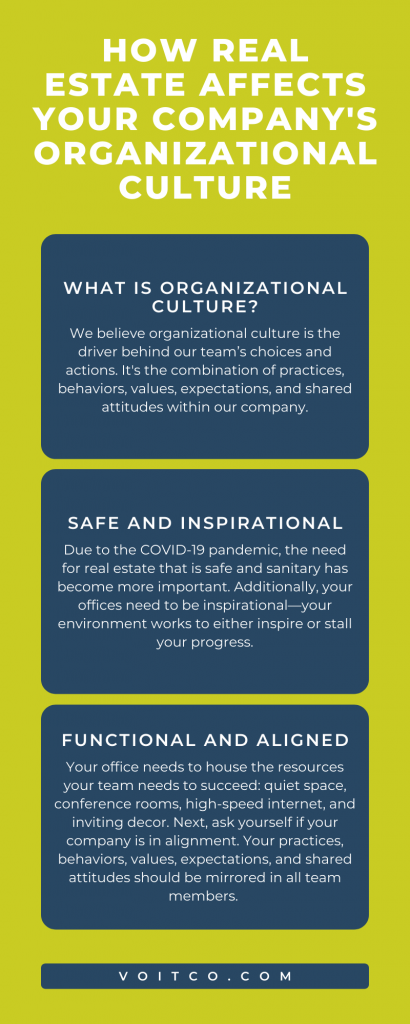 Real Estate and Organizational Culture
The way in which your company uses (or doesn't use) real estate to its advantage is a deal-breaker. In fact, did you know that according to a recent Gettysburg College study, the average person spends one-third of their life, over 90,000 hours, at work? This considered, the quality of your workspace can have a profound effect on your productivity, quality of work, and life in general. Let's chat about the elements of real estate that most affect your company's organizational culture.
Real Estate that is Safe and Cleanly
Due to the COVID-19 pandemic, the need for real estate that is safe and sanitary has become all the more important. People who make or have made the decision to return to work in person, want to feel safe in doing so.
Real estate that can successfully achieve these parameters might include additional space to allow for social distancing, low touch surfaces, and regularly sanitizing of communal spaces.
Inspirational Real Estate
Let's face it. Does anyone sit in a cubicle and feel inspired? The drab grey and tan walls, the tangle of electrical cords, the isolation… There's a reason why cubicles were introduced in the 1960s. In the workplace today, however, real estate needs to be inspirational.
At Voit, we recognize the vast amount of research showing that your environment works to either inspire or stall your progress. According to an article from Science Direct, "temperature, air quality, lighting, and noise conditions in the office [all] affect work concentration and productivity."
The physical environments at our six Voit offices—in Anaheim, Carlsbad, Inland Empire, Irvine, Los Angeles, and San Diego—have all been crafted to inspire our team. Whether it be color, decor, or a lack of excess paper and clutter, we know our offices are places where our teammates can come, collaborate, and get work done.
Functional Real Estate
Ensuring that your company's real estate is functional may arguably be the most important element. Your company's office needs to house the resources your team needs to succeed. Below are some functional elements we at Voit associate with successful organizational culture:
Quiet workspaces

Conference rooms

Adequate space for full-team meetings

High-speed internet access

Quality and comfortable furniture

Inviting decor and natural light
Again, the list goes on. Regardless of what your office real estate champions, however, your space most importantly needs to be a place where your team can collaborate and execute work.
Bonus points, anyone? As the office continues to change post-pandemic, many might still be interested in office amenities like fitness centers, bicycle storage, access to delicious food, lounge areas, outdoor gardens or spaces, and more!
And remember, your office should not be functional solely for your employees. Who else walks through your doors? Prospective clients? Investors? What will their first impression be, and is it one with which you're satisfied?
Real Estate that is Aligned
When your company's real estate is safe and clean, inspirational and functional, the cherry on top is alignment. Is your company living out its mission and true culture? Your practices, behaviors, values, expectations, and shared attitudes should be mirrored in all team members.
When your leadership prioritizes alignment, it drips down through your employee pyramid and inspiration increases tenfold. Employees feel supported and valued when your organizational culture is aligned with them. Don't underestimate its power.
How Voit Can Help Your Organizational Culture
Although the COVID-19 pandemic has shown that while many people don't need the office to work productively, they enjoy being together. At Voit, we look forward to when we can gather again safely together because we recognize that people need people. COVID or not, however, we are still available to provide creative solutions that create value for our clients and their commercial real estate goals.
Whether you're a broker, an employee, a landlord, an investor, or a business looking for the right space, contact us today so we can find the right solution for your unique situation and to learn more about how real estate affects your company's organizational culture.