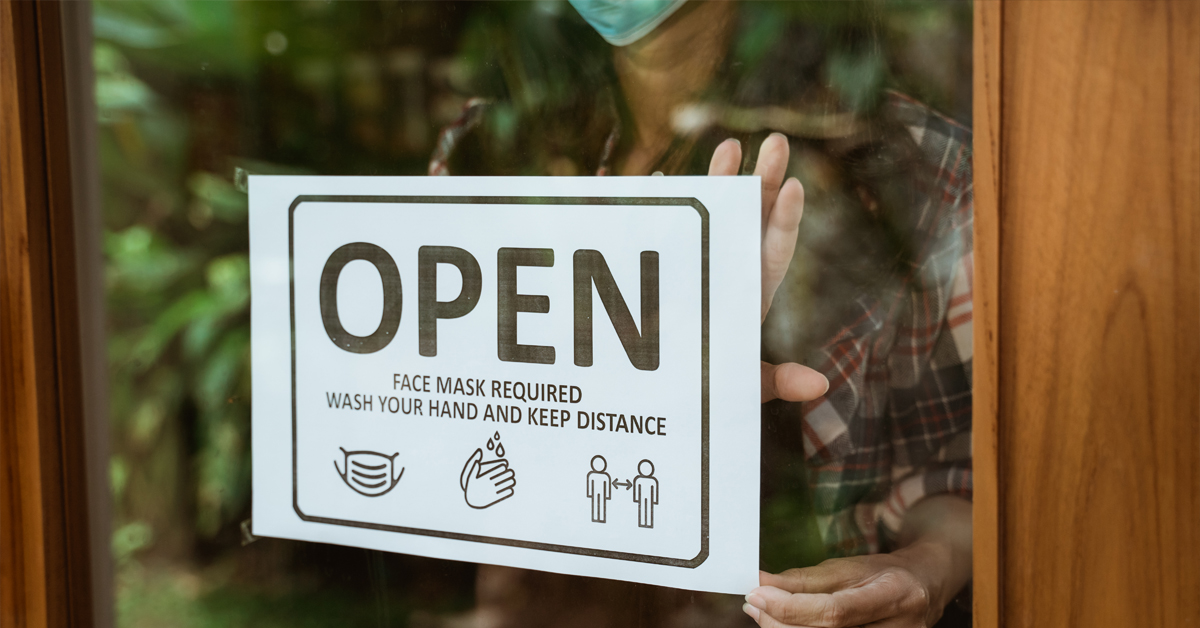 It's not shocking to hear that the onset of the pandemic at the start of 2020 has drastically affected the entirety of the commercial real estate market, some sectors positively, others not so much. Somewhere in the middle of that spectrum falls the retail sector, with niche sub-sectors showing vastly different evolutions throughout the year. Grocery and convenience stores, for example, are experiencing a surge in demand like never before, while many restaurants and providers of commodity goods have suffered a big hit. While the full impact of the Covid-19 crisis may not be felt for some time to come, there are certainly some factors to keep in our awareness.
Factors Affecting Negative Impact
Among the most hard-hit of retailers are restaurants, commodity goods, entertainment venues (such as bars, bowling alleys and movie theaters), fitness venues (gyms, yoga studios, etc.) and other specialty shops (home décor stores, bookstores, clothing boutiques, and more). The biggest common denominator with these types of retailers is that they are seen as extra expenditures and, therefore, non-essential by the general public, as opposed to taking the high priority of other retailers such as grocery stores. Many of these retailers were hit harder than their competitors based on their reaction to and handling of virus protocol. Companies who did not readily implement safety procedures such as social distancing, required masks and PPE for their employees quickly seem to have caught the backlash of the media, directly affecting their brand reputation. How fast those retailers can recover from this negative exposure is left to be seen.
Factors Affecting Positive Impact
It would stand to reason, then, that "essential" retailers (grocery & convenience stores, pharmacies, gas stations, drycleaners, hardware stores, office supply stores, etc.) did not, for the most part, experience the same impact to their bottom line. In fact, as people stocked up on food, gas, and medicines, worked on their homes to prevent boredom and prepared for their new work-from-home positions, many of these sub-sectors actually increased sales. Additionally, those businesses who were already tech-enabled had an easier transition than those that were not. This stands true not just for these "essential" businesses, but also for restaurants and specialty shops with a strong online presence and the ability to easily take online orders and ship or deliver goods. The increased demand for e-commerce throughout the course of the year is unparalleled to anything seen in the past.
Effect on Operational Costs
The vast majority of retailers also experienced a significant rise in their operational costs, as site cleanliness and sanitation became of mounting importance. Many retailers had to increase employment of cleaning crews, purchase their own sanitation devices and budget to provide necessary PPE to employees. Additionally, increased signage has been required in many cases to inform customers of the new policies and procedures being implemented by the retailer.
Staggering Statistics
To further clarify the impacts that the Covid-19 pandemic has had on the retail sector of the commercial real estate market, let's look at some of the latest statistics:
According to a study done by Accenture in April of 2020, average e-commerce sales were up 160% by consumers that typically made less than 25% of their purchases through online channels previously.
A study published by Statista Research Department in September of 2020 indicated that online traffic growth in the supermarket industry has grown by 34.2%.
This same study noted that the Walmart Grocery delivery app has experienced a 160% increase in downloads.
Additionally, Statista informed that consumers 61 and up are the most likely to avoid shopping centers and/or malls and that a whopping 74.6% of consumers overall are avoiding these places.
A Salesforce survey of 12,000 consumers and 3,600 business buyers taken from July 16 through August 18 of 2020 indicated that 68% of those surveyed have increased their expectations of a company's ability to digitally interact with them and that 61% expect to spend more time online now than they did prior to Covid-19.
Another important note taken from this survey is that 61% of those surveyed have moved away from companies whose values to do not align with their own, 59% switching to another company whose values did align with theirs.
A survey co-conducted by the National Retail Federation and PJ Solomon bank acknowledged that less than 1/3 of retail companies paid at least 75% of their June rent.
Assessing the Future of Retail
Now that we are armed with the facts, the question remains, "What is the future of the retail sector?". The answer is not as cut and dry as we might hope for, but a few things seem clear.
Retailers are going to need to enhance their technological capabilities to keep up with the changing needs of their consumers.
They will experience a greater need for cybersecurity and data privacy.
Greater attention will need to be given to employee and consumer well-being, and increased sanitation protocols will need to continue.
Landlords will continue to work with tenants in brick-and-mortar retail locations.
Landlords and building owners will need to re-think the use of their spaces and ensure that properties have the capability to handle the shifting needs of their tenants.
Shopping malls and centers may continue to see a decrease, as consumers opt for smaller, "safer" retailers and online purchasing options.
Overall, brick-and-mortar retail is not dead, it's just changing faces, again. This is hardly the first time we have seen retail shift and adapt to change with the times. It is an unfortunate catalyst, but a catalyst nonetheless for change and adaptation. Only time will tell exactly how this pandemic will permanently altar this sector.