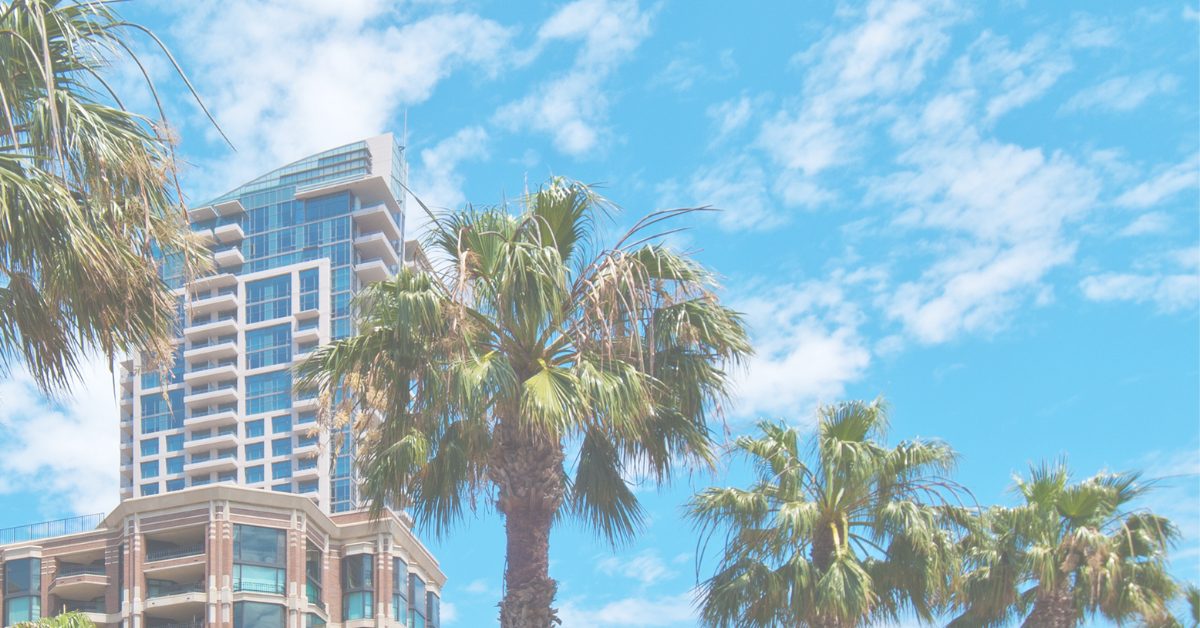 The entire world came to a standstill amid the COVID-19 global pandemic. Well, nearly the entire world… Despite all odds, construction in downtown San Diego has continued to barrel forward at a rapid pace. Not up to speed on what's going on yet? Here's a rundown of what exciting new developments are taking place in San Diego. The bottom line: Downtown development is booming—it's time to find tenants.
San Diego Development: A History
If you were to take a scan across the globe and identify the greatest cities in the world, chances are you'd find a thriving economic center or downtown within each dubbed "greatest."
San Diego, which is arguably one of the greatest cities in the world, is no different. Downtown San Diego is the city's cultural hub. The historic Gaslamp Quarter, the grand Civic Theatre, Little Italy, Seaport Village, Maritime Museum and USS Midway, and The Museum of Contemporary Art, there's nothing else quite like it.
And who do we have to thank? In 1975, The City of San Diego decided to create the Center City Development Corporation, otherwise known as the Civic San Diego. The Civic's goal, according to their website, is to encourage "economic development, enhancing the quality of life and ensuring the social vitality of underserved neighborhoods."
Since 1975, they have worked to eliminate social, physical, and economic decline through job creation and increased business—and it's apparent how successful they've been. As a result, downtown San Diego was reborn, bringing us the flourishing version we know and love today.
Although the view alone could stun, redevelopment has contributed to downtown's appeal—and has totaled nearly $15 billion since it began. With over 35,000 residents and 75,000 people who commute downtown for work, Downtown San Diego is considered a thriving 2.3 square miles to both locals and tourists alike.

Redevelopment Projects
Since the early 2000s, downtown San Diego has gone through an immense amount of change—but it's not over yet. San Diego residents can anticipate many upcoming development projects, many of which will are scheduled for completion by 2028. Some of these projects include:
These are just a few of the major construction projects going on or scheduled out of many. In addition, there are countless apartment complexes, multi-use complexes, and hotels that are being constructed. But perhaps the most exciting development? San Diego will soon be welcoming another tech giant.
Apple is Coming to Town
In April 2021, Apple announced that they would soon be expanding their bandwidth in several locations, including San Diego, as part of their initiative to "invest $430 billion and add 20,000 new jobs across the United States over the next five years."
San Diego Mayor Todd Gloria said in a statement, according to 10 News San Diego, "San Diego is home to a wealth of creative thinkers, dreamers, and doers who are excited to be part of the innovations of tomorrow and we are so proud that Apple is a growing part of this incredibly vibrant city."
He continued, "Apple is a bedrock of our community and we couldn't be happier they have chosen to significantly expand and accelerate their growth here. This huge commitment to create 5,000 local jobs is a signal of great things to come and makes me even more confident the brightest days are yet ahead for San Diego."
Apple previously confirmed, according to The San Diego Union-Tribune, leases "for about 300,000 square feet of office and lab space in two buildings on Towne Centre Drive in University City."
We can anticipate that in order to sustain their projected 5,000-employee workforce, Apple will soon be looking for more San Diego real estate.
What About Tenants?
According to the city of San Diego's Urban Division, just 14 active projects at the tail end of 2020 totaled over 3,300 new apartments. 93,000-square-feet of retail space, and 815,000-square-feet of office space.
Some may question why construction has remained constant throughout the pandemic, especially while vacancy rates have increased. (Plus, many projects include hotels and apartment complexes—two building models that aren't getting much traction as of now.)
The reason construction is still barreling ahead? According to The San Diego Union-Tribune, there are at least two. Development projects of this magnitude take "years of getting approvals and financing… it is not like developers can just give up." As real estate analyst Gary London put it, "These projects took a long time to get to the construction phase." And by a "long time," London means several years in many cases. 
Secondly, COVID-19, hopefully, sooner rather than later, will be under control. And thus, "downtown San Diego's post-Great Recession transformation will continue." Although office vacancy rates skyrocketed during the pandemic due to remote work, they've seemed to decrease with the circulation of COVID-19 vaccinations. Builders and developers anticipate that vacancy rates will continue to drop in the coming months.
And with 33 approved projects that have yet to begin construction—totaling over 700 condos, nearly 5,000 apartments, over 500,000-square feet of retail, and over 1 million square feet of office space, it does not appear that the construction industry will be slowing down at any future point.
The Voit Contribution
At Voit, our numbers speak for themselves. In just 50 years, we've developed, managed, and acquired 64 million square feet of property, managed $1.4 billion in construction projects, and have completed $53.5 billion in brokerage transactions. 
But at Voit, it's more than our track record that counts. At Voit Real Estate Services, we are in the business of helping people. We provide creative solutions that create value for our clients and their commercial real estate goals. Contact us today so we can find the right solution for your unique situation.