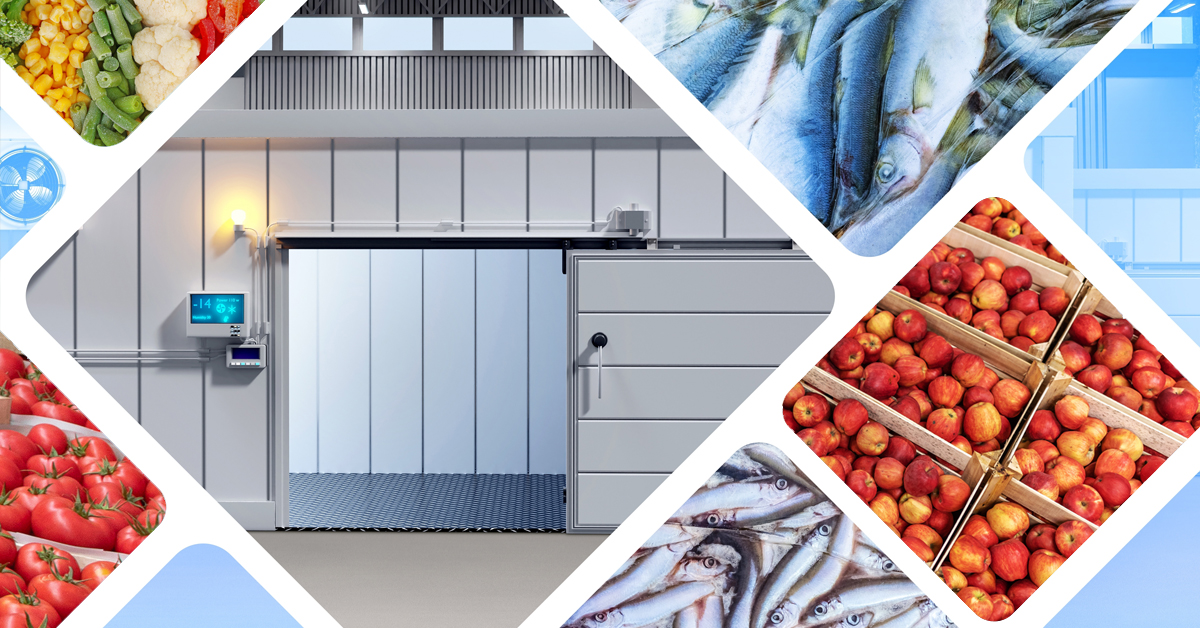 The impact of COVID-19 sent shock waves through the entirety of the commercial real estate industry, and its aftershocks are still being felt today. The work-from-home strategy that was so vital to keeping businesses open during the pandemic has devastated the office-using market. Conversely, the rise of e-commerce has been one of the primary drivers in demand and rent escalation in industrial. One market segment of industrial that has been boosted by the changing market conditions is cold storage.
This niche market represents less than two percent of the entire industrial market but is a vital cog in the supply chain. Online grocery shopping was increasing in popularity even before the pandemic, as nearly half of U.S. consumers were already shopping for packaged food products online by January 2020, according to the Food Marketing Institute. After COVID hit, online grocery shopping skyrocketed as consumers changed their shopping behavior to remain safe and compliant with mandates. And just like the office workers who grew accustomed to working from home and aren't returning to the office, some consumers aren't going back to the grocery store. According to a report released last January by Brick Meets Click and Mercatus, U.S. online grocery sales — which were approximately 3% in 2019 — are forecast to grow at a compound average growth rate (CAGR) of 11.7% over the next five years, increasing online's share of overall grocery spending from 11.2% in 2022 to 13.6% in 2027, driving the increased demand for cold storage.
Demand Spurs Development
Because of the relatively small market size, up-to-date sales, leasing, and construction numbers aren't easy to come by, but CBRE and Newmark published in-depth reports in June 2022 and Spring 2023, respectively, to provide insight into this growing market segment.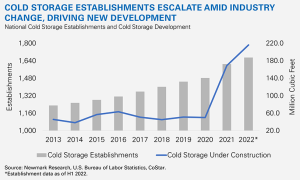 According to the CBRE report, 3.3 million square feet (SF) of speculative cold storage development was underway in the U.S. through Q2 of 2022, up from only 300,000 square feet in 2019. Newmark reported that the surge continued into 2023 as cold storage development hit an all-time high of 9.8 million SF (an estimated 216.2 million cubic feet) by the end of 2022. In a market segment where the annual average inventory growth had previously risen by 2.2% from 2013 to 2020, cold storage facilities grew by 8.6% from 2020 to 2021 and an additional 7.5% from 2021 to the first half of 2022.
Locally, the 16.2 million square foot (355 million cubic square feet) Los Angeles/Inland Empire market expanded by 9.3% from 2017-2022. There were no facilities currently under development in Q4 of 2022, but in February of that year, 3PL service provider West Coast Cold Storage delivered a 127,000 SF facility featuring 70,000 SF of frozen space and 50,000 SF of refrigerated cooler space with more than 22,000 pallet positions and 19 refrigerated dock doors. The asset, located in Jurupa Valley, 50 miles east of Los Angeles in Riverside County, was built on spec and is occupied by multiple tenants.
It's worth noting that the Los Angeles/Inland Empire market has the oldest stock among the top 10 cold storage markets in the U.S., with 1975 being the average year built for existing inventory. The rest of the nation isn't much newer, with 37 years being the average age of cold storage facilities in the top U.S. markets. Although vacancy rates vary by individual markets, the generally accepted industry rate from multiple sources is between 3.5%-4.0%. According to the Newmark report, rent for newer construction in the top 10 markets ranges from $15.00-$19.00 PSF NNN in Dallas to $28.00-$32.00 PSF NNN in the Los Angeles/Inland Empire market.
Development Outlook
With low vacancy rates and rents generally triple that of warehouse/distribution industrial real estate, demand should naturally follow. In fact, nearly 40% of respondents to CBRE's 2022 U.S. Investors Intention Survey indicated they were pursuing cold storage assets that year, up from 22% in 2021 and 7% in 2019. But as was previously stated, most of the stock is very old and must either be retrofitted or replaced.
The vast majority of cold storage space is owned by a small group of cold storage REITs, with Lineage Logistics (1,976,418,883 cubic feet), Americold Logistics (1,224,100,000), United States Cold Storage, Inc. (423,328,689), Interstate Warehousing, Inc. (116,301,722), and FreezPak (67,985,000) topping the list in 2023 and of the 3.7 billion SF of gross refrigerated storage capacity, Lineage, and Americold held a 70% market share (a list of the top 25 owners can be found here). However, a 2022 report by Wealth Management indicated that the supply-demand imbalance in the cold storage sector had attracted new developers to the sector. Firms building traditional industrial facilities entered this space in 2021 and were now building speculative cold storage projects — nearly unheard of until recent years.
While building traditional industrial facilities on spec in the post-pandemic era has served a number of developers well, cold storage spec development is a different animal. According to the Newmark report, "The challenges to develop speculative space are largely associated with specialized, costly construction, high operating costs, unique tenant requirements, and the inflexibility for potential future conversion. Costs of cold storage construction are twice the cost per square foot of traditional warehouses or more, depending on building specifications and the amount of cooler/freezer space, increasing financial risk for not securing a tenant pre-delivery. Much of the demand for cold storage space is client specific and mostly build-to-suit development."
Still, where there's sufficient demand, there's always a way. Given that the increase in online grocery shopping shows no sign of slowing down, demand should remain robust for the foreseeable future. As economist KC Conway told the audience in his opening keynote address at NAIOP's I.CON Cold Storage in September, "Less than 2% of industrial space today is cold storage, and it probably needs to be at 15%. We're not even in the first inning."
For more information on cold storage sales and leasing opportunities, contact your Voit Real Estate Services industrial specialist from our Team Members page.