It's true. Everyone makes mistakes. At Voit Real Estate Services, however, we'd prefer these mistakes to not concern your real estate investments. We're here to help drive you as far away from these mistakes as possible.
Whether you're looking for industrial, multi-family, residential, retail, or office space, when it comes to finding commercial property, your decision should align with your business's long-term strategy.
Here are the top 11 CRE mistakes you don't want to make as a buyer.
Lack of Market Knowledge
One of the biggest mistakes made when it comes to investing in real estate is failing to understand the market. We know anyone can jump onto Google and learn about a given topic or area. This, however, does not certify an individual as an expert.
The market is something that is constantly changing.
This considered, it can be difficult to stay up to date on current trends and fluctuations. One might believe that with the vast amount of online information, it's simple to understand your real estate options. The key, however, is not only to thumb through information but to evaluate how the real estate selection aligns with your business (or fails to).
This is something that a commercial real estate broker can help with. After all, our brokers have the highest access to information including property comparables and work frequently with property owners, developers, investors, and tenants.
Commercial real estate brokers have access to the accurate market data and experts that you need. Utilize your resources, including hiring a professional, so as to not fall into the mistake of lacking market knowledge.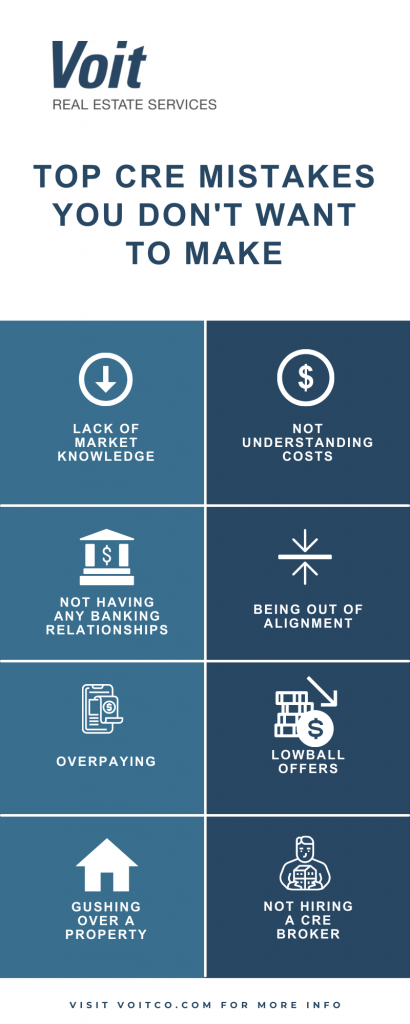 Closing the Loop
Another mistake you can make is not involving all necessary parties in the decision-making process. When it comes to real estate, regardless of whether you are leasing or purchasing, this is no small decision. Ensure that you have the correct people on your team to make sure all necessary factors have been evaluated. In other words, keep everyone in the loop.
Not Having Funding Relationships
When it comes to lending, there are many financial options available to buyers. One of the biggest mistakes that buyers make is failing to create a relationship with a bank or an alternative lender.
If you, as a buyer, have an established relationship with a bank or alternative lender prior to the loan application process to fund your deals, the process of acquiring commercial real estate will be that much easier.
Lenders can help:
Budget potential transactions
Set goals for your CRE endeavors
Take the reins during the loan approval process
Being Out of Alignment
Sure, you found a great space! But does the real estate space align with your business strategy? Have you considered your company's 3 to 5-year plan and how this space fits into it?
Selecting a real estate property for the sake of checking it off your list is not the way to go. For example, while said property might be a great space, it may not be in a location that aligns with your company's business strategy long-term.
It's additionally important to identify whether your company should lease or buy commercial property. There is a myriad of things, of course, that impact your decision.
Again, ask your team, "How would either affect our long-term business strategy? What are the pros and cons? What can we afford financially?" and so on.
If overlooked, this might result in preventing growth and/or profitability down the line.
Not Understanding Costs or Overpaying
At Voit, we know that anyone who is looking for (or selling) a commercial property, or any property for that matter, wants the best deal possible. Not understanding the total cost of occupancy can lead to overpaying for commercial property or not being able to afford it in the long run.
When considering your options, ensure you understand all associated costs. This might include taxes, improvements needed, and/or structure.
Remember, these things add up quickly. (The listed price is often not the end price!) Hiring a commercial real estate broker can help you navigate these difficult waters.
Lowball Offers
Undervaluing a property is just as detrimental as overpaying for a property, if not more, as you can lose the potential for a deal altogether. When a buyer offers a number that is significantly below the seller's asking price, the owner or seller may choose to not respond at all.
Although some lowball offers may lead to negotiation, it is not promised. Be mindful of your offers, especially if you really want to close a deal.
Speaking Too Soon
As the World War II adage goes, "Loose lips sink ships." We recommend our clients refrain from discussing deals prior to signing. Excited chatter beforehand might result in the attention of unwanted buyers who could weasel their way into your desired contract, given their offer is quicker or better.
Not Hiring the Correct Help
An additional mistake is failing to hire the help you need. For example, does your facility need any improvements? When a buyer finds themself in a new commercial property, hiring an outsourced team—for example, a company or contractor—is ideal. Engaging the correct resources helps lower risk but also frees up your time to accomplish your specific business tasks.
Unequal Parts Logic and Heart
Although being emotionally pulled to a property is important, being logical in one's decision is equally as crucial. If one selects a commercial property solely based on emotion, failing to logically evaluate what's best in terms of strategy, the consequences are great.
Gushing Over a Property… At the Wrong Time
As a buyer, we all dream of finding the perfect property. When we do, it's exciting enough to show your giddiness. A mistake that many buyers make, however, is gushing over the property in front of the owner or the owner's broker.
Doing so decreases chances of negotiations, and prices become more firm, as the owner or owner's broker already knows how "perfect" you think the property is.
Not Hiring a Commercial Real Estate Broker
Let's face it. It can be intimidating to hire a professional! In many cases, people think that by not hiring a broker, they'll save time and money. This is quite the opposite.
Finding the perfect commercial space for your business doesn't happen overnight, and with every second that passes, your losses increase.
Our brokers at Voit have access to database information and are experts in negotiation. They work with you to understand precisely what you're looking for and find the perfect fit using our network of connections, resources, data, and tools. And of course, chances are with a professional by your side, you'll be taken more seriously in your property search.