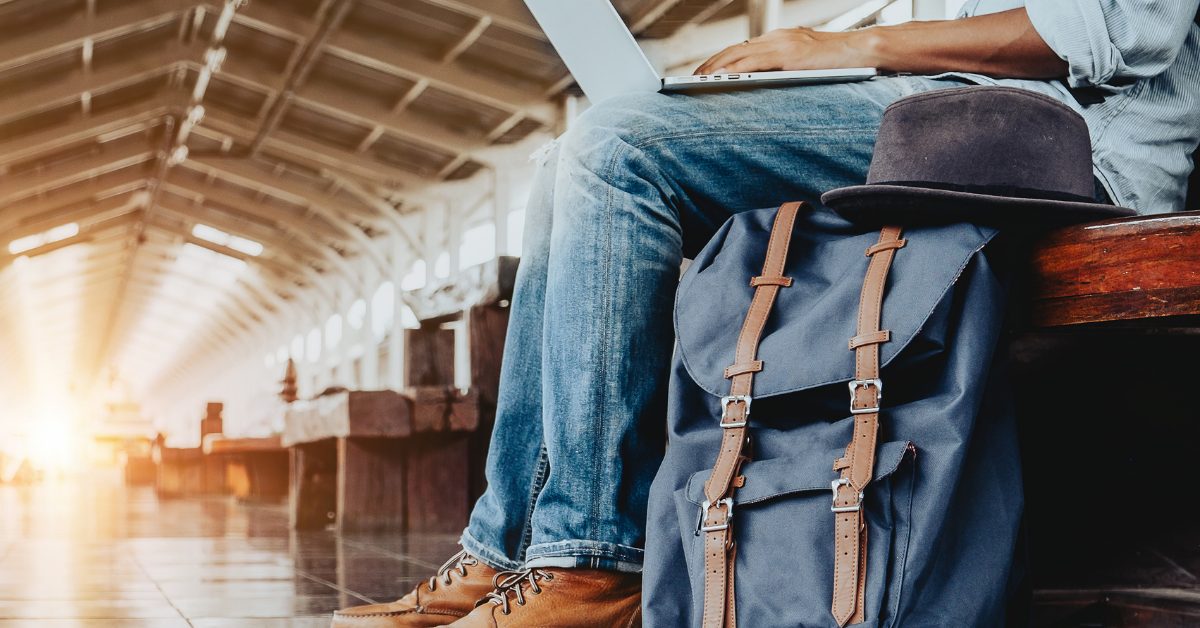 If you could work from anywhere in the world, where would it be? This is a question that digital nomads today get to ask themselves time and time again. But what is a digital nomad? What do they do? And how does digital nomadism affect the commercial real estate industry? What should CRE investors consider? Let's find out.
What is a Digital Nomad?
In just the past ten years, the word "nomad" has been taken to an entirely new level, thanks to technology. Enter digital nomads. But what and who are they?
(Don't worry—we'll get into what the influx of digital nomads means for the CRE industry later in this article.)
A digital nomad, according to Intentional Travelers, is someone who uses online or digital tools to "work from wherever they choose." See, not as complex as it sounds. "This kind of work has also been referred to as 'location independent'."
As we're sure you've noticed, this nomadic lifestyle is popping up more than ever post-pandemic. If we've learned anything over the past nineteen months, it's that many jobs we believed impossible to perform remotely, are, in fact, quite possible (and even preferred to some).
Digital nomads might work from a number of different places:
Coffee shops
Co-working spaces like WeWork
Public libraries
The options are endless!
In fact, Hubspot provides the perfect example of an employee who deems himself a digital nomad. Justin Champion, a Content Professor at HubSpot Academy, "has been living, working, and traveling across America… with an Airstream trailer hitched to its back for the past two years."
Here's a photo of one of the many places he's worked remotely from, Crater Lake National Park in Oregon.
Justin and his wife are the perfect examples of digital nomads, using smartphones, laptops, and mobile hotspots to work wherever they want.
But Justin and his wife are just two of many traveling the world.
There are 10.9 million digital nomads in the U.S. alone, according to a 2020 study by MBO Partners. Moreover, the report shows that 19 million more Americans are considering a digital nomad lifestyle themselves.
This means that the number of digital nomads has more than doubled in less than five years, from 4.8 million in 2018 to nearly 11 million in 2020.
Digital nomads, according to Investopedia, tend to include younger generations who work in:
Marketing
Design
IT
Writing
Media
Tutoring
Consulting
And the list goes on.
What Does the Digital Nomad Movement Mean for Commercial Real Estate?
So, with more than 10.9 million digital nomads in the U.S. alone and 19 million more considering making the switch, what does the digital nomad movement mean for commercial real estate investors?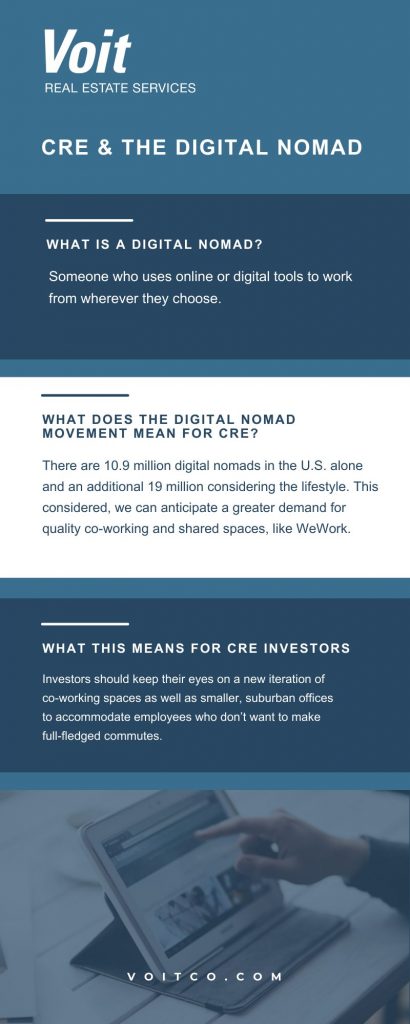 Co-Working Space/Shared Space
Remote work is not going anywhere, and with an influx of digital nomads, the CRE industry can anticipate a greater demand for quality co-working and shared spaces, like WeWork, TechSpace, and Impact Hub.
WeWork, for example, is a commercial real estate company that provides flexible shared workspaces. They offer, according to their site:
Super-fast Internet
Spacious, unique common areas
Business-class printers
Free refreshments
Onsite staff
Private phone booths
Their flexible plans, including pay-as-you-go plans, month-to-month plans, or long-term subscriptions, make shared spaces like WeWork the perfect option for the rising number of digital nomads (who may not know where they will be working from next month).
What Hybrid Work Means for CRE Investors
Forbes tells us that a string of major companies, including Apple and Deutsche Bank, "have recently taken the bet that hybrid work is here to stay," with plans to "implement hybrid in-office and at-home work [policies]."
In fact, JP Morgan estimates they may only need 60 seats for every 100 employees. But CRE investors, don't fret just yet. Although big companies may be downsizing their real estate footprint as a result of increased remote work, there is plenty of investment opportunity elsewhere.
"Converting commercial space into homey environments and shared mobile workspaces… are tremendous opportunities," writes RealtyBizNews. Commercial real estate investors, as advised by Forbes, should "keep their eyes on a new iteration of co-working for companies looking to downsize: shared office spaces with partner companies."
But why? According to Forbes, "a central location for similar services has benefits for all stakeholders: shared expenses and more efficient communication between tenants, convenience for customers and full occupancy for real estate investors."
We are no longer living in the world of traditional office space. In fact, over the past years, even pre-pandemic, the office model has shifted to a more "unconventional" office design—which includes the open and shared office.
This trend of larger, open office space has increased even more considering the COVID-19 pandemic. We've observed many businesses shift to open office spaces to accommodate for social distancing and increased safety measures.
A final thing to look out for? CRE investors might also keep their eyes on suburban offices. A smaller, suburban office might be the solution to accommodate employees who don't want to make the full-fledged commute to a large office, say, downtown.
The Ever-Changing CRE Market
While hybrid work and co-working spaces might not work for everyone, they are certainly the ideal work environments for digital nomads.
Although there is no way to be sure of what this wave of digital nomads brings as far as CRE demand, Forbes encourages CRE investors to prepare for "the rise of these market trends while remaining committed to solutions that keep professionals safe as they return to the office.
To learn more about what we call the trend of the future—the open office and converting warehouses to office space—read on here.