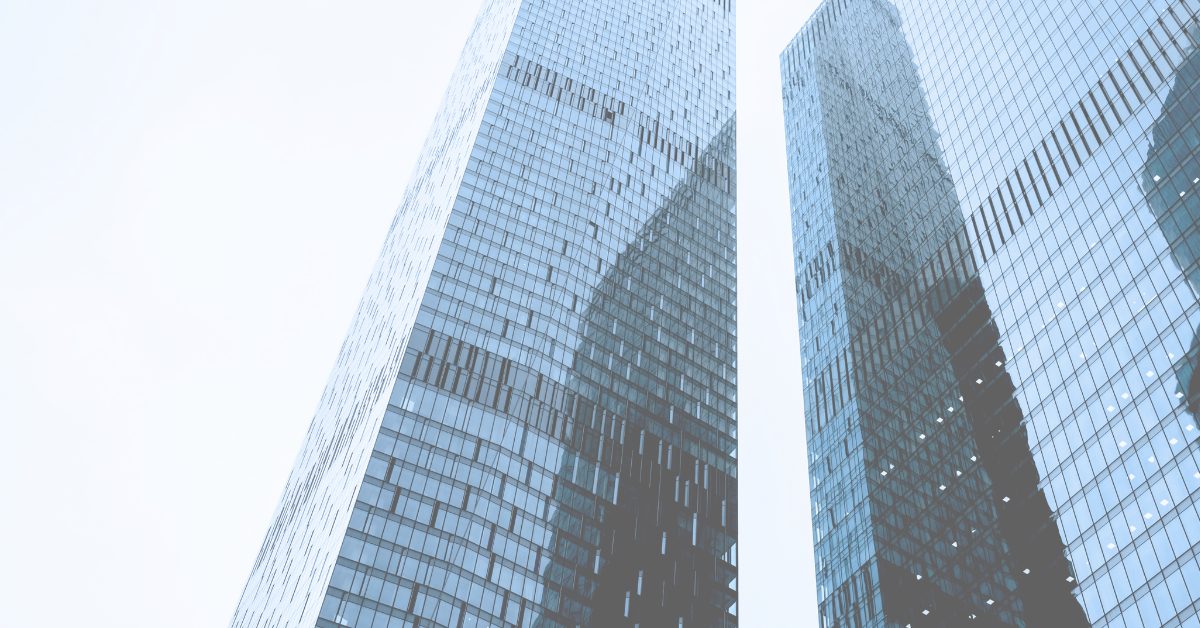 After a tumultuous year and a half, it seems as if commercial real estate sales are returning to pre-pandemic levels, as put by The Wall Street Journal.
The COVID-19 pandemic brought unknown territory and challenges to the commercial real estate industry. It also, however, brought new opportunities and room for growth, including commercial real estate's improved use of technology, e-commerce, and more.
This period of gradual return for the commercial real estate industry, we assume, will also bring its own set of challenges and opportunities for business owners and investors. But what is the driving force behind this return? Here we will provide our thoughts and insight on this 'triumphant return'.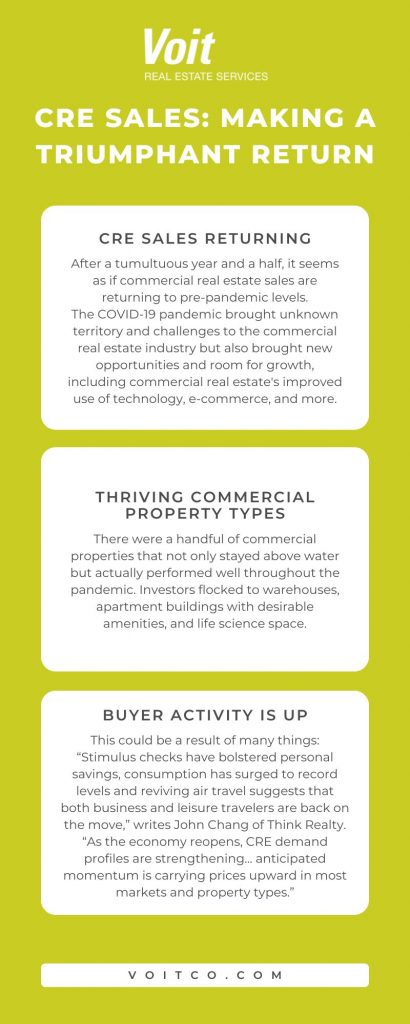 An Overview of Thriving Commercial Property Types
The commercial real estate sales landscape, of course, looks different than it did prior to the COVID-19 pandemic. 
Prior to the pandemic, commercial property, including convention hotels, office buildings in downtown spaces, and tenants in mall sectors, performed successfully. These property types, however, did not thrive during the year 2020 and the first half of 2021, according to Real Capital Analytics, as a result of stay-at-home orders and for many businesses, closed doors, reduced capacity, or other limitations.
On the other hand, there were a handful of commercial properties that not only stayed above water but actually performed well throughout the pandemic. Investors flocked to warehouses, apartment buildings with desirable amenities, and life science space.
In fact, the demand for commercial life science space specifically has shot through the roof now throughout the COVID-19 pandemic—likely due to the millions funneled into vaccine production and their effectiveness.
Multifamily Property
It is additionally important to note the success of the multifamily industry. In fact, according to Jim Costello, Senior Vice President at Real Capital Analytics, the multifamily sector during this time procured the largest annual sales volume, landing at $92 billion.
As a result of the year's challenges, we also watched a high volume of people relocate. Interestingly, today, in many markets, the price of housing has even exceeded that of pre-pandemic costs. Multifamily properties with outdoor access and space did particularly well.
According to The Wall Street Journal, "regions that saw the strongest commercial-property markets were those that benefited from population growth during the pandemic as people moved out of cities to suburban and Sunbelt locations." This includes record volumes of relocation to Dallas, Atlanta, Phoenix, Austin, Tampa, Nashville, and San Antonio, according to Real Capital Analytics.
Commercial Aspects that Continue to Boom
Looking forward, there are specific commercial real estate divisions that continue to thrive and perform well. According to Forbes, these divisions include "e-commerce warehouses, self-storage facilities… grocery stores… medical or retail spaces." Additionally, the investor demand for single-tenant properties is up as states begin to reopen.
The hope for success in commercial real estate sales as we move forward is powered by low interest rates and the optimism that we are through the worst of COVID-19. 
Additionally, according to this article, buyer activity seems to be up during this time. This can be a result of many things: "Stimulus checks have bolstered personal savings, consumption has surged to record levels, and reviving air travel suggests that both business and leisure travelers are back on the move," writes John Chang of Think Realty.
"Many expect these economic tailwinds to boost commercial real estate fundamentals, inciting recovery speculation and driving buyer activity," says Chang. "As the economy reopens, commercial real estate demand profiles are strengthening, and that anticipated momentum is carrying commercial real estate prices upward in most markets and property types."