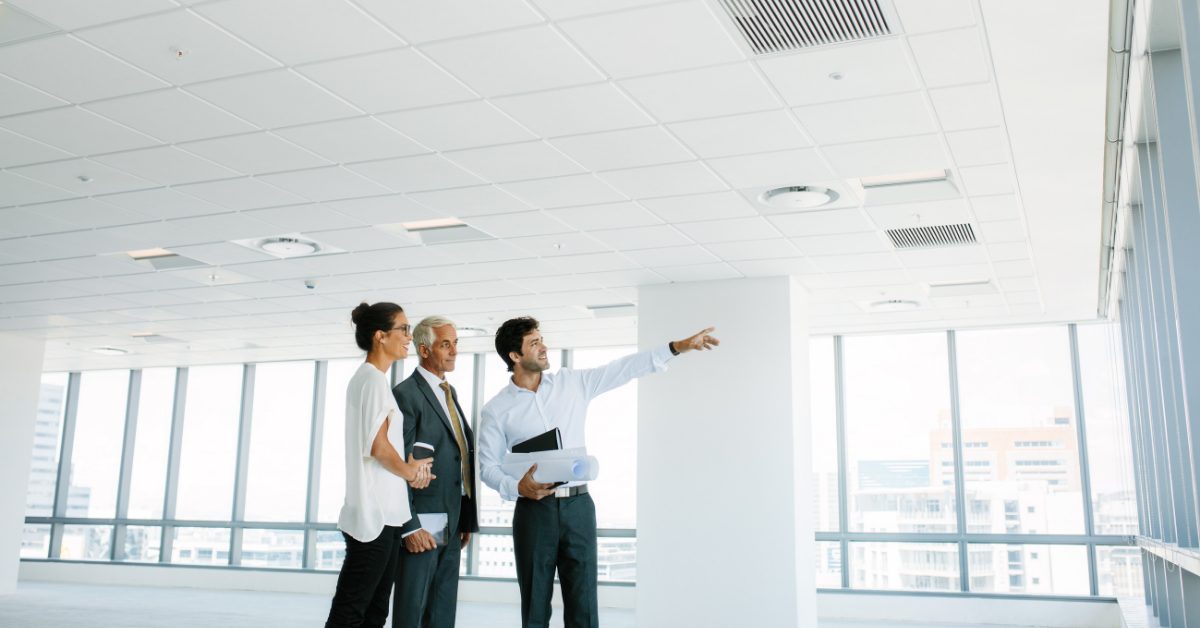 There are many well-established commercial real estate firms throughout Southern California, but the culture and community spirit at Voit Real Estate Services sets it apart from the competition.
Have you ever wondered what it's like to work at a commercial real estate firm? Connor Wieck, Senior Associate at Voit Real Estate Services, is sharing some of his fondest words about his first five years with our privately held, broker-owned firm.
Our History
For the past 50 years, Voit Real Estate Services has established itself as one the most enduring names in Southern California commercial real estate. We work daily to provide strategic property solutions for our clients and have done so since 1971.
The numbers speak for themselves. In just 50 years, we've developed, managed, and acquired 64 million square feet of property, managed $1.4 billion in construction projects, and have completed $53.5 billion in brokerage transactions. 
But at Voit, it's more than our track record that attracts brokers like Connor Wieck to our firm.

Get to Know A Voit Broker
Born and raised in San Diego, Connor fits right into the Southern California real estate scene. He joined Voit in 2016 and credits his interest in the company to Eric Northbrook, Managing Director of the San Diego Office.
"Northbrook is a tremendous leader," says Wieck. "He is focused on creating a family attitude and culture around the office."
Wieck explains that this culture is apparent immediately—right when you get into the company. "Eric coaches his young brokers and provides all the support and necessary training to begin your career with a strong foundation, including access to a third-party training consultant who meets with our team members individually on a monthly basis and is available by phone around the clock."
Northbrook included his perspective, as well. To him, "Voit is all about the people.  All team members are rowing in the same boat. Senior guys are all in to help the younger guys. They'll bring younger guys in on an assignment to help them be successful and learn, or just coach them through everyday challenges without any financial involvement."
From company trips to community involvement, we pride ourselves on our top values: culture, family, clients, and community. It's apparent in everything we do.
What Does A Day as a Voit Broker Look Like?
Over the past decade, the desire for flexibility within a career has grown tremendously. People love the idea of working when they want to, and where they want to.
In addition, the number of people working from home has increased dramatically, of course, due to the COVID-19 global pandemic. This push for working on your own terms has led many to embrace the idea of being their own boss.
At Voit, you get the best of both worlds. "Every day is different, which is why I love this job," says Wieck. "Working in commercial real estate presents new challenges to overcome each day." 
But if he were hard-pressed to give us a schedule, it would resemble a split between buffer days and prospecting days.
Buffer Days
"Buffer days help me catch up on the paperwork of the job such as offers in progress, marketing campaigns, database input, and research."
Focus Days
"Focus days are targeted for building business, creating new relationships, and uncovering new opportunities to work on."
Work-Life Boundaries
Striking the perfect balance between work and your personal life might feel impossible at times. The line becomes especially blurred with the increased number of people working from home these days.
Did you know that over 66% of American workers lack work-life balance and 48% of Americans consider themselves workaholics? These numbers, in our opinion, are much too high.
A lack of a healthy work-life balance inevitably leads to stress, which can manifest itself in the body and keep us from engaging in the activities that provide meaning and give us a sense of purpose in life.
Wieck says that the opportunity to be in control of his own schedule at Voit is a key reason for choosing a commercial real estate career in the first place. "It offers me the flexibility to work when I want and from where I want."
Being in control of your schedule gives you more opportunities to create a healthy work-life balance. Because we recognize that there is more to life than work, we encourage our brokers to live well-rounded lives with healthy boundaries.
For brokers like Conner, that means continuing to be an avid golfer and playing in the Encinitas men's softball league. Fore!
Voit Culture
The concept of "company culture" seems to be growing with every minute. Company culture, according to Built In, is defined as "a set of shared values, goals, attitudes and practices that characterize an organization."
Company culture pushes people to do the work that they do and influences how they feel about this work. Company culture is about values, your vision for the company, and how your company works with you to make good things happen.
Considering you spend over one-third of your life at work, at Voit we take creating a killer company culture very seriously.
When asked to describe Voit culture, Wieck said one word: Congruent. "We are all on the same page and moving in the same direction," Wieck says. "Management staff and my fellow brokers are all focused on adding value to the company and for our clients."
While our company culture at Voit, especially with regard to company vision, is important, we value fun, too!
Wieck reminisced about his experience early on in the commercial real estate business. "My first year in the business, Voit provided an all-inclusive trip for all brokers and staff, including a guest, to go to Catalina for our annual summer trip. It gave us all an opportunity to build relationships, create new memories, and have a lot of fun together." 
And the most rewarding thing about working for Voit? Wieck says watching everyone around him continue to develop their careers and become better at what they do. Now if that doesn't embody a supportive company culture, we don't know what does.
Room For More at the Table
When we asked Wieck for three words to describe working at Voit, he came back with collaborative, rewarding, and fun.
Our culture has been designed and built to support everyone who joins our team, and there's room at our table for more. We are a private company that cares about helping motivated professionals build successful careers in commercial real estate, all while having fun along the way.
That's the Voit difference. Connect with us today. Find out what Voit can do for you.