Top Seven Benefits of Using a CRE Broker

Are you thinking about hiring a commercial real estate broker? Maybe you're a business owner who needs more space or an investor who wants to invest in commercial real estate to strengthen your portfolio.
But don't go at things alone … (Secret's out: It won't save you time or money). Given the current economy and real estate market, hiring a professional is your best bet in finding a solid investment opportunity.
Moreover, a good broker has the knowledge, connections, and resources to ensure your transaction goes smoothly. No matter your reason for hiring a CRE broker, there are clear benefits. Let's discuss the top seven benefits of using a CRE broker.
Market Knowledge
Brokers have more than just the internet at their fingertips. Brokers have access to exclusive listings and property comparables. Remember: Not all market data is available to the public!
Moreover, because brokers are constantly communicating with investors, property owners, developers, and tenants, they have the best access to timely, accurate market information. Additionally, brokers know a fair price when they see one—which can save you thousands, if not millions of dollars.
When you decide to forego using a real estate professional, your search will likely be slow. A broker, on the other hand, won't let a perfect investment opportunity pass you by.
Saves Time
Using a CRE broker in your property search is guaranteed to save you time. Say goodbye to driving around looking for signs, booking viewings, and wasting time during negotiations.
Using a CRE broker will allow you to start your business operations in the shortest time frame.
Be Taken Seriously
With a commercial broker by your side, you'll be taken seriously in your property search. Without representation, property owners might classify you as a "lookie-loo." Hiring a broker sends the right message to property owners.
Manages Negotiation and Closing
A CRE broker is prepared to negotiate on your behalf. They know exactly what needs to be included in your contract (which is based on a variety of factors). Again, brokers know what a fair price looks like so you don't overpay for a property.
Reduces Stress
Finding the commercial property that is right for you is a big task—and one that can be very stressful.
Using a CRE broker helps reduce stress. You don't need to worry about understanding every legality or little element in the process. Why? Your broker is there to guide you and answer any questions.
Tenant Representation
Tenant representation, according to REoptimizer, is "where an agent focuses solely on the needs of a tenant, rather than being tied to the lessor or landlord."
You can sleep soundly when you hire a commercial real estate broker because you know they have your best interest in mind.
Specialist Knowledge
Most brokers have a specialty, either geographical or in a specific industry. At Voit, for example, our brokers specialize in:
Industrial
Office
Multifamily Residential
Retail
Land
R&D
Flex
Medical
REO Distressed Assets
Note Sales
Life Sciences
It's reassuring to know who you're working with really knows what they're talking about.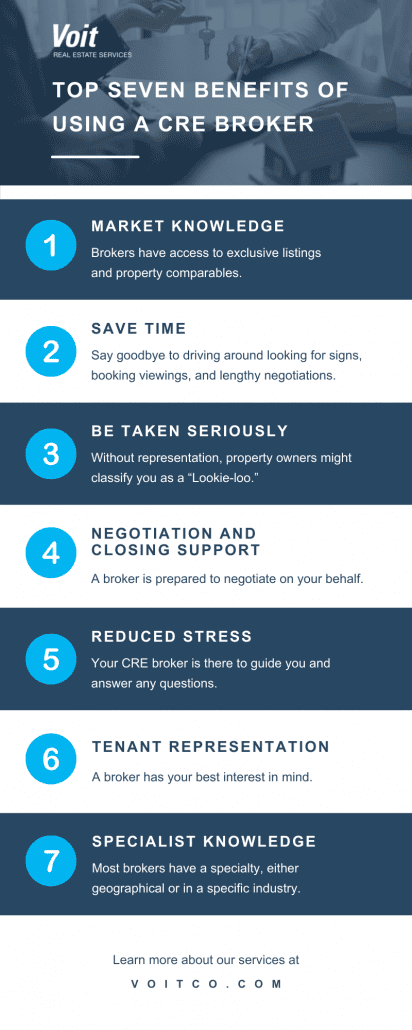 Interested in hiring a CRE broker for your next transaction? Check out this article for the top ten qualities you should look for in a broker.
https://voitco.com/sandiego/wp-content/uploads/2022/07/Top-Seven-Benefits-of-Using-a-CRE-Broker.png
628
1200
atran
https://voitco.com/sandiego/wp-content/uploads/2021/03/voit-logo_blue.png
atran
2022-07-24 07:00:00
2022-07-01 09:33:58
Top Seven Benefits of Using a CRE Broker