2022 Office Leasing Trends in San Diego

At Voit Real Estate Services, we speak with a variety of business owners, landlords, developers, and institutional investors on a daily basis. Many of them show a particular interest in the health of our office market and how it has been impacted by the response to the pandemic crisis.
We all remember being sent home back in March of 2020, left to wonder when we would be able to come back to work and return to normal. Here, we are two years later and the effects of the pandemic on the office workplace are still with us, and the buzz now is on redefining what normal actually is.
Let's talk about what to expect from office space in 2022.
The Pandemic's Influence on Office Space
The pandemic had a massive impact on the economy that goes well beyond public health considerations. As it relates to the office workplace, the forced adaptation to a work-from-home employee model had several unexpected consequences, some of which may change the office workplace permanently.
To be sure, sending the entire workforce home to operate with little supervision was a scary proposition. It had never been done before. However, most businesses found a way to leverage technology to keep their employees connected and their operations running with surprisingly good results, so much so that they are now considering making a work-from-home or hybrid workplace model part of their business strategy going forward.
This is a game-changer for the office market because how a business is organized affects the location, size, and design of the space needed to operate.
With so many people working from home or just part-time in the office, the traditional combination of private offices, bullpens, and conference rooms may no longer be the right environment to promote communication, collaboration, and the building of strong working relationships amongst people who only see each other occasionally.
So, for many, the office workplace must be re-imagined to promote those important issues. Read on to learn more about the future of commercial office space.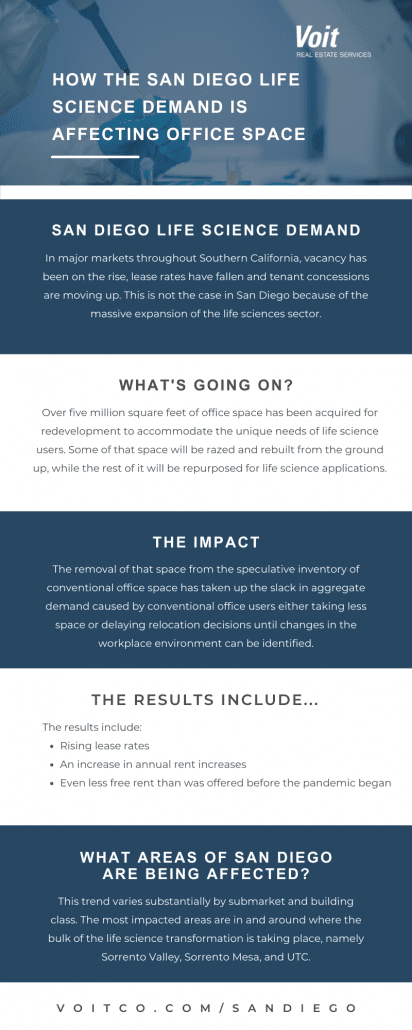 How the San Diego Life Science Demand is Affecting Office Space
While reimagining the office is being considered, many facilities' decisions are being delayed, which impacts the near-term demand for space.
In major markets throughout Southern California, vacancy has been on the rise, lease rates have fallen, and tenant concessions are moving up. However, this is not the case in San Diego for one very important reason that is unique to the area: the massive expansion of the life sciences sector.
Currently, over five million square feet of office space has been acquired for redevelopment to accommodate the unique needs of life science users. Some of that space will be razed and rebuilt from the ground up, while the rest of it will be repurposed for life science applications.
The removal of that space from the speculative inventory of conventional office space has taken up the slack in aggregate demand caused by conventional office users either taking less space or delaying relocation decisions until changes in the workplace environment can be identified.
The results include:
Rising lease rates
An increase in annual rent increases
Even less free rent than was offered before the pandemic began
What Areas of San Diego Are Being Affected?
It is important, however, to note that this trend varies substantially by submarket and building class. The most impacted areas are in and around where the bulk of the life science transformation is taking place, namely Sorrento Valley, Sorrento Mesa, and UTC.
These are areas characterized by low-rise Class-B buildings, where demand for space from office users is also concentrated. It's here that we see rates moving up as vacancy declines.
Conversely, the Downtown market has a much higher concentration of Class A high-rise buildings, which were more significantly impacted by the pandemic.
Vacancy there has increased, lease rates have softened and tenant concessions like free rent and tenant finish allowances are moving up. Class A rents in urban downtown markets are generally much higher due to overall building quality, access to urban amenities, and public transportation.
But, Downtown San Diego vacancy currently stands at 25% and is moving higher, while North City vacancy is 8.7% and falling. Also, the recent completion of public transportation projects is getting these areas additional attention from tenants looking to be closer to suburban residential areas where their employees live. This is especially true of tenants who have shifted to or are considering a hybrid workplace model.
With the completion of the trolley extension from UCSD, you will see not only migration to downtown but also into the suburbs. Until the impact of the pandemic is finally in the rearview mirror, this shift to suburban areas is likely to continue.
Once that occurs, Downtown may see a resurgence in activity as more tenants will once again engage in a phenomenon known as the "flight to quality" as the disparity between lease rates in Class A and Class B buildings narrows.
A Final Word
To be sure, the office market is in a dynamic state right now and it is important for tenants and landlords to be acutely aware of market conditions at the micro-level.
At Voit San Diego, our professionals are specialists in specific submarkets in their chosen area of specialty. If you would like to learn more about what is happening in your area, please give our team of experts a call.
We'll make sure to connect you to the right person who has the knowledge, experience, and resources in your area of interest.
https://voitco.com/sandiego/wp-content/uploads/2022/03/iStock-1175749596-2-1.jpg
1414
2119
atran
https://voitco.com/sandiego/wp-content/uploads/2021/03/voit-logo_blue.png
atran
2022-03-21 15:09:19
2022-04-07 10:24:16
2022 Office Leasing Trends in San Diego