How to Get Started in Real Estate Investing

Thinking about investing in real estate but not sure where to start? With the right assets, real estate investors can:
Diversify their portfolios
Create stable income streams
Enjoy tax benefits
And leverage their properties to build wealth
Read on to learn four strategies on how to get started in real estate investing. (Spoiler alert: You don't have to buy a property to get started!)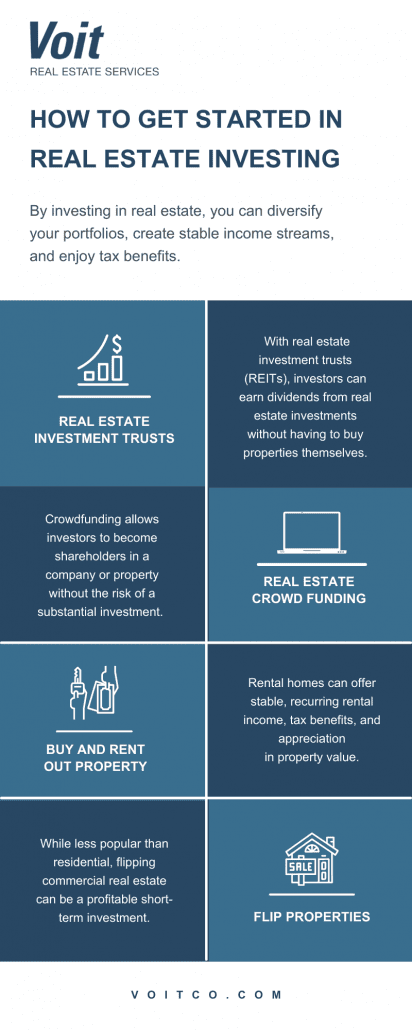 Invest in REITs
First, you might be wondering, what is a REIT?
REITs, or Real Estate Investment Trusts, are defined as companies that own or finance income-producing real estate properties such as:
Hospitals
Warehouses
Shopping Centers
Residential Buildings
REITs pool the capital of numerous investors, similar to mutual funds. With REITs, investors can earn dividends from real estate investments without having to buy a property themselves.
REITs are an attractive option for any investor as they can provide both the benefits of CRE investing and the advantages of publicly traded stocks.
Additionally, REITs are required to pay out 90% of their income as dividends to their investors, according to Nariet. Moreover, residential REITs have an average dividend yield of 2.51% and a total year-to-date return of 36.29%.
Try Real Estate Crowdfunding
Crowdfunding is a new method of real estate investing that allows "investors to invest in specific real estate projects whose buyers are seeking loans."
With crowdfunding, multiple investors contribute small amounts or large sums of money to quickly raise funds for a project. This allows investors to become shareholders in a company or property without the risk of a substantial investment. It also gives companies access to capital they likely would not have been able to raise on their own.
Crowdfunding uses the internet to its advantage. From social media platforms like Facebook and Twitter to real estate crowdfunding platforms like GoFundMe, the internet helps a project reach an audience of potential investors.
Buy and Rent Out Property to Tenants
Buying property and renting it to tenants can offer nearly everything a beginner real estate investor is looking for, including:
Stable, recurring rental income
Appreciation of property value
Tax benefits
In addition, this option can provide flexibility in the involvement of the investor. The investor may act as the landlord themselves and retain the entirety of their profits or may instead choose to hire a property management firm to take care of the day-to-day operations. While hiring a firm will cut into your profit, you will be able to generate passive income by saving time and effort.
A few property options you may choose to invest in and rent to tenants include:
Multi-family property
Business properties
Warehouses
And more
Considering becoming a rental owner? Read on for everything you need to know about base year.
Consider Flipping Properties
When it comes to real estate, 'flipping' is when you purchase a property, quickly renovate it, then turn it back to the market to sell for a profit.
The goal of flipping is to invest in an undervalued property and quickly improve it—often as inexpensively as possible—to make it more appealing to buyers before selling.
According to Commercial Property Advisors, "although there are usually fewer commercial properties available than residential properties… if you keep an open mind, flipping commercial real estate is more than possible [and] can be quite profitable."
Flipping CRE might be a good fit if you:
Enjoy hands-on projects
Have relevant experience and/or skills (i.e. plumbing, painting, design)
Have connections in construction
Why Not Get Started in CRE Investment Today?
Whether you begin with buying REITs, crowdfunding, buying and renting properties, or flipping a property, commercial real estate investing can provide you with stable cash flow, tax benefits, and diversification. So, why not start now? At Voit, we believe it's always a good time to buy a building.
Learn more about our services to see how we can help you get started, then read on to find out the five trends driving the CRE market in 2022.
https://voitco.com/sandiego/wp-content/uploads/2022/05/How-to-Get-Started-in-Real-Estate-Investing.jpeg
628
1200
atran
https://voitco.com/sandiego/wp-content/uploads/2021/03/voit-logo_blue.png
atran
2022-05-29 19:00:00
2022-05-03 16:26:38
How to Get Started in Real Estate Investing