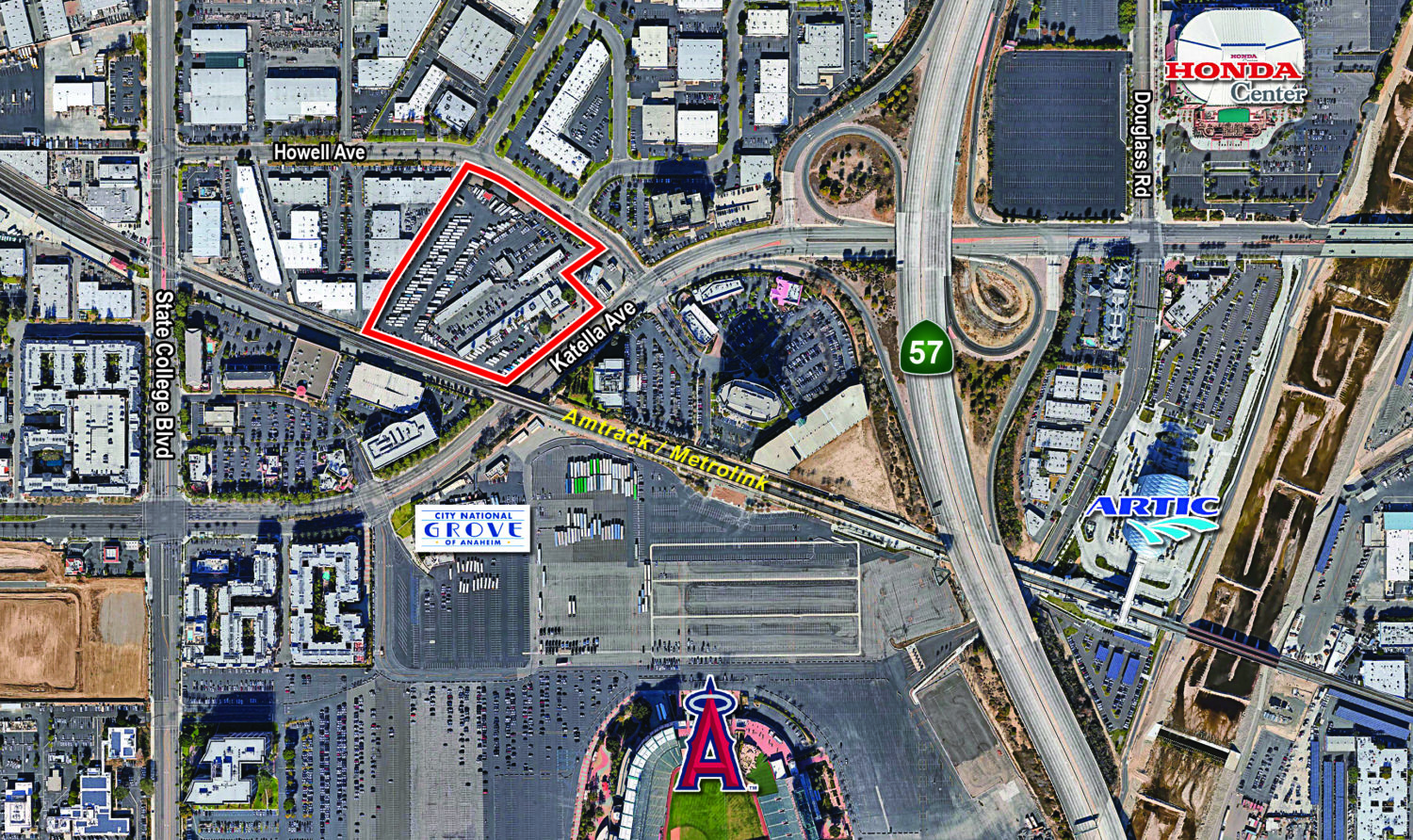 Anaheim, Calif. – Voit Real Estate Services'
Seth Davenport and Mitch Zehner, both Executive Vice Presidents in the company's Anaheim office, have successfully completed the $14,570,000 sale of an 8.5-acre land site in Anaheim on behalf of the buyer, Pacific Industrial.
The property, which lies within the boundaries of Anaheim's Platinum Triangle – directly across from Anaheim Stadium and just down the street from the Honda Center – is in a prime location allowing for a variety of high density development options including office, retail, hospitality and multi-family product types. Given its location near the geographic center of Orange County with immediate access to five major freeways, the site could also be perfect for a "last mile" distribution center.
Since 1973, the property had been encumbered by a 50-year Master Lease, which prevented any sale of the property until it expired or was otherwise terminated. In recent years, numerous redevelopment projects have been completed in the Platinum Triangle, but no one has been able to gain control of this prime site until now. Pacific Industrial found a way to make it happen through a series of complex negotiations coupled with impeccable timing.
"For the first time in 43 years, the underlying owner, now Pacific Industrial, controls the property", explains Dan Floriani, Co-Founder of Pacific Industrial. "And while other prime sites in the Platinum Triangle have been built out over the last several years, this premier site could not even be considered for development until now."
Pacific Industrial has appointed Voit Real Estate Services as its exclusive agent for the property. "We are really excited to see what type of companies we can attract to this dynamic location," says Seth Davenport, exclusive leasing broker and executive vice president at Voit. "With so many other successful mixed-use projects in the area, the site has the potential to be developed into a variety of higher density product types, but, given the short supply of quality distribution product throughout the county, we also expect strong interest from the e-commerce sector."
Currently, the property is leased to four tenants, providing rental income and valuable time for Pacific Industrial to decide when and how the property will ultimately be developed. With limited infill development opportunities and high barriers to entry in Orange County, the site offers a unique opportunity to design and build a project that is optimized to the needs of the market and the community, while still providing substantial interim cash flow.
The property is located at 2222 East Howell Avenue in Anaheim.
About Pacific Industrial
Pacific Industrial is a Southern California-based investment firm exclusively focused on the development and acquisition of industrial real estate. As one of the most active privately held development firms in Southern California, Pacific Industrial is currently developing several million square feet of industrial space and has closed over $700 million of transactions since 2012. For more information please visit: www.Pac-Industrial.com
About Voit Real Estate Services
Voit Real Estate Services is a privately held, broker owned Southern California commercial real estate firm that provides strategic property solutions tailored to clients' needs. Throughout its 45+ year history, the firm has developed, managed and acquired more than 64 million square feet, managed $1.4 billion in construction projects and completed in excess of $46.5 billion in brokerage transactions encompassing more than 44,500 brokerage deals. Voit's unmatched expertise in Southern California brokerage, investment advisory, financial analysis, and market research enable the firm to provide clients with forward looking strategies that create value for a wide range of assets and portfolios. Further information is available at www.voitco.com.