Walmart finds new home at Executive Park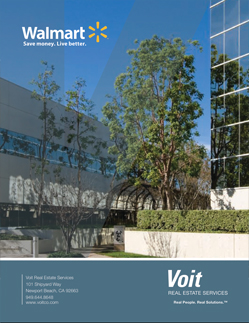 Download PDF
Challenge:
Walmart, employing more than 2.1 million associates worldwide, needed to find a new location as they expanded to Irvine, and had less than 60 days to do so. The space needed to meet Walmart's specific geographic and financial requirements.
Solution:
Doug Killian of Voit Real Estate Services was engaged as a local market expert to quickly provide a comprehensive office space study to meet the client's geographic, financial and specific space requirements. Voit submitted the requests for proposals which started the necessary leverage for the negotiation process.
Result:
Voit managed the process providing critical financial analysis, and lease negotiations. The total process was completed within the 60 day time frame which saved the client from costly hold over rent at their existing facility and ultimately the client Captioned on a new lease that was 15% below current market conditions, valued at $1 million for 10,700 square feet in Executive Circle in Irvine.