Reposition and Sale of a Multi-Tenant Business Park as Industrial Condos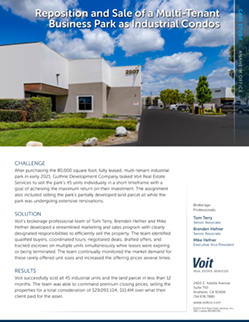 Download PDF
Challenge:
After purchasing the 80,000 square foot, fully leased, multi-tenant industrial park in early 2021, Guthrie Development Company tasked Voit Real Estate Services to sell the park's 45 units individually in a short timeframe with a goal of acheiving the maximum return on their investment. The assignment also included selling the park's partially developed land parcel all while the park was undergoing extensive renovations.
Solution:
Voit's brokerage professional team of Tom Terry, Brenden Hefner and Mike Hefner developed a streamlined marketing and sales program with clearly designated responsibilities to efficiently sell the property. The team identified qualified buyers, coordinated tours, negotiated deals, drafted offers, and tracked escrows on multiple units simultaneously while leases were expiring or being terminated. The team continually monitored the market demand for these rarely offered unit sizes and increased the offering prices several times.
Result:
Voit successfully sold all 45 industrial units and the land parcel in less than 12 months. The team was able to command premium closing prices, selling the properties for a total consideration of $29,093,104; $11.4M over what their client paid for the asset.