Financial services firm consolidates to single building in a new location for greater economies of scale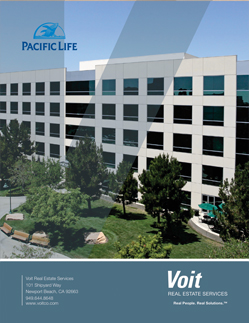 Download PDF
Challenge:
Pacific Life occupied four buildings and needed to consolidate into one headquarters to improve financial and operational efficiencies. With 700 employees, it was crucial that staff retention would not suffer and business operations would not be interrupted as a result of a relocation.
Solution:
After extensive employee demographic analysis and location studies, Voit identified a new high-image site in the target market and delivered a build-to-suit solution with a 10-year lease and a turn-key tenant improvement allowance. Voit project managed the entire tenant improvement and relocation process on behalf of Pacific Life.
Result:
Pacific Life's consolidation into its new headquarters valued at $87 million lowered occupancy costs, increased efficiencies, provided amply parking and met all the technical criteria of Pacific Life's operations. Staff retention was maximized and the interruption to business operations as a result of the relocation was minimized through careful planning by Voit.