Provided client with appropriate building space, under budget and on time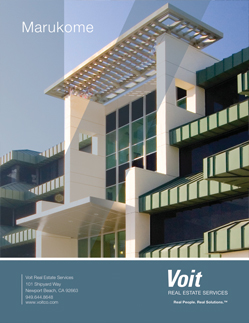 Download PDF
Challenge:
Undertake an emergency acquisition campaign to find manufacturing space within a short time frame. After a failed transaction, Marukome turned to Voit to provide them with a space that would accommodate their product manufacturing needs that was within budget, and that they could acquire quickly.
Solution:
Voit uncovered a "value-add" property that was for sale that met the operational needs of Marukome with just minor changes. This 72,000 square foot property was located in Irvine, California. Voit immediately entered into competitive negotiations with seven other buyers and was successful in buying the building.
Result:
Voit succeeded in allowing Marukome to become operational within the required time frame. Voit assisted Marukome in buying this building at $30 per square foot below fair market value, making the retrofit amount $22 per square foot which was substantially below the anticipated budget.