Lease renewal providing tenant with a reduction in rent and expenses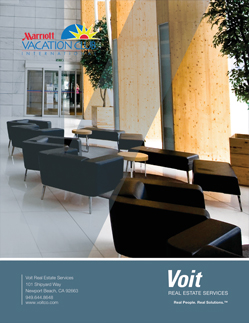 Download PDF
Challenge:
Provide a strategy to renew Marriott Vacation Club's existing lease or relocate to a facility that would be a better overall fit. Research showed that the expense of relocation was too high and a renewal would be a better option. Voit established a strong renewal agreement for the property that began as a 10,700 square foot property but was expanded upon by Marriott to become a 57,000 square foot property.
Solution:
Voit negotiated with the owner to establish agreeable terms for Marriott within the required 12 month time frame.
Result:
Voit secured a lease renewal that exceeded the expectations of Marriott. The agreement reduced Marriott's overall rent while eliminating charges for after hours air-conditioning. Along with a reduction in rent, Voit negotiated for the owner to pay for Marriott's new personal building security system. Voit further negotiated for the owner to pay for all tenant improvements as part of the reduced-rate lease renewal.