Intellectual property law firm buys Class A building to fix long-term occupancy costs & allow for growth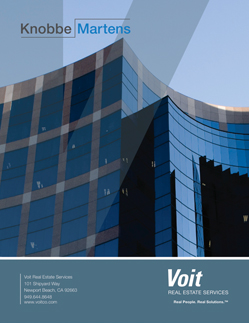 Download PDF
Challenge:
Knobbe Martens was seeking a long-term real estate solution in a high-image building and an investment opportunity for the firm's partners with the flexibility to allow their business to expand over time.
Solution:
After a detailed lease vs. purchase analysis, Voit targeted local developers for a Class A build-to-suit opportunity. A ten-year lease of a highly prestigious office tower was negotiated, with options to expand during the lease including an option to purchase. Voit subsequently negotiated to buy the building at significantly below fair market value.
Result:
The lease provided flexible and efficient expansion options to accommodate growth until it was time to exercise the purchase option. Buying the building immediately reduced Knobbe Martens' occupancy costs and enabled them to control their overhead over the long term. The 225,000 square foot building now provides valuable investment income for the firm's partners and any surplus space is leased to other tenants until needed.