National IT networking company expands Orange County division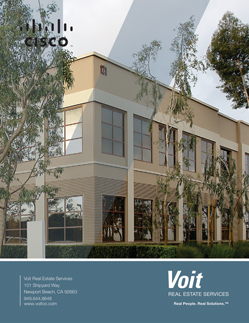 Download PDF
Challenge:
Cisco required a local market expert to provide research, transaction and project management services to it's Corporate Real Estate Director for an expansion of one of their Orange County divisions.
Solution:
Armed with Cisco's requirement criteria, Voit submitted detailed requests for proposals to every local building owner, creating strong competition for Cisco. After identifying a short list of properties, Voit used this leverage to create competitive negotiations with several owners. This resulted in a lease of a new "warm shell" building with sufficient tenant improvement allowance for Cisco to custom build its space from scratch, creating far greater space utilization and reduced occupancy costs compared to second-generation space.
Result:
Cisco expanded into a larger, more efficient facility at 62,000 square feet, reduced its operating costs per employee and outsourced the project management process to a local expert, saving valuable company time and money.