Top search engine company opens Orange County headquarters in modern campus office building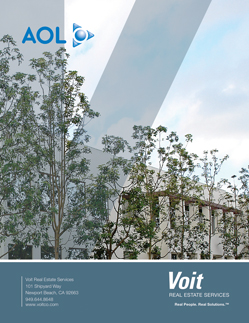 Download PDF
Challenge:
AOL engaged Voit to secure a new state-of-the-art facility for their growing Orange County division within a campus-like environment.
Solution:
Voit canvassed AOL's requirement to numerous qualified landlords to create demand and, in turn, a very competitive negotiating environment. The Irvine Company's newly developed University Research Park was selected as the perfect location. Nonetheless Voit proactively negotiated on sites owned by other large local landlords to further leverage AOL's negotiating strength and extract every lease concession available.
Result:
AOL secured a new lease for a 62,000 square foot property valued at $9 million with very substantial concessions, including several months of free rent, an above standard tenant improvement allowance and, most importantly, numerous future expansion rights to accommodate their projected growth.