How COVID and Interest Rates Affect Retail with Bob Brady

In this month's Market Insights, we have Bob Brady, Vice President at Voit Real Estate Services, speaking with Eric Northbrook, Executive Managing Director and Partner, about:
The resilience of the retail sector
How COVID has affected sit-down and drive-through restaurants, and
Interest rates in an impending recession
Bob has been in the CRE industry for over 40 years and now specializes in tenant representation in Riverside, San Bernardino, Orange County, and San Diego.
Brady has been the exclusive tenant representation for Discount Tire since 1992. He's done over 30 deals with them over 30 years in Riverside, San Diego, and Imperial County. Brady has also worked closely with Popeye's Chicken, with over 25 transactions and multiple franchisees to show.
Let's hear what he has to say.
Retail: How Has COVID Affected Sit-down and Drive-Through Restaurants?
Brady states that time after time—through the recessions of 1980, 1990, 2000, and 2008—we've seen how resilient the retail sector is.
In the last two years even, Brady has observed 200 Jack in the Boxes, 40 Denny's, and 15 Corner Bakeries emerge.
"Drive-through have experienced 25% plus volume increase during this pandemic," says Brady. "How they've responded to that makes them very aggressive in going after the pad deals [because] there's still a lot of competition. After all, there's not many corners available!"
On the other hand, while drive-throughs have been soaring, sit-down restaurants have been drowning.
"They can't get people in there because of COVID… Even though we're at just about full employment, every restaurant you go to is lacking in the number of people they can have for waitstaff," says Brady.
Brady, who works with IHOP, Karl Strauss, Denny's, and more, notes that sit-down restaurants are looking to eliminate waitstaff.
Consider Panera Bread or Corner Bakery: You go to the counter, order, and when your meal's ready they buzz you and you go get it. This way, they don't have five people waiting on the floor.
Both sit-down and drive-through establishments have responded to this change. However, Brady says it's been very difficult to survive with the landlord still needing the rent and banks still needing mortgage payments.
The industry has suffered tremendously.
However, "the pad deals where we used to have banks… and car washes, and gas stations, they've fallen off… [However,] the fast food industry is still aggressive, paying market raising prices that we've never seen before."
How Are Interest Rates Affecting Retail?
So, how are interest rates affecting Brady's arena? Is it too soon to say?
"I think [interest rates are] going to, but as it stands right now, a lot of these people with multiple restaurants have a lot of cash… They think that while they're making a 20-year deal, there's gonna be blips in there, and they're not too worried that the interest rates are going to stay this high.
"Inflation is very important and when you hit the investment side if your inflation and your interest rates are higher than your four or five cap you bought it as an investment for an income stream that influences things quite a bit. I think they're going to see the cap rates go up based on the interest rates.
"But right now, mostly, I've got a couple of different exchange people that are desperate enough to have to deal with what the market says right now… I think it'll be a little more fluid over the next 12 months."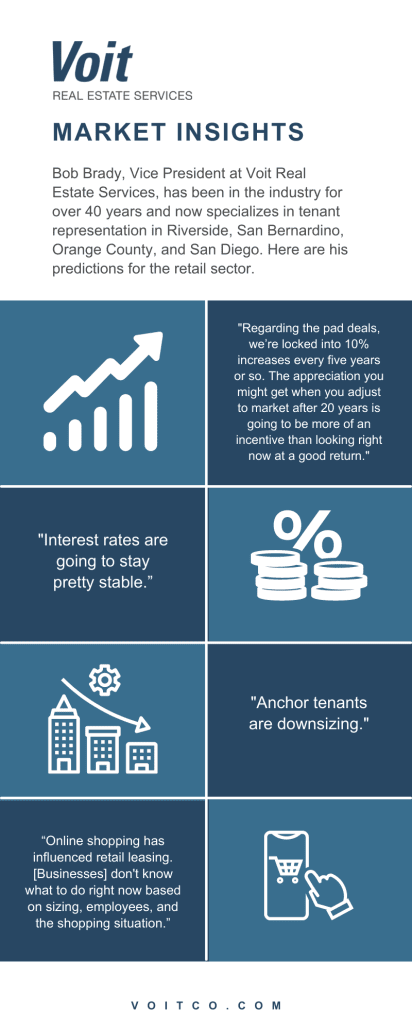 Predictions for the Future
Brady spitballed a few predictions for the future, which we'll list below:
Regarding the pad deals, we're locked into 10% increases every five years or so, says Brady. "The appreciation you might get when you adjust to market after 20 years is going to be more of an incentive than looking right now at a good return."
"I think the interest rates are going to stay pretty stable."
Anchor tenants are downsizing.
"Online shopping has influenced retail leasing. [Businesses] don't know what to do right now based on sizing, employees, and the shopping situation."
All in all, "I think it's going to still be aggressive for the pads. It's going to be flat line for the retail leasing and we'll see where the politics come into play with how we handle an impending recession," says Brady.
https://voitco.com/sandiego/wp-content/uploads/2022/09/How-COVID-and-Interest-Rates-Affect-Retail-with-Bob-Brady.jpeg
1510
2560
atran
https://voitco.com/sandiego/wp-content/uploads/2021/03/voit-logo_blue.png
atran
2022-09-11 19:00:00
2022-09-02 18:34:18
How COVID and Interest Rates Affect Retail with Bob Brady