Simple Marketing Tips for Entrepreneurs

Going into business by yourself is a brave and exciting undertaking. It can also, however, feel a bit overwhelming when you start to think about how you're going to get your product or service into the hands of the people who might benefit most from it.
In fact, this thought alone is often enough to stop entrepreneurs dead in their tracks from bringing their visions to life – but it shouldn't be.
The truth is you don't have to be a marketing expert to teach others about what you do. There are a lot of simple, affordable steps you can take right now to create a marketing plan for your business that reaches the right audience.
Here are some simple marketing tips for entrepreneurs.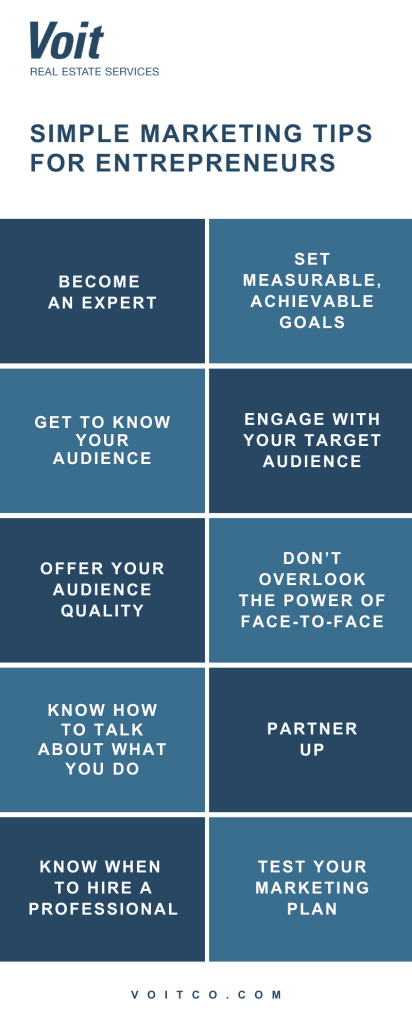 Become an Expert
First and foremost, we live in a digital age. Remember, your audience has access to a plethora of information at their fingertips at all times. So why should they listen to you?
In order to stand out, you'll need to make sure you are extremely well-versed in your niche.
As an entrepreneur, it is important to constantly commit to learning and better understanding what's happening in the market around you. Doing so will allow you to stay ahead of the trends emerging in your industry so your contributions are consistently relevant.
Set Measurable, Achievable Goals
Next, make sure to set measurable and achievable marketing goals. Why? This is the only way you will be able to determine whether your marketing efforts are actually paying off or whether you are wasting your:
What is your goal at the moment? Are you looking to develop more awareness of your product or service, get more leads, sell a particular number of products, or do something else?
Chances are you'll have multiple goals that will benefit from a well-rounded marketing strategy.
Get to Know Your Audience
How can you sell a product or service to an audience that you don't fully understand?
Data analytics tools, such as Google Analytics, are going to be imperative in your success as you learn your market. These tools will help you see what demographic is the most interested in your product (i.e. age, gender, location), what their pain points are, and how they are accessing your product. Armed with this information, you can create accurate buyer personas to boost your business.
Engage With Your Target Audience
Once you've identified your audience, you'll need to work on keeping them engaged. Interact with them on social media platforms, ask questions, and listen to their stories.
If a particular follower has had an especially great experience with your product or service, post their testimonial (with their permission) and tag them.
Work to evoke a reaction from your audience, whether that be surprise, shock, or even tears. When you can tap into their emotions, they'll keep coming back for more.
Offer Your Audience Quality
It won't matter how much you're engaging with your audience if you are only posting a bunch of regurgitated content they can find somewhere else.
Commit early on to the idea that you should be offering more value than you are taking. Use your marketing strategy as a way to answer your audience's questions before they have to ask them. We recommend checking out the book "They Ask, You Answer" by Marcus Sheridan.
Offer additional resources that will support the data you are sharing with them. The higher quality of your content, the faster you will build rapport with both your existing audience and other experts in your niche.
Don't Overlook the Power of Face-to-Face
Remember that, just because we live in a digital age doesn't mean all your marketing efforts should be done online. There is a lot of power in face-to-face communication.
Join networking and referral marketing groups. Also, go to the places where your target market might frequent and start conversations with strangers (if it is safe to do so, of course!).
Know How to Talk About What You Do
That brings us to our next point – you have to be able to concisely describe what it is that your service or product does.
Creating an elevator pitch that's under 10 seconds will help you to always be prepared whenever a potential customer comes along. Avoid focusing on how your service or product works and instead focus on the benefits your audience will experience.
Partner Up
Marketing is not something you have to do alone.
In fact, as a new entrepreneur, it can be particularly beneficial to join other experts in your field (or in complementary fields) who have already established themselves and have a dynamic following.
Offer to write guest blog posts, be a guest on a podcast, host a live event, or partner up with another brand to run a promotion or contest.
Know When to Hire a Professional
Let's be honest, no one is good at everything. It can be tempting as a new entrepreneur to think you can do it all alone, but there will be times as you grow your business that it will be the smarter choice to leave it to the professionals.
Implementing SEO practices, creating an ad campaign, or creating graphics and logos might be a few instances where you might choose to outsource tasks.
Test Your Marketing Plan
Lastly, don't assume your marketing strategy will work. Test drive it before you fully commit to it. Spend an appropriate amount of time, money, and energy on one avenue, measure the results and see if it's worth it.
Marketing your new business does not have to be difficult. Get started early, set measurable goals, and take a lot of little steps to get yourself where you want to be gradually and consistently.
Interested in hearing about one of our top entrepreneurs? Read on for a look inside Todd Holley's $9.1M success story.
https://voitco.com/sandiego/wp-content/uploads/2022/08/Simple-Marketing-Tips-for-Entrepreneurs-1.png
628
1200
atran
https://voitco.com/sandiego/wp-content/uploads/2021/03/voit-logo_blue.png
atran
2022-08-21 07:00:00
2022-08-01 09:10:06
Simple Marketing Tips for Entrepreneurs